Chinese New Year was celebrated in China 3,500 years ago. Now we can see people celebrating The Spring Festival all over the world, respecting Chinese culture and enjoying colourful, spectacular performances, manifestations, traditional food, and learning crafts like making kites and going to calligraphy workshops.
New Year's holidays are a big part of Chinese culture, and now they have spread their celebration, food, customs, and parades for everyone to appreciate. Found especially in areas with large Sinophone communities, the Lunar New Year celebrations are a cause for joy and fresh beginnings for the Chinese and other people from around the world.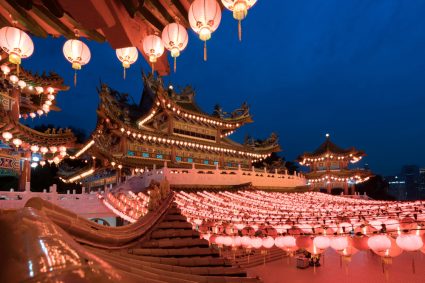 The meaning and legend of the Chinese New Year
 The Lunar New Year celebrates the beginning of the traditional Chinese lunar calendar. Historically, this was a time when the Chinese honoured deities and ancestors, and it is one of the most important holidays in China. 
On 22 January 2023, the year of the Water Rabbit begins for the Chinese. This year is expected to bring us prosperity, hope, and calm. The signs who are predicted to have the most luck are Pigs, Monkeys, and Dogs.
The 12 Chinese zodiac animals are tiger, rat, ox, rabbit, dragon, snake, monkey, sheep, horse, dog, rooster, and pig. Based on the year you were born, you are one of these animals in the Chinese horoscope. Every year another animal is celebrated, along with an element. 
Legend says that the Chinese New Year started with a beast called the Nian. The beast would eat villagers during the night. One night, an older man appeared and said he would help the villagers fight Nian. As they went into hiding, he put red papers and firecrackers throughout the village. Tomorrow morning, nothing was destroyed, so they assumed he was a deity. From then on, the villagers wore red and used firecrackers and drums when New Year was approaching, and Nian never bothered them again.
Today, we can find Chinese New Year celebrations outside of Asia. They are vivid, colourful, and cheerful events that people of different cultures can enjoy. If you happen to be in one of these cities, or if you are planning a trip, consider joining one of these celebrations. With tasty food, amazing fireworks, colourful costumes, traditional Chinese dances, parades, martial arts, and much more, you won't regret your decision.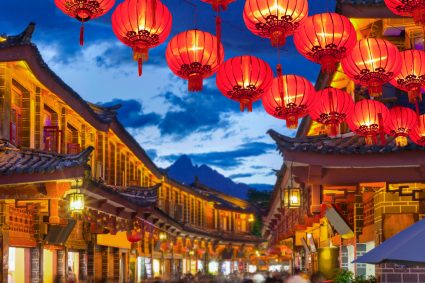 Celebrations of the Chinese New Year
 You can find Chinese Spring Festivals all over the world starting from 22 January 2023. Apart from Asia, some of the best festivals can be found in London, New York and Sydney. The biggest one is in London, and the most famous Asian one outside of China is in Singapore. We have listed a few places we choose for your festival experience. Enjoy the holidays and "Xīnnián hǎo" (Happy New Year). 
Hong Kong
The celebrations in Hong Kong begin with Tsim Sha Tsui's night parade. It is very colourful and lively, with many traditional dances, colourful floats, and dragon and lion costumes everywhere. This radiant celebration in Hong Kong has a Chinese New Year Flower Market, where people gift flowers, believing it brings good luck. You can also see fireworks on Victoria Harbour (on the second day of the festival), a horse racing event (on the third day), and a Wheel of Fortune, which gives blessings. The Lam Tsuen Well-Wishing Festival and The Spring Lantern Festival are also part of the New Year's celebration in Hong Kong.
If you're looking to study in Hong Kong, you've come to the right place. We list dozens of options for student accommodation in Hong Kong.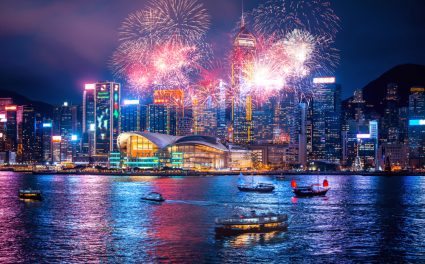 Beijing
The Spring Festival is the most celebrated and beautiful holiday in Beijing. At the capital of China, you can enjoy temple ceremonies and celebrations at the Great Wall, radiant carnivals, martial arts, lion and dragon dances, festival foods, tea culture displays, ice and snow sculpture shows, Chinese folk art, etc. The two most popular temple fairs are the Ditan Park Temple Fair and Dongyue Temple Fair. You can experience traditional crafts like kite making and shadow play painting at Gubei Water Town. Make sure to also visit the Beijing Universal Resort and the Happy Valley Beijing.
Make sure to check out the options we offer for student accommodation in Beijing.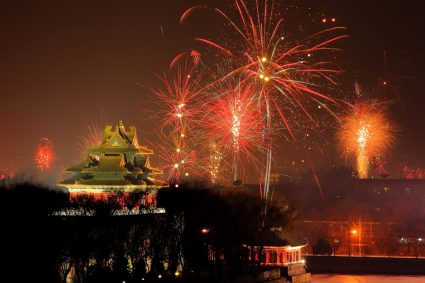 Singapore
Chinatown in Singapore is the place to be during these celebrations. You can see an enormous 10-metre centrepiece of bunnies, drumming sounds everywhere, and a lot of dragons. Try Yusheng, a traditional Chinese salad, prepared only for the Chinese New Year. The Chingay Parade (held on 3 & 4 Feb 2023) is a beautiful, dynamic festival with famous Chingay floats and a fascinating street-style container art installation by Sam Lo. You can also see the Lunar New Year (from 6 Jan to 5 Feb 2023) with a 5m-tall golden prosperity tree, a rabbit-themed display at Gardens By the Bay, the Wan Qing Festival of Spring, and much more.
We list lots of great options for student accommodation in Singapore.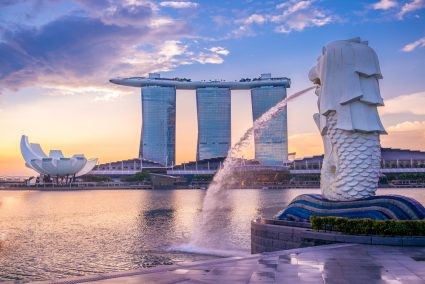 London
 The Chinese New Year's festival in London is the biggest one in Europe. Chinatown is bright and energetic this time of the year, attracting thousands of visitors. Head to London if you want to see stunning parades, music and theatre shows, plenty of food stalls, Chinese acrobatics, calligraphy workshops, and much more. Enjoy a screen show at Trafalgar Square, family activities at the National Gallery, and special performances and workshops in the West End. Buy and wear something red for this holiday. The Chinese believe it brings you good luck.
If you're coming to London to study, one of the first things you need to do is find accommodation. Here on Student.com we list several hundred options for student accommodation in London, so you'll have lots of options to compare and find your ideal student home.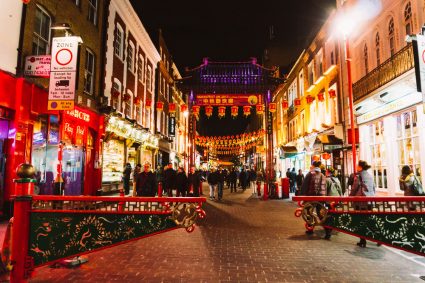 New York
Celebrations of the Lunar New Year are popular and widely appreciated in the US, with New York being one of the most popular destinations. If you are in New York, you can enjoy martial arts performers and a dragon parade that heads down from Mott and Canal Street onto Grand Street. Listen to the display of music, watch traditional dancers and floats, and hear the sound of 600,000 firecrackers in the Sara D. Roosevelt Park.
New York City is a great place to be a student. If you're coming to the Big Apple to study, we list lots of options for student accommodation in New York City.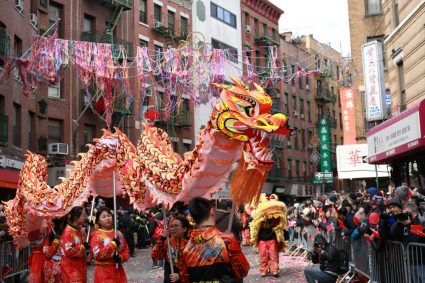 Sydney
 In Sydney, you can enjoy street parades, lions, art installations, and plenty of delicious food. Visit the Haymarket street festival and see Sydney's Chinese, Korean, Vietnamese, Thai, Indonesian, Taiwanese, and Japanese community groups on the main stage at Hay Street. The celebrations are held for 17 days in Chinatown. 
Watch the dragon boat races in Darling Harbour (on January 23 and 24), buy a message written in golden Chinese calligraphy, see the Lunar spectacular show at Centennial Hall, try some of the street food and visit the markets that will stay in Sydney for the entire month. Also, check out the live karaoke on Harbour bridge, or any of the 80 events that are taking place in Sydney for the Year of the Water Rabbit.
One of the reasons why Chinese New Year is so popular in Sydney is because of the large number of young Chinese people who come to the city for university. It's no wonder so many of them choose Sydney, because it's a great city to choose for your university years. If you're also coming here for university, check out the options we list for student accommodation in Sydney.