To celebrate pedal-powered transport being on the rise globally, we've compiled a list of our favourite bike-friendly student cities from around the world.
Cycling not only improves your general health, fitness and stress levels, but in these bike-friendly student cities, it could also save you money, time and help you do your part for the environment.
1. Copenhagen

Copenhagen has long been praised for its cycle highways and the sheer quantity of bikes on the roads – there's said to be 5.2 bicycles for every car in the city! So it's no surprise that Denmark's capital finally topped the Copenhagenize Index of bicycle-friendly cities in 2015. This isn't a new discovery by any means – the city's cycle culture is as old as the bicycle itself, with Copenhageners having used bikes as a method of transport since the 1880s. With over 390km of cycle paths, it's really no wonder that Copenhagen was officially named the world's first 'bike city'.
What's so special about this bike haven is that the Danes are constantly looking for new ways to improve the cycle network, and are always investing into the city's infrastructure. They've built cycle bridges over motorways and canals, and have more in the pipeline. Not to mention the famous Cykelslangen (Cycle Snake) – a bright orange, 220m ramp that has made cycling across the harbour a possibility at last.
To secure your two wheels in Copenhagen, head to Copenhagen Bikes – who offer discounts for students. Even better DIS have secured student discounts at a number of other suppliers.
Do you need to book a room in Copenhagen? Student.com has fantastic student accommodation available in Copenhagen
2. Amsterdam

Boasting over 800,000 bicycles, the Netherlands' famously flat capital has more bikes than people. With its 240miles of cycle lanes, biking in Amsterdam is not just a hobby, it's the best way to get around – so that's why fiets (bicycles in Dutch) and pedestrians take priority on the city's roads.
Locals who rely on these roads to go about their daily lives can become frustrated with tourists who don't know the rules, so if you're going to study in Amsterdam and you're keen on cycling, make sure you're clued up before you get in the saddle. Don't: run red lights; use your phone when cycling; bike more than two people wide on a road. Do: keep to the right; cycle single file; signal when turning.
There's also a great scheme for student cyclists in Amsterdam called Student-Bike. Provided you're a university student in the city or nearby, you love to cycle and you have a smartphone, Student-Bike will provide you with a stylish bike completely free of charge, with a free repair service in case anything goes wrong. The only catch is that the bikes have some advertising across them, but it's a small price to pay to get around Amsterdam for free!
<!–
Are you thinking about studying in Amsterdam? Student.com has a wide range of student apartments in the city.
–>

In Cambridge, cycling accounts for one fifth of all journeys made. This could, in part, be down to the sheer number of students in the city – one quarter of Cambridge's 124,000-strong population are students.
As student car parking permits are few and far between, and the fact that there's over 6,200 bicycle parking spaces available, it's a no-brainer as to why so many Cambridge students have taken to the roads on two wheels. If you're feeling competitive during your time studying in the city, you could even think about joining Cambridge University Cycling Club – the student-run society accepts keen cyclists of all abilities.
Unfortunately, the one downside of cycling in Cambridge is the amount of bike theft that occurs – over 2,000 bikes were stolen between 2014-2015. But with more than 30 bike shops in the city, and many of them providing a generous student discount, there's really no excuse not to invest in a sturdy lock. For extra security, you can also take advantage of Cambridge's two cycle parks, which provide covered parking for over 400 bikes.
Are you going to study in Cambridge in the UK? Find a room by comparing our Cambridge student housing.

Less than 10 years ago, Barcelona was very bike-unfriendly. The mixture of wide urban roads in Eixample and Ciutat Vella's narrow, densely-populated side streets made for chaos on two wheels. Fast forward to 2016 and Barcelona is back to embracing the bicycle. Not only does it have one of the world's most extensive 30km/h zones, it also boasts one of the planet's most-used bicycle sharing programmes, Bicing, which was launched in 2007 and now has more than 96,000 users.
As 80% of the city is virtually flat, cycling really makes sense in Barcelona. There's no student discount for using Bicing bikes but it costs just over €47 for a yearly membership. And with 420 docking stations to choose from, you'll more than get your money's worth when you're cruising to class along this city's streets.
One thing to be very wary of in Barcelona is not breaking the cycling laws – if you do, you may land yourself with a hefty fine from the Guàrdia Urbana ranging from €100-€1000.
You'll find the best student apartments in Barcelona on Student.com.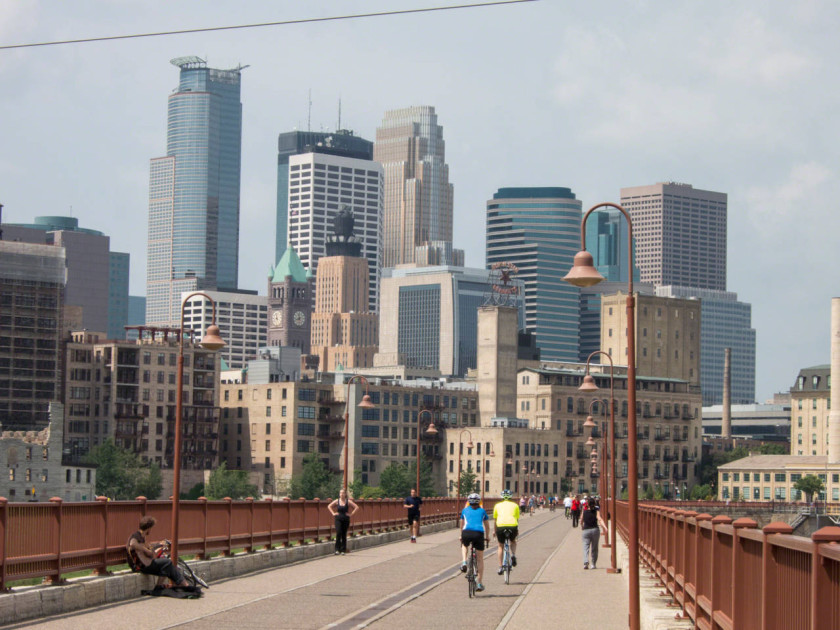 When you imagine cycling in the US, you probably think of bikini-clad beach-goers riding along a coastal path to the beach, not through a city that sees some of the widest climate changes throughout the year. The temperature in Minneapolis fluctuates from −9.1°C in January to 23.2°C in July!
But when it comes to getting around the city, Minneapolitans don't let the weather bother them, that's why Minneapolis has come in at number 18 on the Copenhagenize index, and is also the only American city to make an appearance on the list this year. The city has 189km of 'on-street bikeways' and 147km of off-street paths, making it one of the most bikeable cities in North America.
Bicyclists don't just take to the roads for recreational purposes in Minneapolis. It's a way of life, not to mention it's often the fastest way to get around! Students from the city's 11 colleges can beat the traffic on their morning commute by using pleasant off-street bike trails, boulevards or the Cedar Lake Trail, which was the first bicycle freeway in the US.
If you're not accustomed to cycling in wintery conditions, there's help at hand! The city's only bike co-op, The Hub, has lots of advice for staying safe in the snow. In another first for the US, Minneapolis hosted the Winter Cycling Congress in 2016, a two-day event celebrating the diversity of cycling and best practices from different international cycling communities.
6. Nantes

Not only did Nantes host the Velo-city 2015 conference, but it was also named European Green Capital in 2013. The French city boasts around 485km of cycle paths and 6,500 bike stands, making it another great European cycling hub.
Since its introduction in 2008, Nantes' bike-sharing system, Bicloo, has gone from strength to strength. Now with over 880grey-and-orange bikes available, and more than 4,000 bikes being hired daily, Bicloo is proving to be one of the most popular ways to get around this French city. What's more, a yearly subscription will only set you back €29!
As a university city with over 53,000 students, Nantes also has a long-running scheme for student cyclists called Vélocampus. This service provides very cheap bike rental on a short-term (for one semester) or a long-term (academic year) basis. And if you encounter any problems with your bike, or you simply want to learn how to fix a puncture, Vélocampus promotes vélonomie (a new French word meaning 'bicycle autonomy') through their hands-on workshops. You can even choose to volunteer for Vélocampus and be on the team that organises group rides, summer trips and other events. Ooh là là!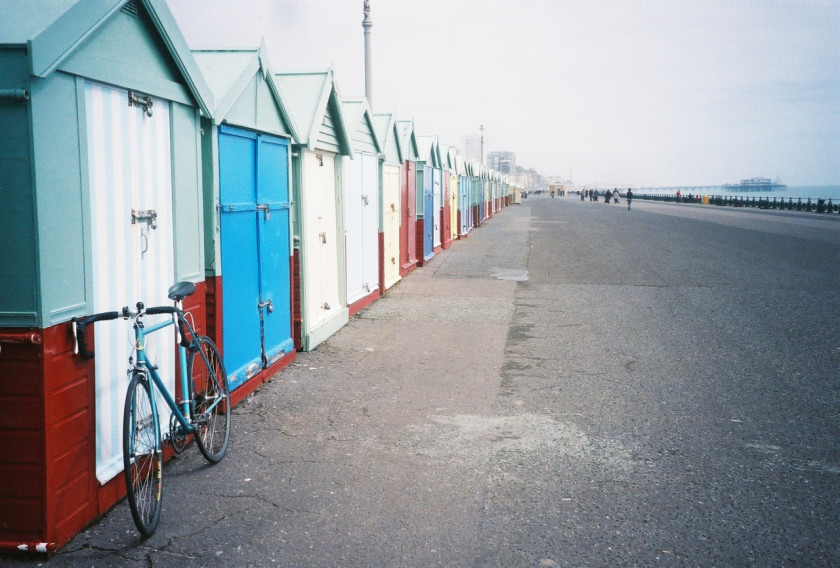 Brighton is certainly paving the way when it comes to doing its bit for the environment. Just last year, Brighton Station opened its brand new £1.5million cycle hub, providing secure space for 500 commuter bikes. Despite its many steep hills, more students than ever are using bicycles in Brighton as their main mode of transport.
There's a bike path that runs all the way from the city centre to both the University of Brighton and the University of Sussex, making it a convenient and safe trip to class. But if you're not confident enough to take to the roads in Brighton, you can sign up for a free adult cycle and maintenance training class, offered by Brighton and Hove City Council as part of its cycling initiative.
If you already have the know-how, but don't have the tools to fix up your bike, Brighton can solve your problems. With do-it-yourself, volunteer-run workshops like Cranks in St James Street and Freewheelers based at the University of Sussex, you can use all the tools you need (free of charge!) to get your gear into working order.
Brighton is known for being a slightly hippy seaside destination, so it probably won't shock you to find out it also plays host to the annual World Naked Bike Ride! Though full nudity is permitted on the ride, it's not compulsory to take off all your clothes to join in this event, aimed at demonstrating the vulnerability of cyclists on the world's car-filled roads.

With bike lanes first appearing in the city back in 1985, and an ever-increasing cyclist population since, it's no wonder that Montréal has consistently been rated as one of the world's most bike-friendly cities over the last 10 years. For the most part, this is due to its 350km of cycle lanes, trails and paths, and also the introduction of the city's bike rental system, Bixi, which boasts some 5,000 bikes for public use. Bixi is cheap (CAD $87/year), easy to use and available 24 hours a day. But, the one downside to the scheme is that it's only available for three out of four Canadian seasons, with Bixi bikes completely removed from the roads between November and April.
In 2014, a Vélo Québec survey estimated that almost half the adult population of the city (that's around 730,000 people!) now hit the saddle at least once a week. Like many other university cities, Montréal's flourishing biking community is supported by the numerous co-operatives that have popped up around the city. If you want to learn maintenance and cycle skills in Montréal, hit up The Flat Bike Collective based at McGill University or the University of Montréal's Biciklo workshop, where you can sign up for classes in everything from repairing punctures to perfecting your winter riding technique.
Cycling has become so popular in the city that just last year, a study done at McGill University claimed that all Montrealer cyclists can be classified as belonging to one of four categories. Whether you're a dedicated cyclist or more of a fair-weather friend to the bicycle, Montréal is the perfect place to pedal around.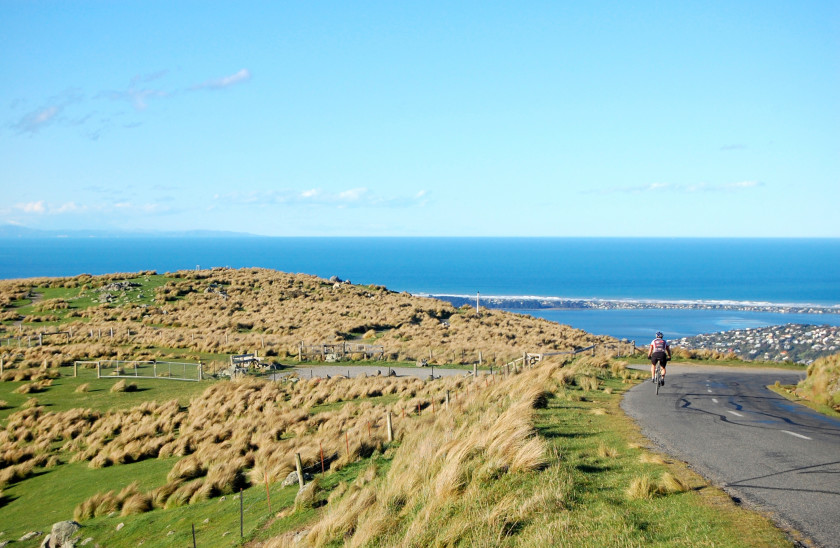 Since the devastating earthquake in 2011, many New Zealanders took up cycling to get around the city more efficiently. In fact, more people use two wheels in Christchurch than in any other city in New Zealand. And with the University of Canterbury's campus in such a convenient location (just a few minutes' cycle from most parts of the city), there's no reason to not join the biking trend.
There's also no shortage of cycling initiatives in the city, like Go By Bike Day which took place on February 10th this year, or the many scheduled rides run by Frocks On Bikes, a female-led initiative to get women cyclists back on Christchurch's roads.
What's more, if you're studying in Christchurch, you can build or even fix up your old bike at RAD Bikes (acronym for 'Recycle A Dunger', by the way). If you don't already have your own cycle, you can grab one of the city's Spark Bikes and the first 30 minutes of your trip will be free!

Melbourne has long been hailed as Australia's capital of cycling and this was confirmed in 2011 when the capital of Victoria earned its status as the country's first (and the world's second) 'bike city'. This recognition has helped boost the city's reputation as a cycle-friendly haven ever since.
Whether you choose to get around on your own two wheels, or by using Melbourne Bike Share cycles, it's an increasingly popular method of transport in the city, especially when it comes to students. The University of Melbourne is home to Unibicycles – an on-campus space for bike servicing and parts, and the Melbourne University Cycling Club. The university itself boasts some 2,100 bike parking spaces, with at least 300 of these in secure bicycle hubs. These hubs are free to use for students and staff at UniMelb, you just need to sign up beforehand.
Though cycling in Melbourne isn't a perfected art just yet, the introduction of free helmets (it's the law in Melbourne) for Melbourne Bike Share means users will be safer on the city's roads. This year, a collaboration between The Squeaky Wheel and BikeSpot aims to investigate the perceived risk of cycling in Melbourne in order to get the city up to scratch with the rest of the world's top cycling destinations. If you're not totally convinced by cycling in Melbourne, you can always take a training class with The Squeaky Wheel.
If you're still not sure where to study, this might help you decide:
Job prospects after graduating can also influence your decision on where to study, so you'll want to check out:
But if you can study for free, that also helps! There are a few countries around the world where you can pay very little for your degree, find them here:
And in order to ace your exams when you're studying abroad, check out these:
10 Science-Backed Tricks To Improve Your Studying
11 Tips For Studying In Another Language
The Easy Guide To Writing An Essay In English