New York City is the largest city in the United States and one of the most iconic cities in the whole world. Take a tour of the accommodation options in this magical city with us.
New York is famous as the city that never sleeps, and we can see why with so many things to do! Whether it's spotting locations from your favourite films and TV shows, eating delicious foods from around the world or doing a sightseeing tour of world-famous landmarks, there's something for everyone.
Part of the city's magical charm is the fact that many landmarks are a popular feature in films and TV shows set in the city. This means there is an endless supply of things to see in real life you may have only seen on screen.
New York is also a great location for studying. With lots of interesting things to see and do, a cosmopolitan atmosphere with people from all corners of the world and world-renowned higher education institutions, such as New York University (NYU) and Columbia University, it's no wonder so many people choose New York City when deciding where to spend their university years.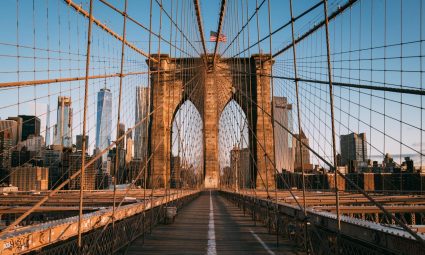 New York's neighbourhoods
In a way, there isn't just one New York City. The city is made up of five boroughs: Manhattan, The Bronx, Queens, Brooklyn, and Staten Island. All these boroughs have their own distinctive features and characteristics, from the skyscrapers of Manhattan to the hipster heaven of Brooklyn and the much more tranquil atmosphere of Staten Island.
As a student heading to the city to study, it's important to consider the local neighbourhoods, the distance between your home and your campus and the budget you have available for living expenses. Typically the more money you can afford to pay for rent, the more central you can live. It's possible to make good finds with a smaller budget too though, but your options will typically be more limited if you absolutely want to live in, for example, Manhattan, typically the most expensive of the five boroughs.
Accommodation in the city moves fast with roughly 60% of residents renting their property. This means that in order to find the best home for you at the best price, you want to start looking into your options as early as possible. The closer we get to your move-in date, the higher the chance that many good options will already be sold out.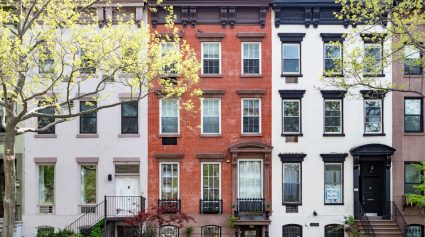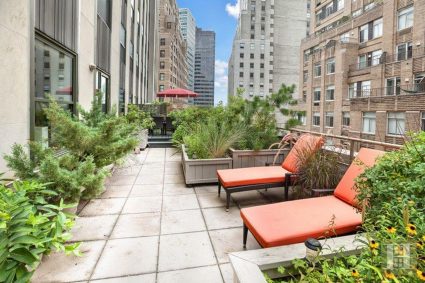 This is a great option if you want to be right in the thick of things. When it comes to location, it's hard to beat being in the Midtown of Manhattan. From Midtown it's easy to get anywhere in the city.
Student.com has partnered with Harrington Housing to offer you access to this classy Manhattan option. This high-end, hotel-style building will give you the true experience of being a New Yorker, placed in the heart of the city with countless conveniences and attractions at your doorstep! You will also be a 7-minute walk to Pace University and a 5-minute walk from the iconic Grand Central Station.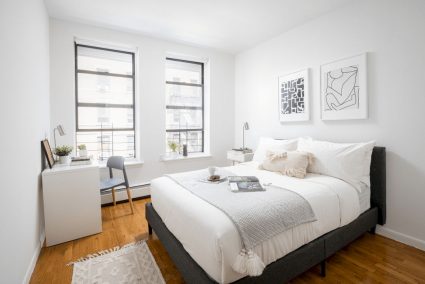 West 112th Street is a great option, especially if you are going to be studying at Columbia University. You'll be living just a block away from the world-famous Central Park and can walk to the Columbia University campus in about 20 minutes. It's also great value for money considering you'll be living in Manhattan, typically one of the most expensive places to live anywhere in the world. This property offers private bedrooms with shared bathrooms, so you'll get some privacy as well, as you won't have to share all your living spaces with a roommate.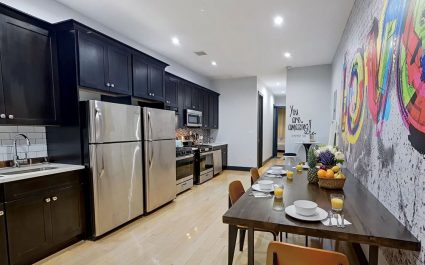 New York Friends Home is a community-oriented co-living space offering private bedrooms with shared bathrooms in the Clinton Hill neighbourhood of the trendy Brooklyn borough. Located very near the hipster heaven of Williamsburg, you can still get to Columbia University in just under an hour and to NYU in about 45 minutes.
When you're not studying, it's easy to do some sightseeing, with for example Times Square being just 40 minutes away by public transport. You'll save a fair bit of money because the rents in Brooklyn are lower than in Manhattan. In New York Friends Home the rooms are also fully furnished, so you won't have to spend money on buying furniture either.
At Student.com we can help you find the perfect home away from home in the Big Apple. Just give us a call, talk to us on live chat or check all the options for student housing in New York City that we offer!