Sydney is a city of incredible sights, sounds, and culture. From the iconic Opera House to the breathtaking Blue Mountains, there is something to explore around every corner. If you are considering studying in Sydney, this guide will help you make the most of your time in this city.
Sydney is home to some of Australia's best universities and offers exciting experiences for students. You can visit attractions like the Sydney Opera House and Harbour Bridge, dine at renowned restaurants, or some of the city's beautiful beaches. For students looking for unique activities, a visit to the markets and galleries of The Rocks is a must, while the neighbourhoods of Newtown and Glebe are perfect for foodies. Those who love outdoor adventures can take a ferry to Cockatoo Island or explore local national parks.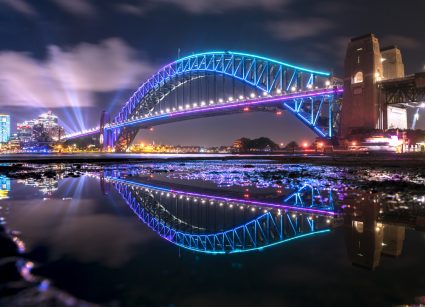 Attractions in Sydney
Sydney Harbour Bridge is an iconic landmark in the city that offers beautiful views of the harbour and city skyline. You can climb up to the top of the bridge and take in the delightful sights. For a nice tour of the area, you can take a ferry ride around Sydney Harbour.
The Sydney Opera House is a famous landmark in Australia and one of the most famous buildings in the world. Located in Sydney Harbour, it is a multi-venue performing arts centre that hosts a variety of events and performances. Its distinctive architecture and harbour views make it a must-see for any Sydney visitor. You can take guided tours, attend concerts and theatre performances, explore the many galleries and exhibits, and visit their cinema.
One of the most famous beaches in Australia is Bondi Beach. It is known for its white sand and crystal blue waters. During the night, the beach transforms into a lively atmosphere with bars, restaurants, and clubs. Many young adults come to Bondi Beach to enjoy the nightlife, socialise with friends, and dance in the amazing atmosphere.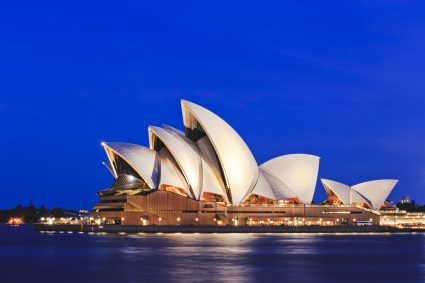 The Rocks is a historic precinct located in the heart of Sydney. It used to be a convict settlement and has over 100 heritage sites and buildings. The Rocks are also home to some of the city's oldest pubs, cafés, and restaurants. It is a great and beneficial area for students to explore because it provides an opportunity to learn about Sydney's past. The Rocks Markets are a great place to pick up souvenirs and the Rocks Walking Tours are a nice way to learn more about the area's history. 
Darling Harbour is a very popular destination in Sydney. The Harbour is home to the Sydney Aquarium, the Wild Life Sydney Zoo, the Australian National Maritime Museum, the Powerhouse Museum, and the world's largest cinema screen. There are also plenty of places to eat, drink, and shop. During the day, you can take walks along the waterfront, go for a ferry ride, or visit one of the many parks and gardens.
Royal Botanic Garden Sydney is a 30-hectare oasis in the heart of the city. The Garden is home to over 8,000 species of plants, including many rare and endangered species. With its diverse range of landscapes, from the rainforest to the harbour foreshore, the Garden provides a pleasant environment for young adults to explore nature. There are plenty of activities to enjoy, like guided walks, educational programs, interactive exhibits, and themed events.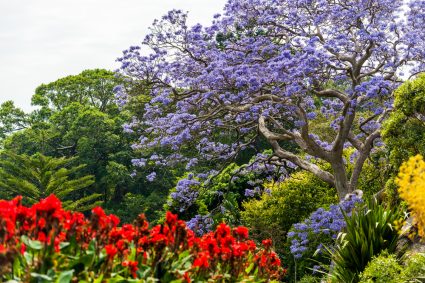 Taronga Zoo has an impressive collection of native Australian animals and plants. The zoo offers a lot of educational activities for kids, such as guided tours, talks, and animations. And for animal lovers who want to go a little further, there are overnight campsites.
The Sydney Tower Eye is the tallest structure in the city, at 309 metres tall. The tower has an observation deck that offers 360-degree views of the city and its surroundings. From the top of the tower, you can see the Sydney Harbour Bridge, the Sydney Opera House, the Blue Mountains, and more. The tower also has a 4D cinema, where you can experience a simulated journey through Sydney's famous landmarks. You can also take the Skywalk, a glass-floored walk around the outside of the tower.
Nightlife, activities, and restaurants
 The city is known for its nightlife with plenty of pubs, clubs, and live music venues. But if you are on a budget, there are still plenty of things you can do. The Art Gallery of New South Wales is free to visit, as is the Museum of Contemporary Art Australia. For nature lovers, Hyde Park offers plenty of activities such as running, cycling, and outdoor theatre performances. Another great option is to take a ferry ride across Sydney Harbour to the Taronga Zoo.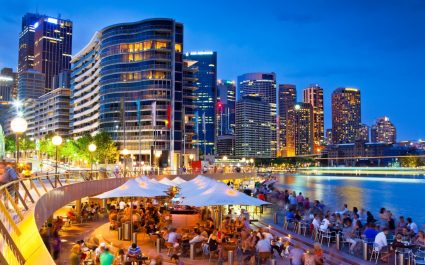 For Sydney's nightlife scene, you can choose from traditional pubs and clubs to rooftop bars, live music, comedy shows, and much more.
Home The Venue in Darling Harbour is one of the most popular clubs, Candelaria is a famous Latin club, and the ivy precinct is a huge venue with a good selection of bars and restaurants.
Sydney has some of the most beautiful beaches you'll find anywhere. Some common favourites are Bondi Beach, Bronte Beach, Manly Beach, and Palm Beach.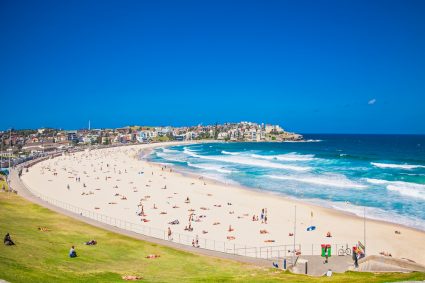 Top universities in Sydney
Sydney is home to some of the best universities in Australia. The top universities in Sydney are the University of Sydney, Macquarie University, the University of Technology Sydney, and the University of New South Wales. These universities are highly ranked both nationally and globally.
The University of Sydney is the oldest in Australia, established in 1850. It is one of the world's top universities, with a strong focus on research and innovation.
Macquarie University is known for its academic programs and research facilities while the University of Technology Sydney is renowned for its cutting-edge technology and engineering courses. The University of New South Wales is a leading research university with a focus on medicine, engineering, and science.
With a diverse range of courses and research opportunities, Sydney's universities offer students the chance to develop their skills and knowledge in a variety of fields. From arts and humanities to engineering and science, the city's universities are well-regarded for their high education standards.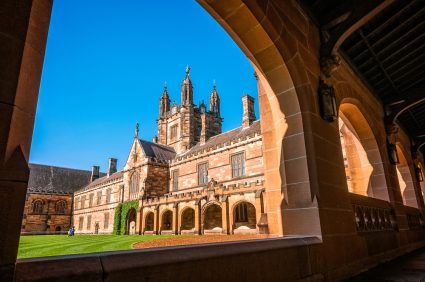 Accommodation
For accommodation, you can choose from modern apartments, shared living spaces, and student-specific housing complexes. Many of these offer excellent amenities, such as study areas, laundry facilities, and recreational activities. Also, many of these student accommodation complexes are located close to universities, making it easier for students to get to their classes.
In the city's suburbs there are plenty of options for those on a budget. From shared apartments to student-only accommodations, there's something for everyone. You can check some of the most popular options below, or see all the options we list for student accommodation in Sydney.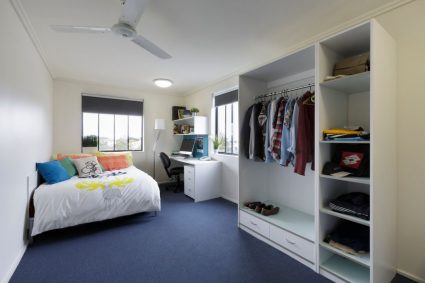 Sydney University Village offers high-quality student accommodation right next to the University of Sydney. With less than a 10-minute walk to your classes and the city centre less than 20 minutes away by public transport, it's hard to beat this place on location. Sydney University Village offers private rooms and studio apartments.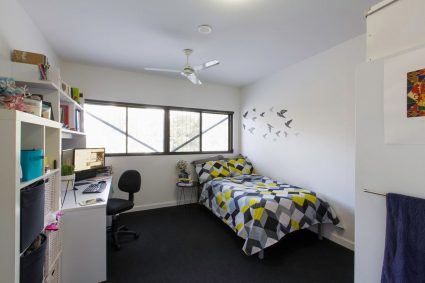 UNSW Village is located just 5 minutes away from the University of New South Wales on foot. You can get to the city centre in half an hour by bus. This property is an excellent choice for anyone studying at the University of New South Wales, with fully furnished rooms and all bills included in your rent.