Brisbane is a wonderful city for students. With its stunning natural beauty, world-class entertainment, and countless activities, it's no wonder so many people choose to study here. Besides its world-class universities, this city has many opportunities for fun and entertainment, from museums and art galleries to festivals and parks! To help ease your schedule and balance your days, we've compiled a list of some great things to do in Brisbane.
It may take some time to decide where you want to study, and when you do, you'll need to start looking into all the fun things to do in that city. Brisbane is an excellent option because it is listed as the 24th-best student city in the world in the QS Best Student Cities Rankings of 2023.
Brisbane is not only full of fun and exciting things to do but also has some of the best universities in the world, such as the University of Queensland and Griffith University. However, knowing where to begin can take a lot of work with so much to do. But fortunately, we've got you covered with this list of everything from theme parks and coffee shops to community festivals and cultural events.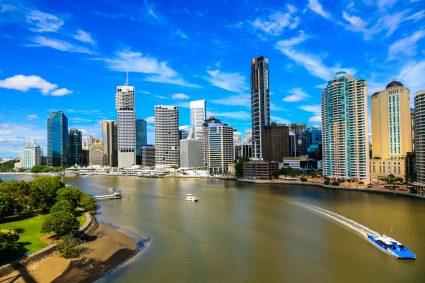 Why study in Brisbane?
Brisbane is one of the most popular study destinations in Australia. It is a cosmopolitan city with a healthy economy, good transport links, and lively nightlife. The University of Queensland is world-renowned for its research and teaching. The city also has many cultural attractions, including the Queensland Museum and the Brisbane Botanic Gardens.
Attractions of Brisbane
Brisbane has a lot of interesting historical and cultural attractions, which can be explored in museums or on tours. Some popular attractions include the Brisbane River, Story Bridge, South Bank Beach, and the Lone Pine Koala Sanctuary.
The Brisbane City Hall is located in the heart of the city and is one of the best places to visit. It's a historical landmark built in 1930 and has been a city symbol for many years. It is a great place to experience the culture and heritage of Brisbane, as the building houses numerous artworks, memorials, and monuments that reflect the history and character of the city.
Another attraction to consider is the Story Bridge, a famous landmark of Brisbane, located at the mouth of the Brisbane River and connects the Brisbane CBD to Kangaroo Point. Visitors can enjoy the beautiful views from the top of the bridge and learn about its fascinating history.
South Bank Beach is another excellent place to explore. Situated on the banks of the Brisbane River it offers a variety of fun activities for everyone, such as swimming, beach volleyball, stand-up paddle boarding, and many other recreational activities.
There's kayaking, hiking, and cycling for those looking for a more active experience. Brisbane also has a variety of cultural and entertainment venues, from the Queensland Art Gallery and Museum to the Brisbane Entertainment Centre and Suncorp Stadium.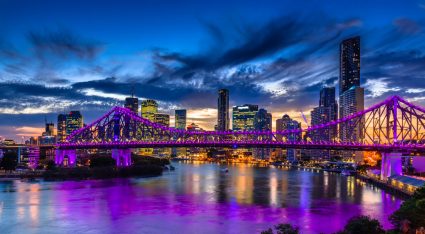 How to get around in Brisbane
With over two million inhabitants, Brisbane is the third-largest city in Australia. The foreign residents of Brisbane represent more than a quarter of the city's population, bringing with them a rich diversity of culture and cuisine.
Brisbane is a city that is known for its outdoorsy lifestyle and its impressive infrastructure. The city has an excellent public transport system, with buses, trains, and ferries all readily available. The buses are particularly convenient, as they run all over the city and connect the most significant attractions. The city is also home to several theme parks and recreational areas, allowing people to spend time outdoors while still enjoying the benefits of city life.
Brisbane's infrastructure also includes a wide range of bike paths, allowing people to enjoy cycling around town and take in the city's great climate. In addition, Brisbane is home to some of the best shopping in Australia, with a wide range of unique and affordable stores.
Whether it's cultural diversity, transportation, outdoor recreation, or shopping that you're looking for, Brisbane has it all.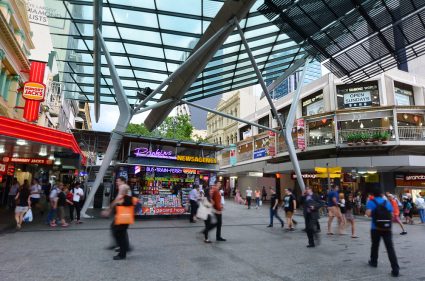 World-Class universities in Brisbane
Brisbane is home to some of the world's best universities, including the University of Queensland (UQ), the Queensland University of Technology (QUT), and Griffith University. These universities offer world-class education and are known for their research excellence.
The University of Queensland (UQ) is one of Australia's most prestigious universities and is consistently ranked in the top 100 universities worldwide. UQ offers extensive courses and programs ranging from engineering to arts and sciences, as well as many interdisciplinary programs that provide students with an in-depth education.
The Queensland University of Technology (QUT) is also renowned for its excellent research opportunities, particularly in technology, health, and the environment. As a result, its graduates are highly sought after by employers.
Griffith University is another of Australia's premier institutions, providing a broad range of courses from medicine to architecture and business.
UQ, QUT, and Griffith University are all highly respected universities with a rich history of providing quality education to their students.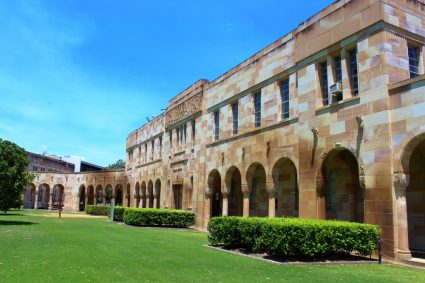 Where to stay in Brisbane
When choosing accommodation for students in Brisbane, it is essential to consider various factors, such as price and location.
Some of the best accommodation options for students in Brisbane include hostels and guesthouses. These options are typically cheaper than a hotel and often have a more social atmosphere. Living in a shared house will help you make new friends as well.
Another great option is to live in a purpose-built student accommodation (PBSA) building. These properties are built specifically with the needs of students in mind and often feature great amenities such as in-house gyms, cinema and games rooms and dedicated study spaces.
Unilodge Park Central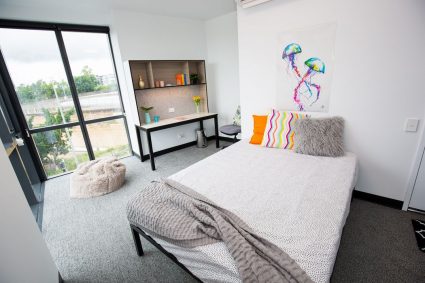 Unilodge Park Central offers private rooms and studio apartments in a great location. You'll be near the city centre, and only 15 minutes away from the University of Queensland by public transport. The Queensland University of Technology and Griffith University can both be reached in less than half an hour. The property has many great amenities such as a gym, a games room and a cinema room, as well as on-site laundry facilities.
Student One Adelaide Street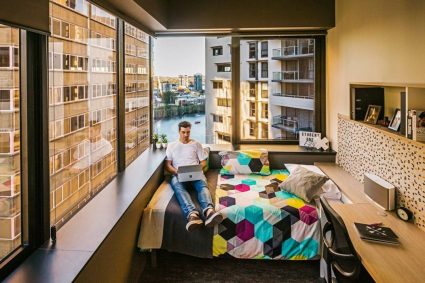 It's hard to beat Student One Adelaide Street on location. This property offers shared and private rooms, as well as studio apartments, right in the city centre. The rooms are fully furnished and all bills are included in your rent. The property also offers a shuttle bus service to university, so getting to your classes will be quick and easy!
Make sure to check all the options we offer for student accommodation in Brisbane to find the ideal student home for you!