From free ferry rides to the best pizza in town, find out all the insider secrets you need to know to find your way around the Big Apple.
New York City is an amazing place to call home as a student and you'll be spoilt for things to eat, see and do between classes. Read on as we reveal the quickest ways to get to class, the hidden gems only locals know about and the coolest Wi-Fi hotspots to study in.
Are you looking for student housing in NYC? Student.com has fantastic rooms available across the city and close to all of the universities and campuses.

1. Free sightseeing on the Staten Island Ferry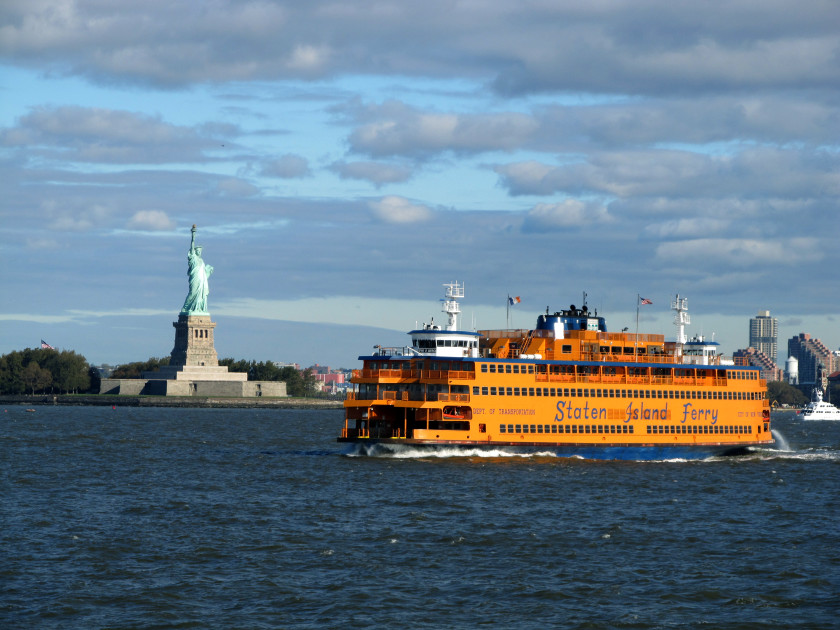 You could book a pricey Statue of Liberty Cruise around the harbor, but why would you when you can just hop on board the Staten Island Ferry for free. Not only that, but it runs 24-hours a day so you can enjoy a cruise, admiring Lady Liberty's glowing torch light and the glowing cityscape, at any time.
2. Hop on CitiBike to get around for less
Subway fares keep going up and taxis can get a little costly if you use them to often. But you can save money and take in the views of your new city by biking around instead. An annual membership to CitiBike is just $149 and includes 45-minute rides, so you can get around classes and to that afternoon coffee date with plenty of time to spare.
3. Research your papers with free Wi-Fi at New York Public Library
Finding free Wi-Fi is not easy in New York. Many cafés don't offer it, and if they do, it's only for a limited time. If you need a change of pace from campus, try one of the New York Public Library branches, where you can study online for all the time you need. Plus, you'll have access to the stunning collection of books and research resources.
4. Set up an outdoor study session with Wi-Fi at Bryant Park

Want a little sunshine while you work? Take your books to Bryant Park! Sit down at a table and chair and make this beautiful urban park your office for the afternoon. They have free Wi-Fi and even a few charging stations.
5. Beat the crowds at Shake Shack
Everyone loves Shake Shack, one of the city's most famous and most affordable student-friendly eateries, but no one loves the lines outside. If you have a free period, go in the middle of the afternoon when the rest of the city is stuck in class or at work, or go late at night to fuel up for an epic study session.
6. Eat at a 'Bring Your Own' restaurant
Cozy bistros like Tartine in the charming West Village let you bring your own drinks, so you can feel like a big city diner without having to shell out the big city price.
7. Master the Subway with the Exit Strategy app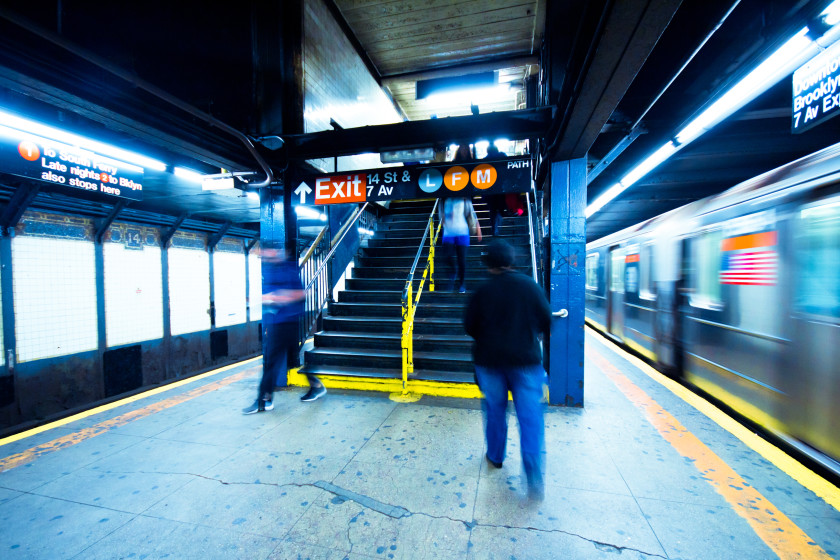 Find out exactly where you need to get on the subway to be the first person up the stairs. The Exit Strategy app shows you exactly where to stand to be perfectly placed for hopping off quickly – perfect if you're late for class at rush-hour!
8. Save Friday nights for art museums
What's better than student discounts? 100% free admission! Both the Museum of Modern Art (4 to 8 pm) and the brand-new Whitney Museum (7-10 pm) along the High Line open their doors for free on Friday nights. Start your weekend off with a bit of artistic inspiration!
9. Stroll the High Line to study above the streets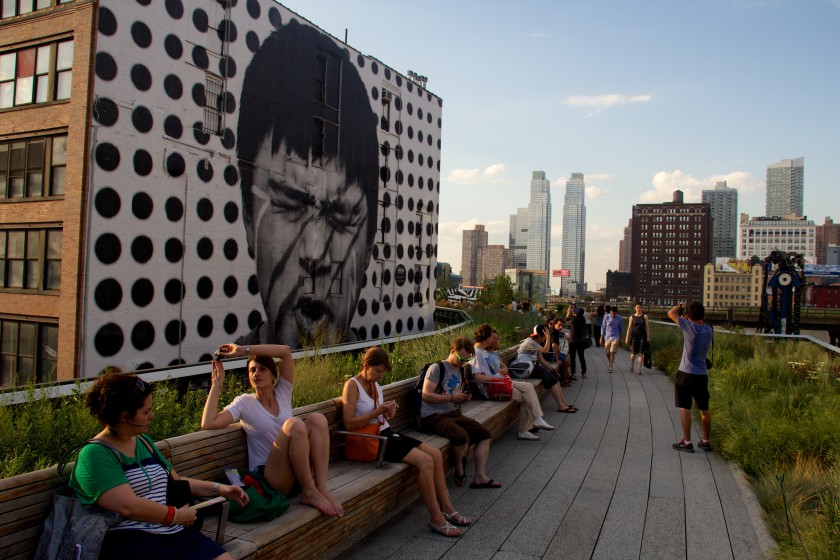 And speaking of the High Line, it's worth check out this landscaped pedestrian park that winds above Manhattan. Hanging out here is always free. There are lots of little oases to kick back in so bring a book to do some study or meet friends for a catch up to watch the sun set.
10. Score Student Rush tickets to coveted cultural spots
Hobnob with New York society at the glamorous Metropolitan Opera House, see a performance by a famous ballet company, or catch an Broadway play. Your student ID entitles you to some very special deals on culture. Check out StudentRush.org for details.
11. Picnic or play in the Sheep Meadow
New York City may not have many lush campuses like typical college towns, but on the weekends, you can head to Central Park's Sheep Meadow to join in the fun by playing Frisbee, picnicking or just catching a few rays of sunshine.
12. When hunger strikes, find a slice of $1 dollar pizza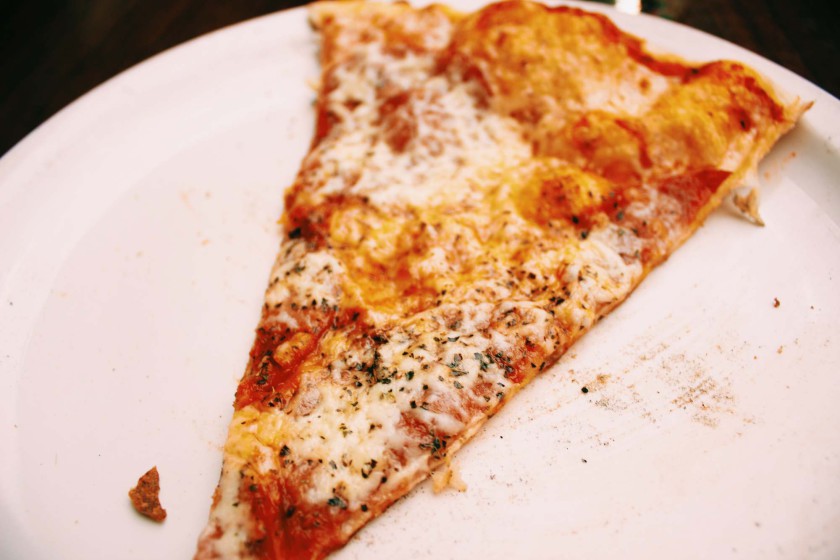 These hole-in-the-wall pizzerias are everywhere, even in New York's fanciest neighborhoods. Your slice might not be instagram-worthy or the most gourmet variations, but your student budget will be very happy. Keep an eye out for locations of 2 Bros. Pizza (like the one on St. Mark's Place) or visit Vinny Vincenz Pizza on Third Avenue.
13. Paddle on the Hudson river for free
From mid-May to October, you can gather some classmates to go kayaking along the Hudson River. It's free of charge, just check in at The Downtown Boathouse on th pier.
14. Sign up for the Skint.com for the skinny on cool events
The Skint is an essential daily email for those who love going out in New York on a budget. It's loaded with the best value and free things to do around the city.
15. Spend a night laughing at Upright Citizens Brigade
The comedy shows at Uprights Citizens Brigade are fantastic value (around $5) or sometimes even free. You'll get the chance to sit front row watching famous comedians like Aziz Ansari. Reserve in advance and get there early to score a seat.
16. Walk the Brooklyn Bridge then chill out with a great view
Walking the Brooklyn Bridge from Manhattan is an iconic experience, but it doesn't stop there. Spend an afternoon soaking up the atmosphere of this vibrant neighborhood in Brooklyn Bridge Park or simply have lunch looking over one of the most famous city views in the world.
17. Ride the free Water Taxi to Red Hook
Getting to the cool little neighborhood of Red Hook is difficult by subway but you can do travel there easily on the water. And it's worth it. Take a free ride right from lower Manhattan on the weekends thanks to the IKEA New York Water Taxi.
18. Eat hipster treats at Smorgasburg
Set along the banks of the East River in Williamsburg, this uber-popular weekend foodie festival offers everything from artisanal doughnuts to handcrafted hot dogs every Saturday. Smorgasburg is the perfect place to try a few gourmet bites without breaking the bank. When summer ends, it moves inside to Industry City in Sunset Park, Brooklyn.
19. Pedal around a Car-Free Island
Not only does Governors Island offer low-cost bike rentals, but you can pedal around this car-free island without the stress of normal New York streets. Open from May to September, Governors Island is worth a day-trip to check out the unique art installations and eco-friendly picnic spots.
20. Soar above the city on a tram ride

Fly over the city for the cost of a subway ride when you take the Roosevelt Island Tram. Once you've landed, visit Four Freedoms Park for an inspiring view of the skyline in a surprisingly peaceful location.
21. Grab a $10 bill and enjoy dinner in Chinatown
While Manhattan prices keep going up, Chinatown still has tons of super cheap and tasty eating options. Scour the buzzing streets and you'll find five fried dumplings for a buck or a $5 bowl of hand-pulled noodle soup.
22. Do your food shopping at Trader Joe's
Fpr a student-friendly grocery store, you can't beat the fun (and always packed) aisles of Trader Joe's. Get up early or be prepared to wait – sometimes there's a queue just get in the door! There are different store locations around New York City so you'll always be in close distance of one.
23. Before you jump in a cab…Walk!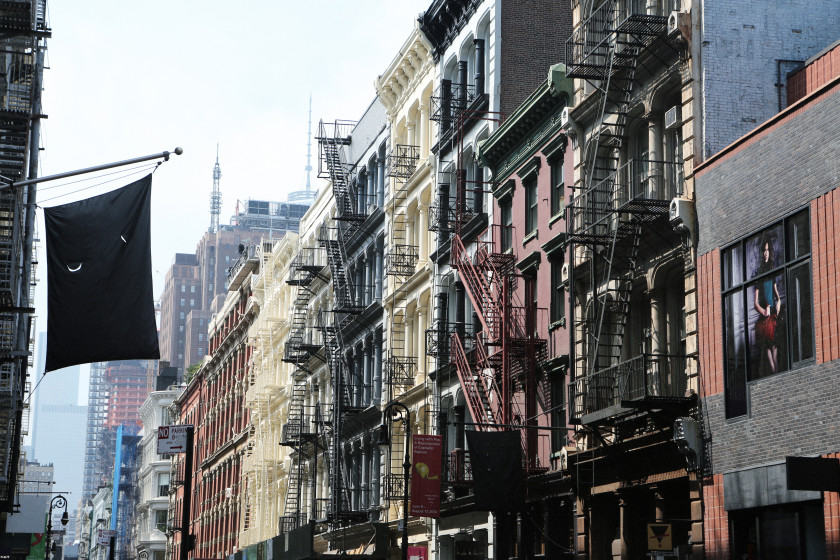 Those $2.75 subway rides can add up, so invest in a good pair of walking shoes and hit the streets. There are several great apps to help you explore your new city on foot, or you can just wander around to see where you end up. Check out these apps recommended by Walking Off The Big Apple.
24. Take a free brewery tour
A pint of craft beer can set you back almost ten bucks in the Big Apple. Sample the best of New York suds with a trip to Williamsburg to see the Brooklyn Brewery up close. They offer free tours on Saturdays and Sundays, and the tasting room is open all day.
25. Be on TV

Or, at least, grab a seat for free in the studio audience. Top shows like Late Night with Seth Meyers, The Tonight Show Jimmy Fallon, The Late Show with Stephen Colbert, The Daily Show with Trevor Noah, and many more all offer free tickets to the general public. Check out NYTix for details on dozens of shows. And if you can figure out how to get tickets to Saturday Night Live, let us know!
26. Hit up VU Rootop Bar for a spectacular city vista

While many sky bars in Manhattan boast strict dress codes and expensive cocktail menus, VU Rooftop Bar in Koreatown keeps it simple. You'll find a student-friendly crowd hanging out under the glow of the Empire State Building. And what a view!
27. Go gallery hopping on Thursday nights
Chelsea is jam-packed with art galleries, and Thursday evenings are popular for exhibitions openings. Not only do you get to see some world-class art, you might get to meet the artists themselves and maybe even sip a complimentary glass of bubbles at some galleries. Check out Art Cards for the latest listings.
28. Browse Jack's Dollar Store for student housing essentials
Need something for your dorm room? Before you throw away a few extra bucks at a regular department store, take a trip to Jack's first. This 99-cents super store is packed with little treasures that will look perfect in your new apartment.
29. Upgrade your wardrobe at sample sales
New Yorkers love looking good. But you don't have to hit the boutiques of Madison Avenue to keep your wardrobe up to date. Time Out New York has a list of sample sales every week where you can find brilliant deals on designer pieces – you'll be the envy of your classmates in your new threads.
30. Find fashion inspiration in Nolita
If Fifth Avenue is too mainstream for your tastes, check out the boutiques of Nolita. The window shopping is much more fun and tourist-free than Midtown and you might bag some impressive bargains in this cluster of unique stores and hangouts.