Are you looking to book student accommodation but are not sure where to start from? Check out this guide to find out how quick and easy booking your student home is on Student.com.
Student.com lists student accommodation from across the world. We actually cover over 400 cities. Booking student accommodation with us is simple, and before long you will have your perfect home away from home!
How do I book with Student.com?
Booking your accommodation on Student.com is super simple! Just follow these six steps and soon you'll be living in your dream student residence:
Step one: Head to our website www.student.com.
Step two: Put your university or destination in the search bar and then scroll through the student accommodation properties. Our many filters will make it easier to find the ideal property for you.
Step three: Once you have picked a property, click on 'View rooms' to go to the property page and select your room.
Step four: Hit 'Book Now' or 'Enquire' on the room you want. Then enter your name, email address and telephone number.
Step five: A member from our expert bookings team will shortly be in touch to answer any questions and process the booking.
Step six: A deposit will need to be made to secure the property and all paperwork will be completed with support from our expert bookings team.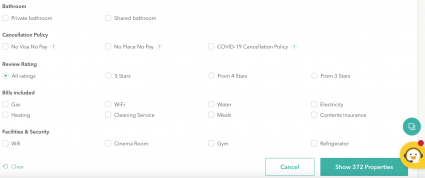 You can also book directly with a member of the bookings team over the phone via the local telephone number listed on the top right-hand corner of the website. If you have some questions before you're ready to book, we have 24/7 support via our live chat on our website. So if there's anything on your mind, don't hesitate to get in touch!
What do our different room types mean?
There are lots of student accommodation options on Student.com, but here's a quick overview of the types of rooms you can get:
The shared room: This allows you to enjoy the communal feeling of a shared room, which sleeps two or more in separate beds. Perfect if you have a university buddy you want to share with. Any additional living space and facilities are shared with other rooms. This is usually also our most economical option, so it might be perfect for you if you're on a budget.
The private room: With this option there is no need to share a bedroom, as your sleep and study space is your own. Depending on the actual property you select, your bathroom is either private or shared. You can get to know your neighbours in the other living spaces, which are shared.
The entire place: This provides the perfect opportunity to relax in the privacy of a fully self-contained studio property. The living space, as well as the cooking and bathing facilities are all just for you. There's also an option to apply as a group with friends to rent larger places with up to eight beds.
You can find out via the property listing on our website what each specific location has to offer, as well as the prices of different rooms.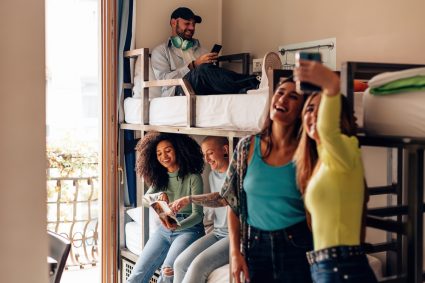 So there you have it, we told you it was simple! Booking student accommodation doesn't have to be a hassle. Simply give us a call (local number on our website), chat with us 24/7 on our live chat or hit 'Book now' or 'Enquire' on the property you love.
Ready to book your student accommodation?

Here are just some of the hundreds of cities where we list some of the best student accommodation around: