So you've chosen to study in the UK… You'll soon be joining a country that's rich in history, culture and regional accents. To help your transition go smoothly, we've selected 33 essential websites that you need to bookmark right now!
International Student Advice and Support
1. UK Council for International Student Affairs (UKCISA)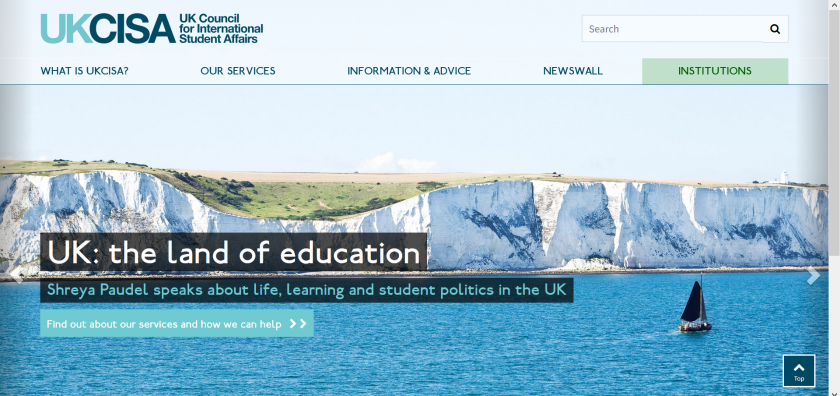 The UKCISA is the national advisory body serving international students. All UK universities are members of the UKCISA, as are many further education colleges. Their website is packed with information and support for international students coming to the UK.
The British Council exists to connect the UK with the wider world. They provide excellent online English language courses which would be great for international students coming to study in the UK that would like to improve their speaking skills. The British Council also organises pre-departure briefings for students planning on coming to the UK to study – check the website to see if there's one local to you.
3. Study UK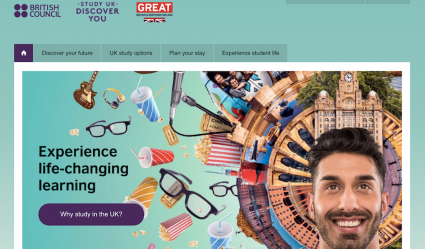 This site, run by the British Council, has excellent practical advice on living and studying in the UK. It's a great place to read up on your new home before you arrive. There's a useful section on student safety and support, as well as guides to different cities and areas of the UK.
4. NUS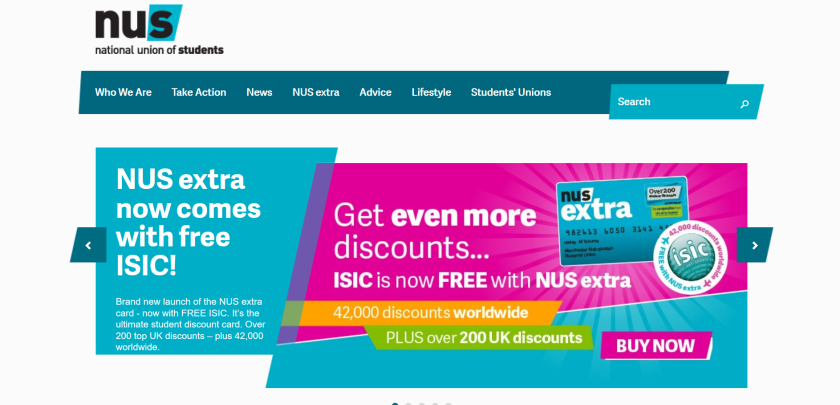 The NUS, or National Union of Students, is an organisation designed to support students and help them get the best out of their time at university. All UK-based students are eligible for an NUS extra card which allows them to receive discounts in shops, restaurants and even on travel. Plus, if you apply for an NUS extra card you can receive discounts back in your home country, too!
5. The Complete University Guide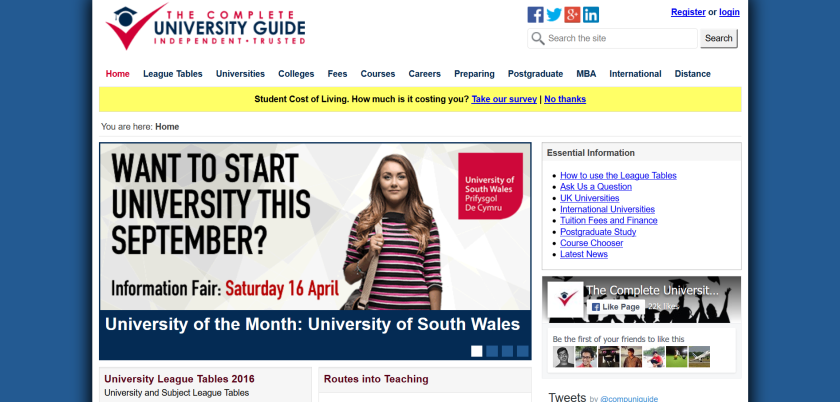 The Complete University Guide covers every UK university, including a section for international students and plenty of advice on preparing for study. If you need more information on a university, this is where you should come.
News & current affairs
6. BBC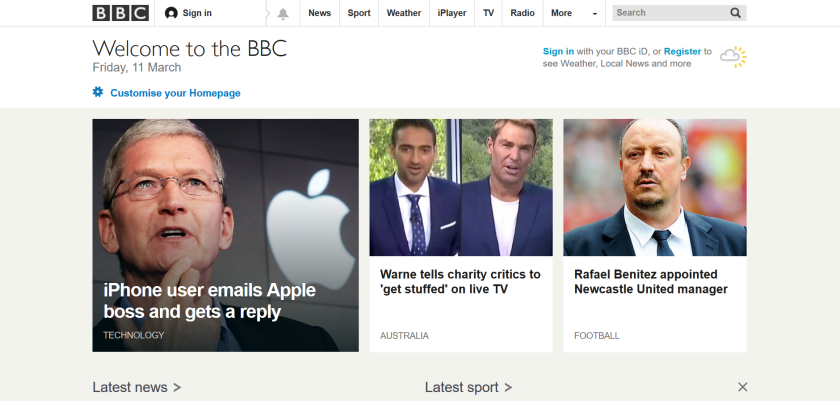 This British institution is a great place to keep abreast of the news from a global to regional scale. Since 1922, the British Broadcasting Corporation has been providing impartial news coverage to the UK masses. The BBC news site will give you a feel for the issues currently affecting the UK and hopefully familiarise you with local geography.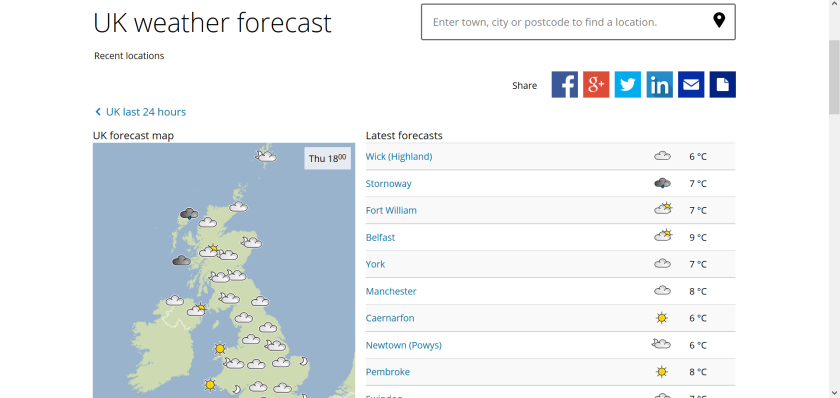 The UK is famous for its changeable weather, including a LOT of rain year-round. To help you decide what to pack for your time there (an umbrella is recommended) keep an eye on the weather forecast or take a look at monthly averages so the temperature doesn't come as quite so much of a shock.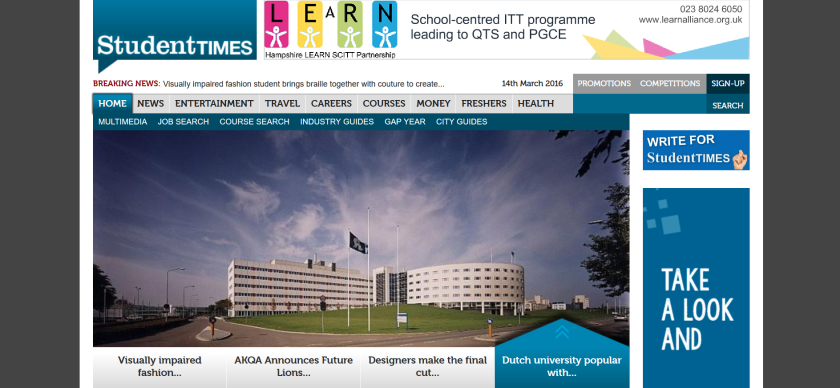 This independent national online newspaper is written by UK students for students. They focus on news stories affecting students, plus provide entertainment and lifestyle coverage.
9. Huffington Post Student News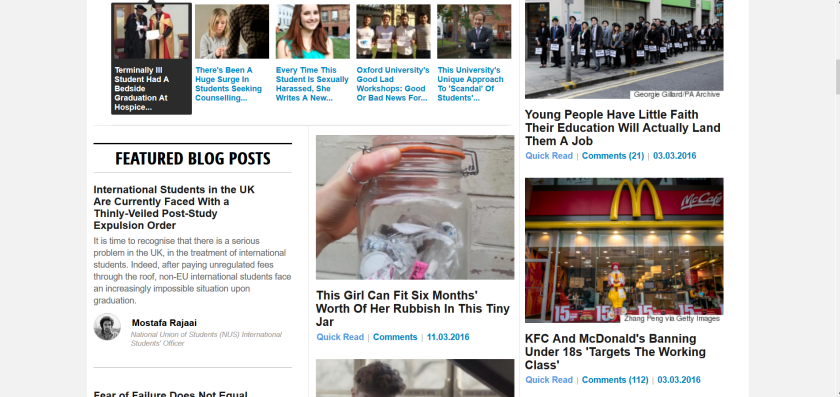 The Huff Post's student news page is one of the best sites out there for frequent and in-depth coverage of issues affecting university students. The blog posts make for interesting and informative reading.
10. The Telegraph Student Life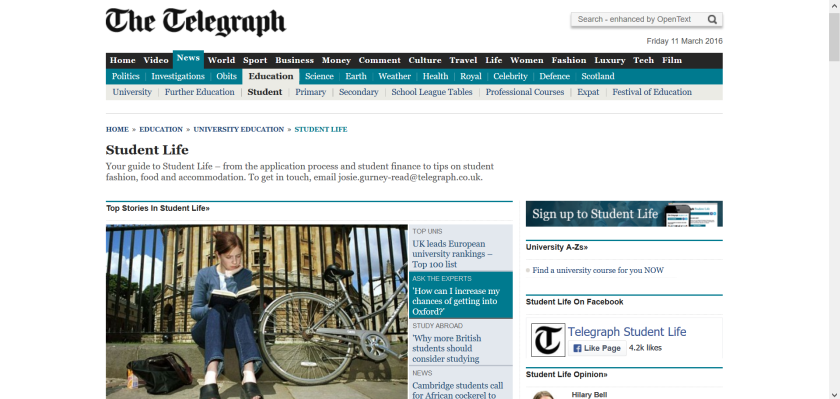 The student news pages of the Telegraph website are largely written by current UK university students, meaning they give a peer's perspective on the issues affecting undergraduates.
11. Hexjam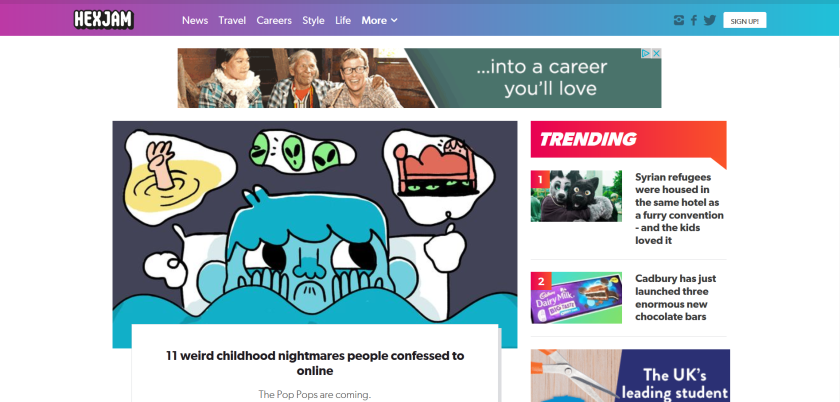 This website is great for reading up on light-hearted news and current trends for students in the UK.
Student travel
12. Trainline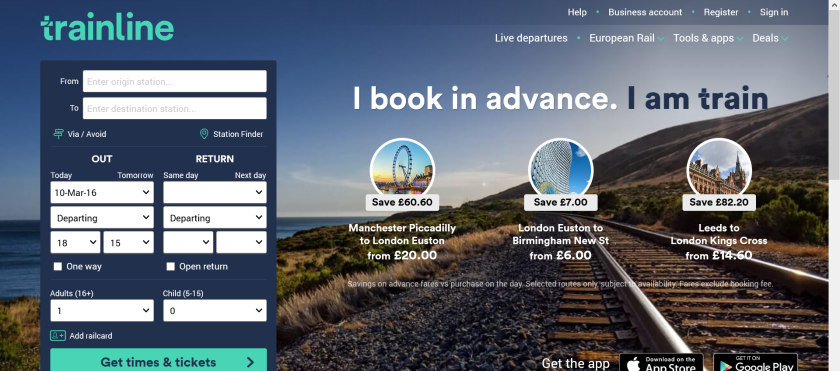 If you've got friends at other universities that you'd like to visit or simply want to explore more of the UK, there's only one cheap and convenient way to travel – by train. The UK's train lines are extensive and the Trainline website is the best place to check out routes and prices. Travelling off-peak is advised to save money.
13. Ryanair

Budget airline Ryanair provides some of the lowest flight fares from the UK to the rest of Europe. They fly to a number of major airports in cities where Student.com lists accommodation such as London, Manchester, Belfast, Glasgow, Cardiff or Newcastle. You'll surely be planning some travel in Europe while you study in the UK as well, and Ryanair offers one-way flights from as little as £9.99! Check out our air travel tips if you want to find cheap flights.
14. Visit England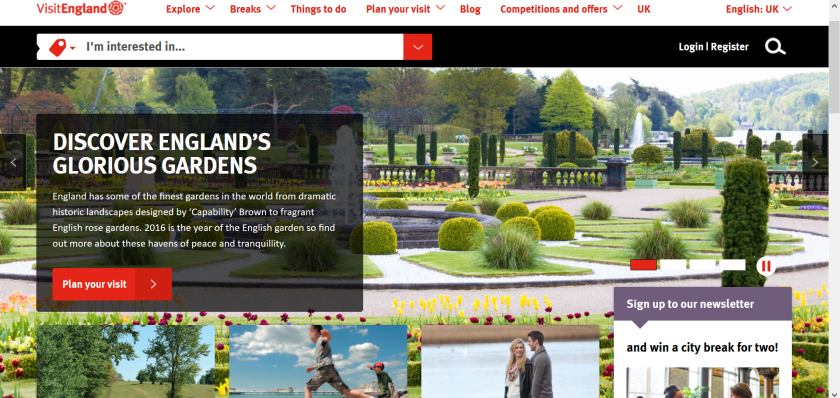 Since you're moving to the UK you probably want to know a bit more about the place, and the official tourism website of England is sure to excite your wanderlust. Read up on your chosen university city or find the coolest things to see and do in England.
Do you need to book student accommodation in the UK? Student.com has fantastic student accommodation available in London, Manchester, Liverpool and many more cities.
15. Visit Wales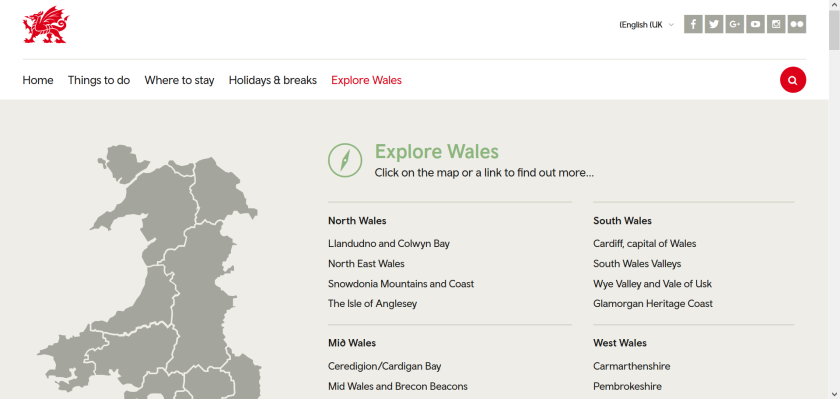 Similar to Visit England is the Visit Wales website. Study up on the university cities of Cardiff, Swansea or Aberystwyth or plan a trip to England's next door neighbour – Wales is great for hiking, surfing and adventure holidays. If you're going to study in Swansea, be sure to check out St Davids.
16. Visit Scotland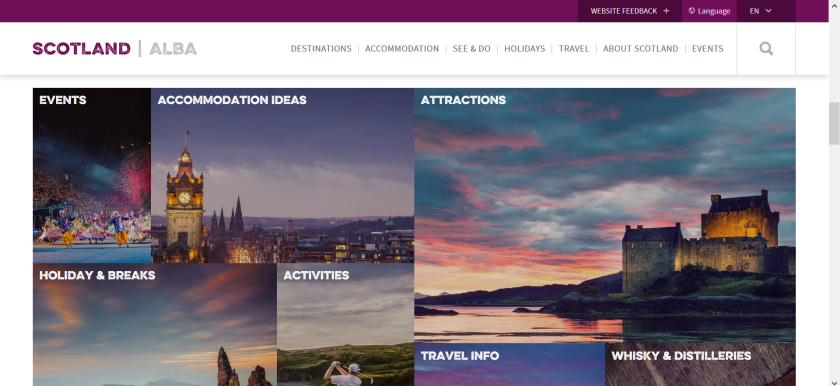 No trip to the UK is complete without a visit to Scotland, so if you're studying there for a year or more there is no excuse. Get lost in historic capital Edinburgh, made famous by the hard-hitting movie Trainspotting. Then, find an ancient castle to explore, a glen to hike through and a whisky distillery to go tasting at. The Visit Scotland website will tell you everything you need to know.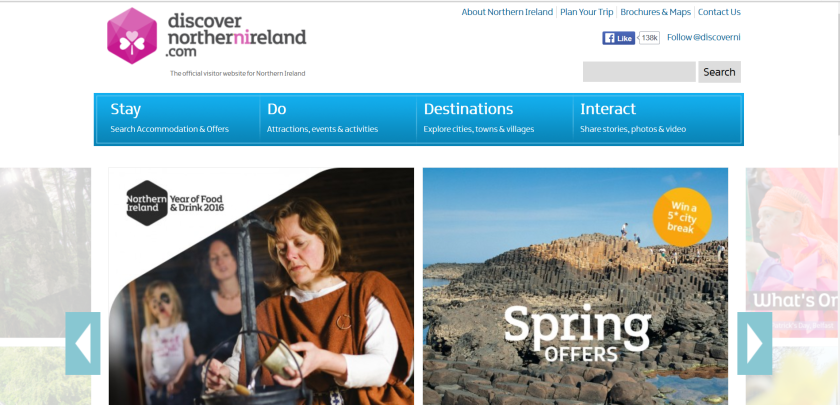 Northern Ireland is a short hop away from the UK's mainland and offers some great travel opportunities. Whether you've chosen to study in the capital, Belfast, or fancy exploring some of the emerald isle and experiencing the famed friendliness of the locals, this is the place to learn about all things Northern Irish – except perhaps how to understand the accent!
Finance & shopping
18. Ebay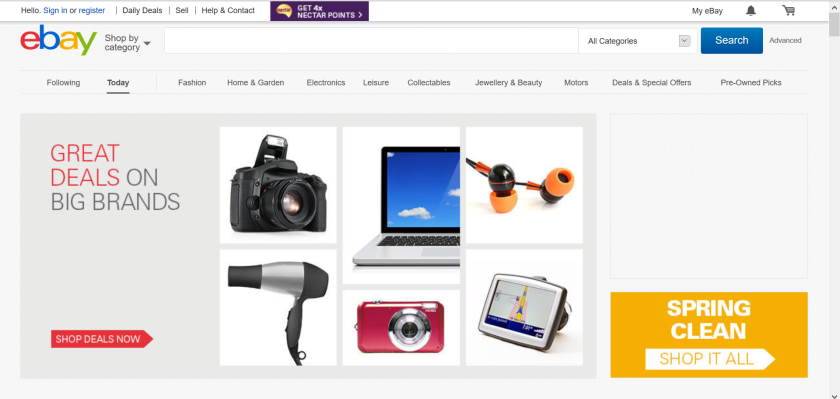 If you haven't experienced the shopping mecca that is Ebay, you are in for a real treat. This online retailer sells new and second-hand goods to the highest bidder, with auctions often starting from just £0.99! That means you can potentially bag a piece of clothing, university textbook or beauty bargain for less than £1 (plus postage and packing). Before you splash out on everything you need for university, check out Ebay and consider purchasing cheaper second-hand goods from within the UK.
19. Groupon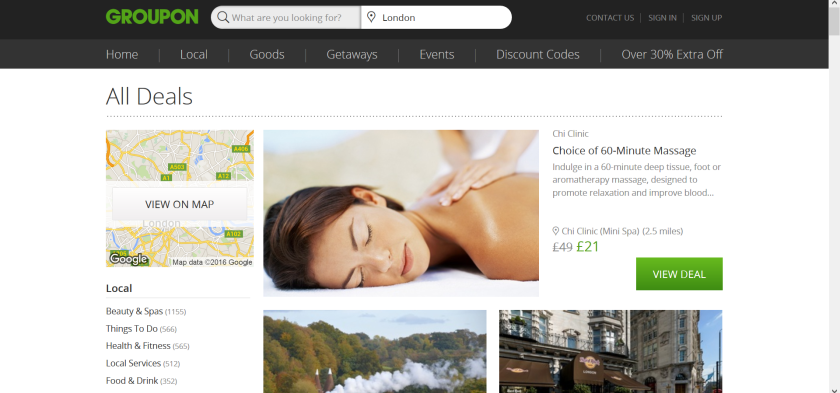 One of the best money-saving websites out there is Groupon. From cheap beauty treatments to discounted gym memberships or restaurant deals, Groupon is a great place to find local deals in your university town. Before you touch down in the UK search your upcoming location to see what kind of deals are available.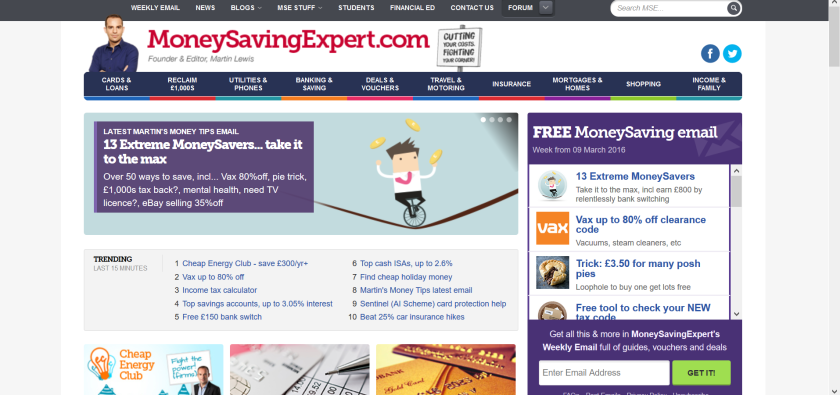 The Money Saving Expert website is the UK's number one go-to when it comes to getting the most out of their pounds and pennies. Before you land, sign up to the weekly email packed with money-saving tips and deals. There's a specific student section of the website providing information on which banks offer the best student accounts as well as financial advice and tips on how to stretch your student loan further.
21. Student Beans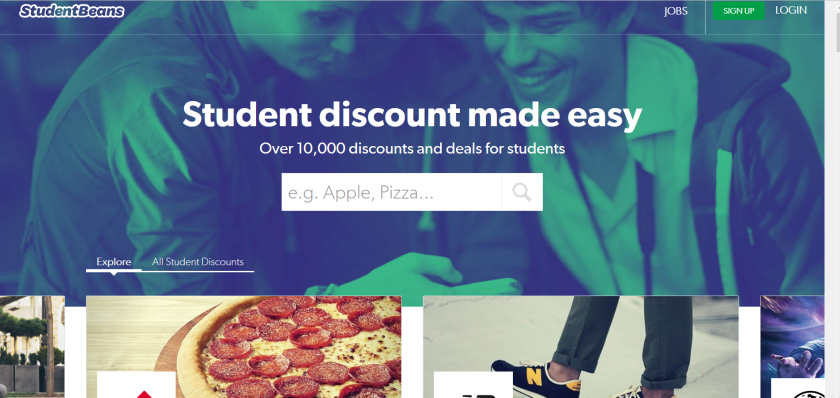 This is a fun website designed as a hub for students with information on discounts, jobs and more in one place. The Student Beans digital ID card unlocks hundreds of discounts for online shoppers and is definitely worth signing up for.
Living in the UK
22. Foreign Students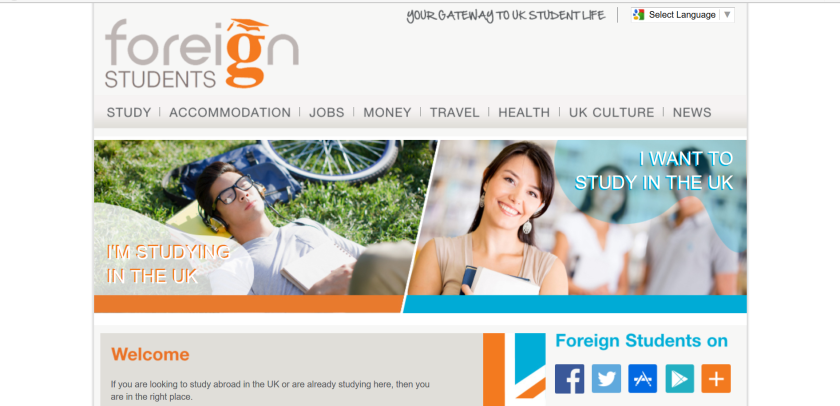 This self-proclaimed 'gateway to UK student life' provides guidance for international students moving to the UK.
23. The Student Room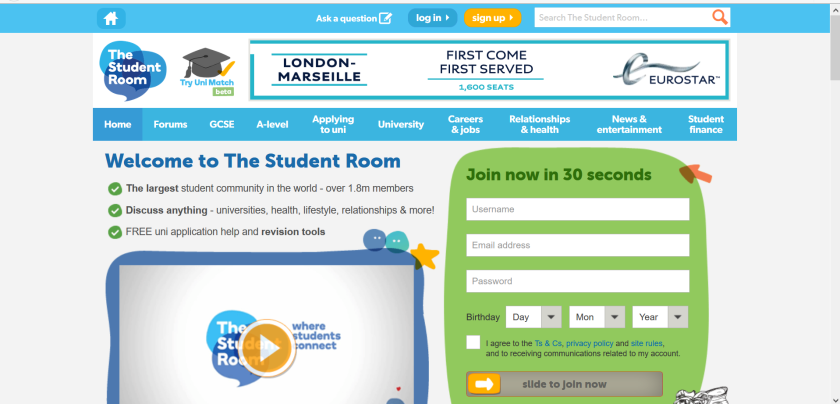 One of the biggest online communities of UK students, The Student Room provides loads of advice on university life and an opportunity to discuss anything you feel like with current UK students. You can use it to make friends and meet your neighbours at university before you even arrive!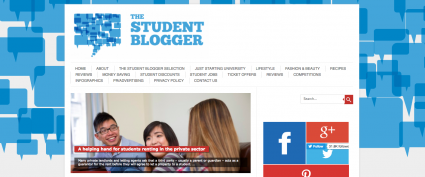 You can also find tips and advice on a wide variety of topics on The Student Blogger – a website that aims to help students make the most of their experiences at university. They also have a section on student deals – great if you're looking to save money!
25. Anglotopia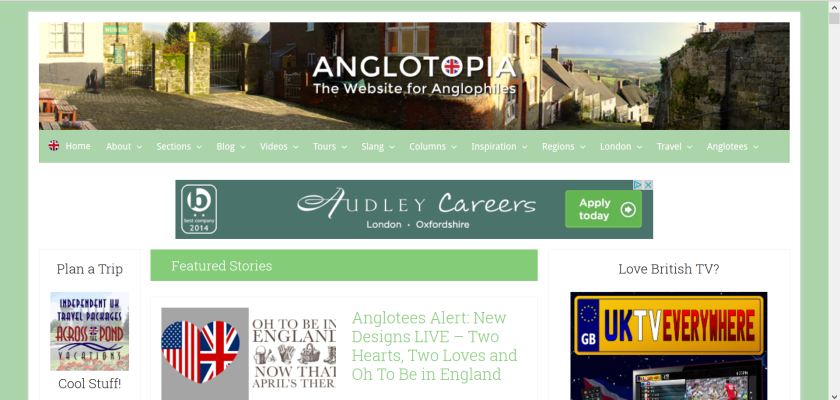 If you're not quite sure what to expect from living in the UK, the Anglotopia website provides a great, often tongue-in-cheek, guide to UK culture including some fantastic regional guides.
26. Dialect Blog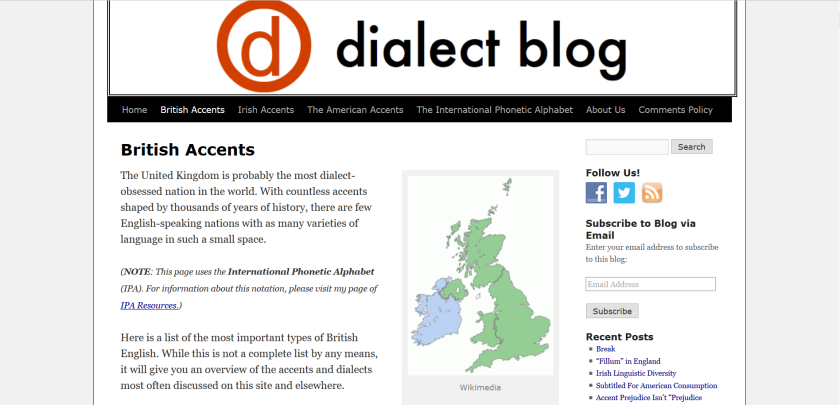 So you're moving to the UK, but how on earth are you supposed to understand the huge amount of regional accents you're about to be faced with? The Dialect Blog provides a guide to different British and Irish accents as well as more in-depth posts on slang and pronunciation. You'll be speaking like a local in no time!
Health & wellbeing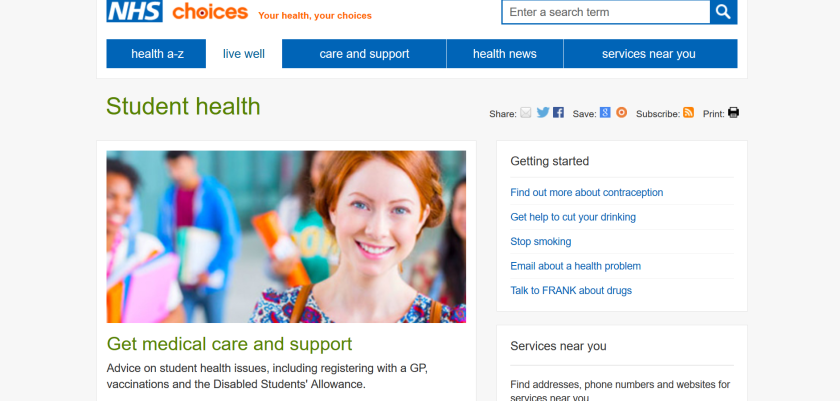 The UK's National Health Service (NHS) is a lifeline for student health advice from how to manage stress to safety while drinking alcohol. They can help you locate health services near to you and explain how to register with a UK doctor.
28. Student Health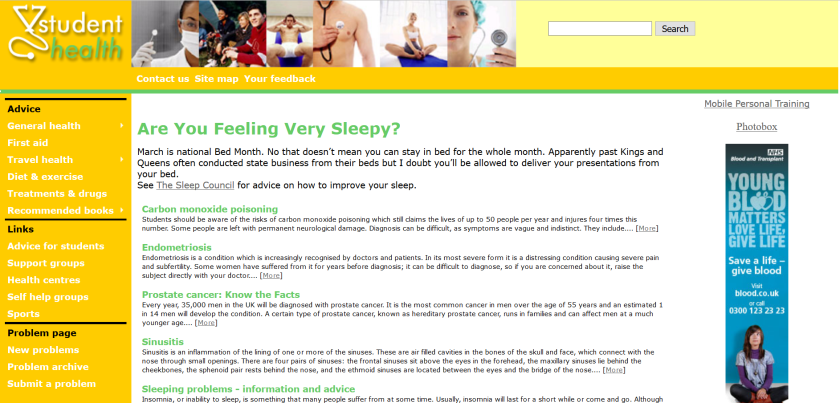 This website is a fantastic place to find health advice and tips aimed at UK-based students. It also lists nationwide health events happening every month.
29. Drink Aware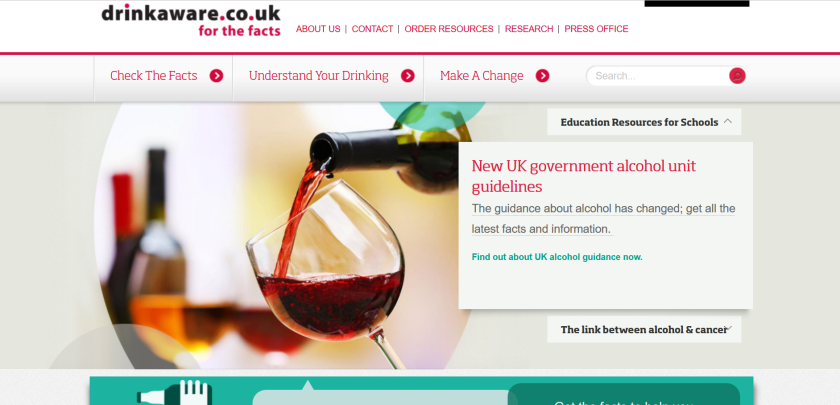 The UK government provides guidelines and support for anyone worried about the effects of drinking alcohol on this handy website.
Culture
30. Time Out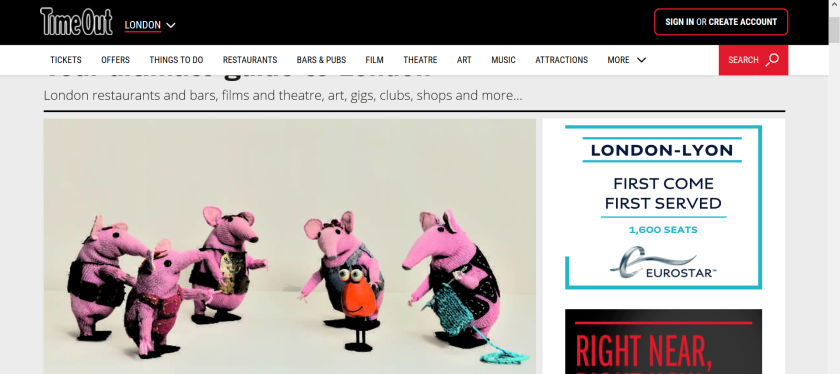 Time Out offers some of the best cultural guides on the internet; it's a one-stop-shop for finding things to do in your city. Currently, there are guides to the UK cities of London, Birmingham, Bristol, Edinburgh, Glasgow, Leeds and Manchester.
31. The List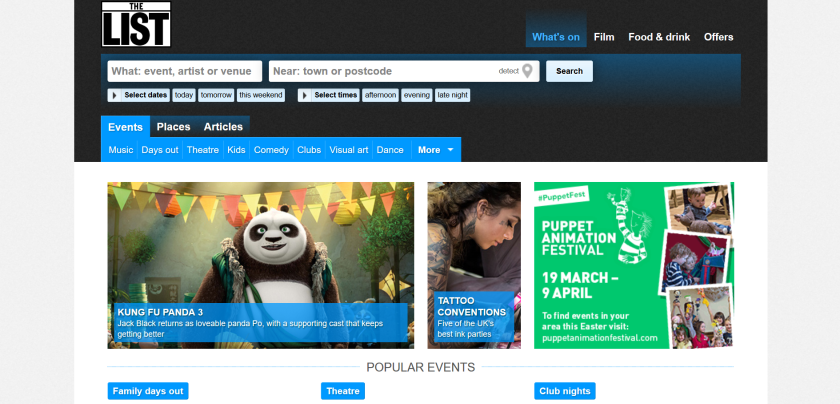 Covering the whole of the UK, The List provides information on arts, events and entertainment. Never miss the next big movie premiere or comedy stand-up show!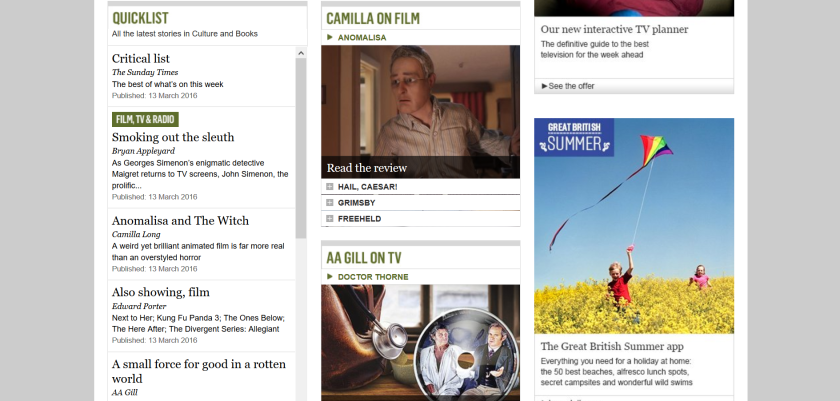 A great place to get a feel for UK culture, the online version of the Sunday Times culture supplement is updated weekly with film, theatre and restaurant reviews, plus interviews with musicians and a guide to the latest record releases.
33. Ticketmaster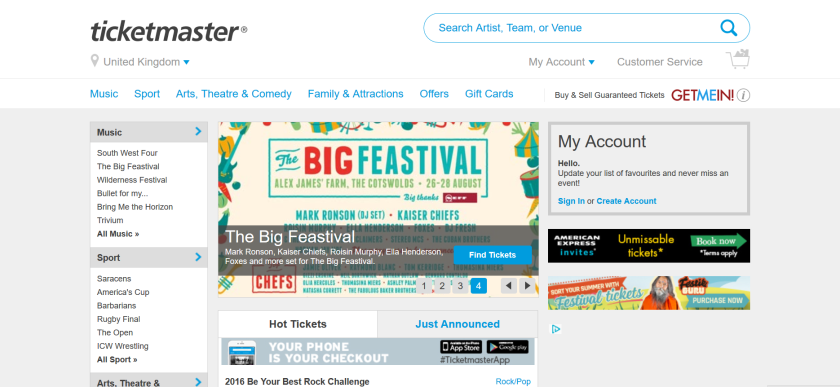 Ticketmaster is the UK's number one place to buy tickets for music, sport or theatre events. Make the most of your time in the UK and attend one of the famous summer music festivals, a top-rated theatre production or a local sporting event.
Do you need to book student accommodation in the UK? Student.com has fantastic student accommodation available in London, Manchester, Liverpool and many more cities.