With so many great universities and cities to choose from, the choice can sometimes be overwhelming. Well, why not make things easy, and head to your favourite TV or film location to study?
1. Love Girls? Move to New York City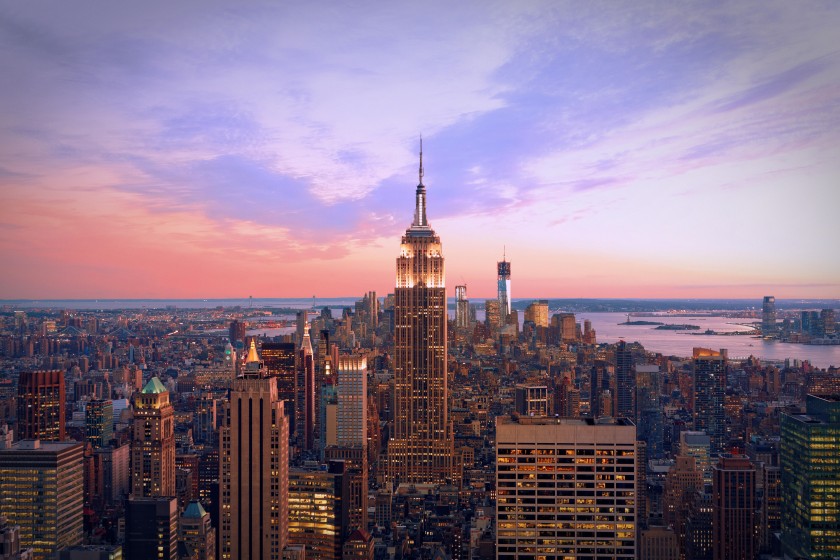 Based on writer Lena Dunham's real life experiences, Girls is set against the enchanting backdrop of one of the most recognisable cities in the world – New York City. In a coming of age comedy drama, the four main characters experience many painfully awkward moments we can all relate to. Girls shies away from Sex in the City style glamour, and showcases the real life, down-and-dirty NYC – from ultra-hip Williamsburg brunch venues, in-vogue Lower East Side art galleries, to the quirkiest dive bars. New York is the world's trendsetter, and with a plethora of cultures jam-packed onto this island, each district has its own distinct personality and flair. So whether you're awkward-come-cool like Hannah, as preppy as Shosh, high maintenance like Marnie, or free spirited like Jessa, there's a New York for you, just waiting to be discovered.
Places you could study: NYU, Columbia, New York Academy of Art
2. A fan of Portlandia? Study in Portland, Oregon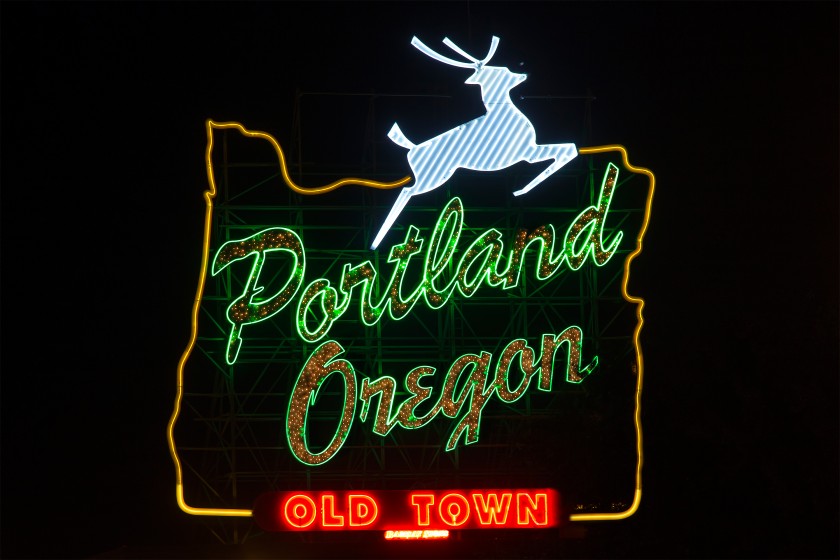 Who better to create a satirical sketch show about uber-hip Portland than Carrie Brownstein, member of world famous riot grrrl band Sleater Kinney. Although the show is largely a parody of daily life in this hotbed of alternative sub-cultures, Portlandia highlights all the well-loved features the city – from open green spaces, wonderfully crafted bridges and well-trodden cycle paths. Liberal Portland is filled to the brim with vegan and vegetarian coffee shops, organic micro-breweries and eco-friendly indie start-ups. It's a progressive city laden with burgeoning music, arts, and theatre scenes. If you're an indie kid at heart, and all this sounds like your herbal and ethically sourced cup of tea, then perhaps Portland is for you.
Places you could study: University of Portland, Portland State University
3. Delight at Harry Potter? Move to London, England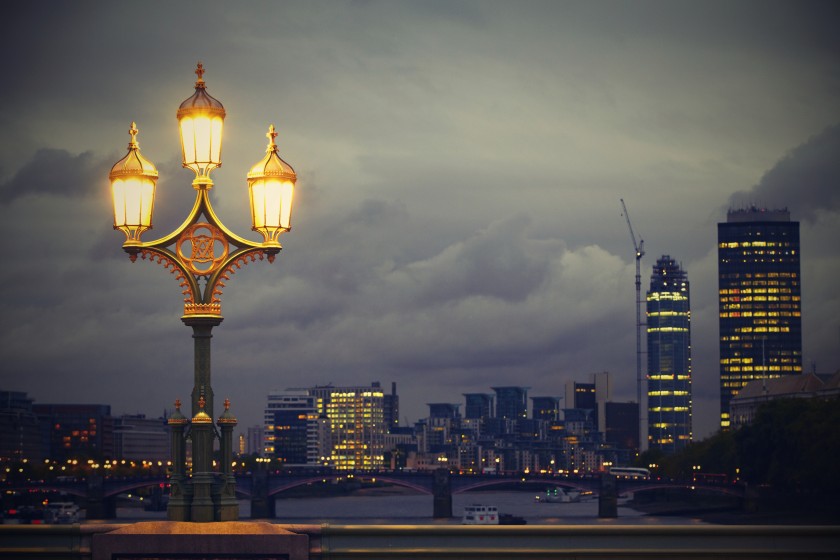 Wingardium Leviosa! London truly is the only place you can follow in the footsteps of Harry, Ron and Hermione and embrace the magical world of wizardry, in amongst many of the series' majestic locations. From Platform 9 ¾ (Kings Cross) and Diagon Alley (Borough Market), to the Leaky Cauldron (Leadenhall Market) and Gringotts Bank (The Strand), there's a wealth of places you can visit and experience the rich feeling of alchemy. Beware of Muggles though, they really are everywhere in this vastly populated and dynamic city.
Places you could study: UCL, King's College London, Imperial College London, London Metropolitan University
4. Gripped by Trainspotting? Settle in Edinburgh, Scotland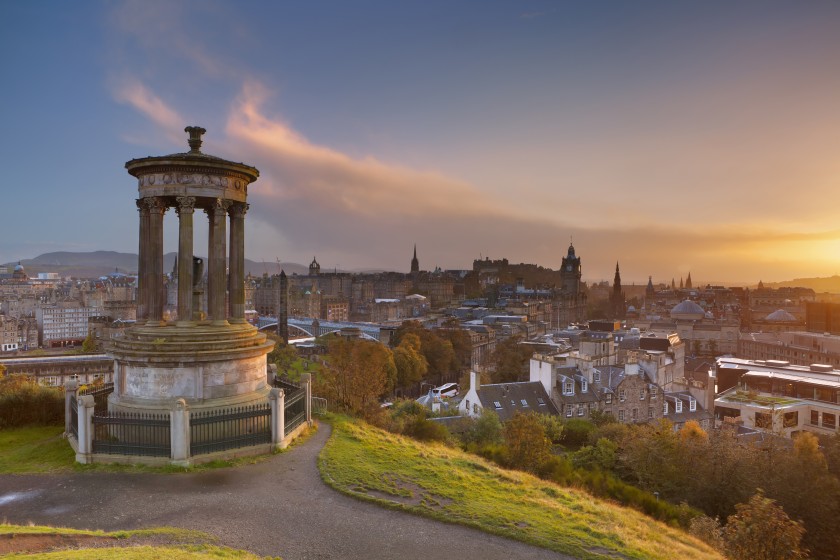 Released way back in 1996, Trainspotting put Scotland firmly on the map. With a follow up from acclaimed Director Danny Boyle due in 2016, we're guaranteed to see more of this immensely recognisable landscape. This hard-hitting illustration of social deprivation centred firmly on the city's bars and clubs, but perhaps what Trainspotting didn't show to its full potential was the backdrop of the historically, and above all, architecturally resplendent city. Edinburgh is an ambient city, woven against a rich cultural environment that is the beating heart of Scotland. Think winding cobbled alleys, neo-classical buildings, and artisanal coffee shops, and you're far closer to everyday life in Edinburgh than Trainspotting was. In the country's spirited capital, you can listen to bagpipers on the street, climb Arthur's Seat for world famous views, or snuggle down in a nook in JK Rowling's favourite coffee shop for a warming hot chocolate. And don't forget this enigmatic city hosts the world's greatest arts festival every year, the Edinburgh Fringe. Och aye!
Places you could study: University of Edinburgh, Edinburgh College of Art
5. Captivated by True Detective? Pioneer to New Orleans, Louisiana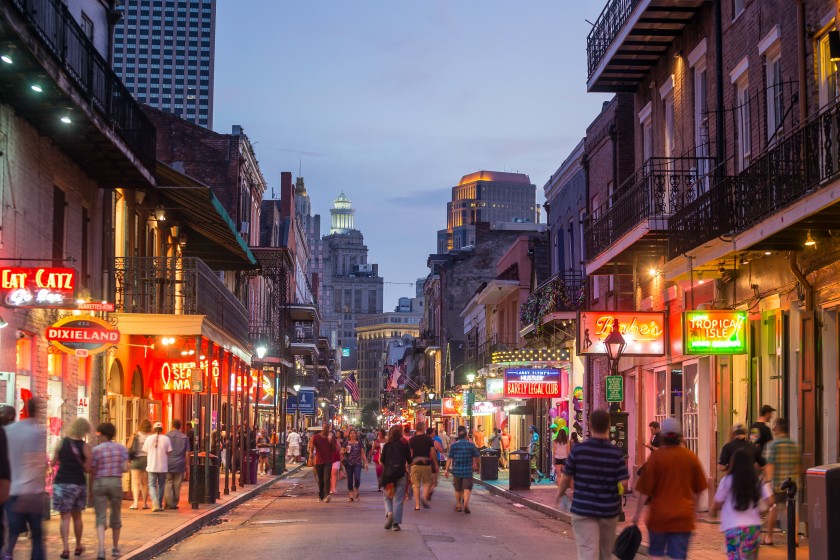 Another of HBOs great crime dramas, True Detective is shot across Louisiana, though focused around the New Orleans area. Sitting on the glorious Mississippi river, New Orleans could not be more vivacious. This colourful city embraces round-the-clock nightlife, and has a world famous music scene. It's a melting pot of cultures, though what New Orleans is really famous for is its jazz. The streets are lined with musicians and the sidewalks are never silent. The world's greatest Mardi Gras festival is the defining annual event for this raucous city, where performers and the public party on the street, festooned in spectacular outfits. With sumptuous buildings to gaze upon, the New Orleans aesthetic is truly unique. True fans of the show can even stop of at Dot's Diner, where bottomless coffee and good old fashioned service are always on the menu.
Places you could study: University of New Orleans, Loyola, Tulane University
6. Absorbed by Top of The Lake? Relocate to Auckland, New Zealand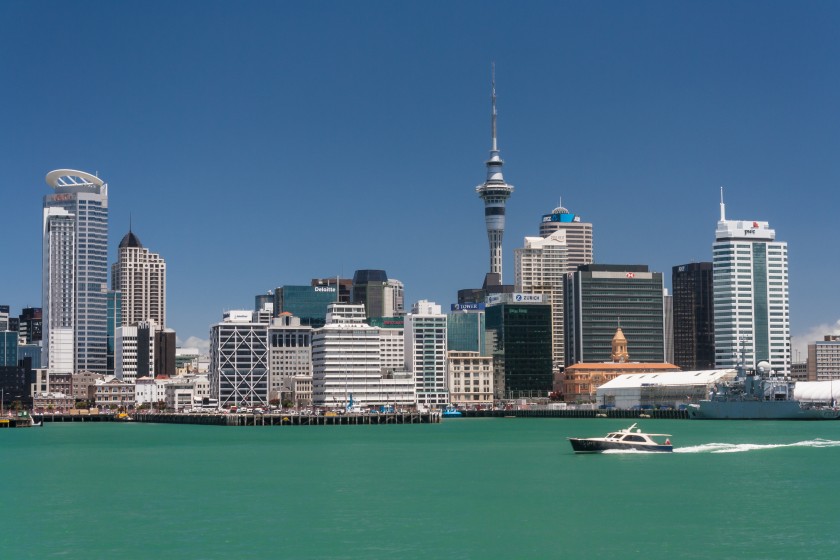 Elizabeth Moss, of Mad Men fame, starred in this striking New Zealand-based mini-series, full of twisted and sombre events. Despite the overwhelmingly dark tonality of the subject matter, the landscape of imposing mountains, vast lakes and dense, untamed forestry stole hearts around the world. It's sat right of top of a dormant volcano field and lined with picturesque harbours. Auckland is the perfect location for the adventurous at heart; camping, kayaking, and hiking sit on the city's doorstep, for the intrepid explorer in you.
Places you could study: The University of Auckland, Auckland University of Technology
7. Hooked on Friday Night Lights? Live in Austin, Texas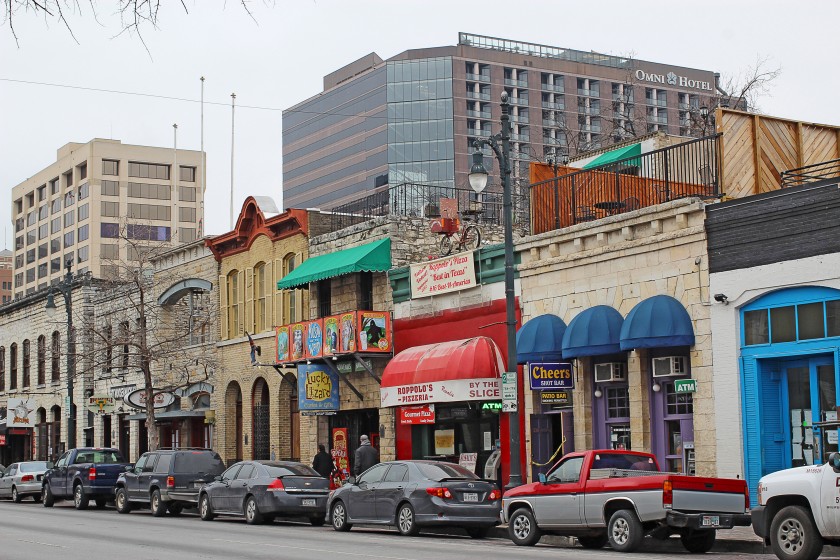 Premiering in 2006, Friday Night Lights sweetly translated small town, middle-America life; it's tinged with nostalgia and a deep set love of high school football. The focus of the show was the beauty, wonder and grace of small town existence, which was all captured in Austin, Texas. The idyll of this city's on-screen persona is without doubt present in real life too, Austin has a unique culture, and football aside, is known as the live music capital of the world. Every year it hosts the South By South West festival, when Austin transforms into a arts and media industry powerhouse. Foodies can really indulge here, Austin is more than renowned for its hearty portions, and BBQ is the signature cuisine in town – ribs, steaks and pulled pork feature endlessly, it's a meat lover's heaven.
Places you could study: The University of Texas
8. Delighted by Pride? Choose Cardiff, Wales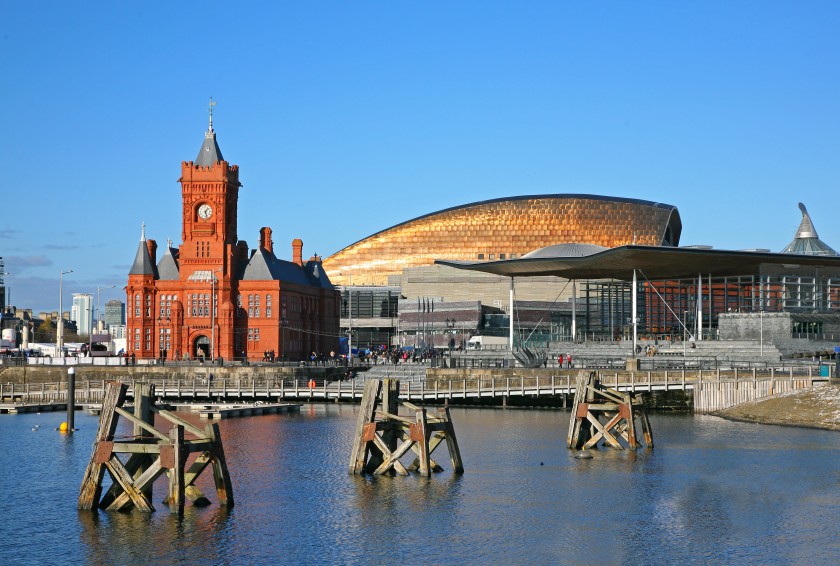 Pride was a standout indie hit of 2014, cleverly illustrating a little known story of a LBGT group from London supporting the Miner's strike in 1984, developing a touching friendship and in turn, an everlasting bond with a rural South Wales town. The inspirational story is deeply touching though peppered with humour, and the film's values remain strong in South Wales today. Though not so rural, Cardiff has a dynamic LGBT scene that sits proudly amongst the city's shopping district, spliced with charming Victorian and Edwardian arcades. Pride Cymru (Welsh gay pride) is hosted here every year, with jovial Mardis Gras style events for all. The city also hosts opera, orchestra, theatre and dance companies, proving that the arts scene is undoubtedly thriving in the capital of Wales.
Places you could study: Cardiff University, The University of South Wales
9. Charmed by Glee? Discover Columbus, Ohio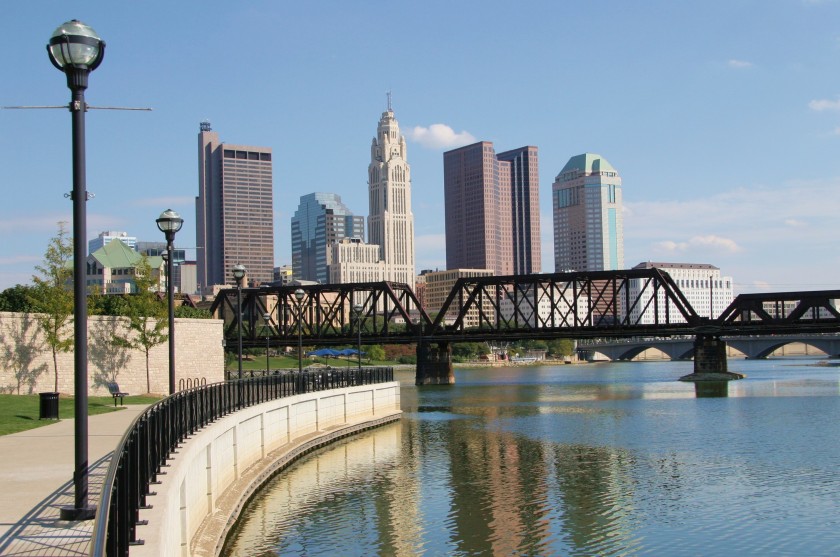 We're all a secret Gleek at heart, aren't we? What better place to replicate the warm feeling the Ohio-based William McKinley High School gave you inside, than Columbus. For a small city, it's got a lot to offer. With unique neighbourhoods, Columbus has a welcoming dynamic. Hang out in one of Ohio's coolest destinations, South Fourth Street, for awesome food vendors complemented with the latest up-and-coming bars. With 90 acres of green space, the Franklin Park Conservatory is not to be missed, or take a stroll through the North Market and sample local traders' produce. One vendor even uses an honour payment system, indicative of Ohioans' hospitable personalities. As with most American cities, sports run in the blood here. So roll up your sleeves and get involved, heck, you could even end up with your very own Coach Beiste.
Places you could study: Ohio State University, Franklin University
10. Engrossed in Fargo? Explore Minneapolis, Minnesota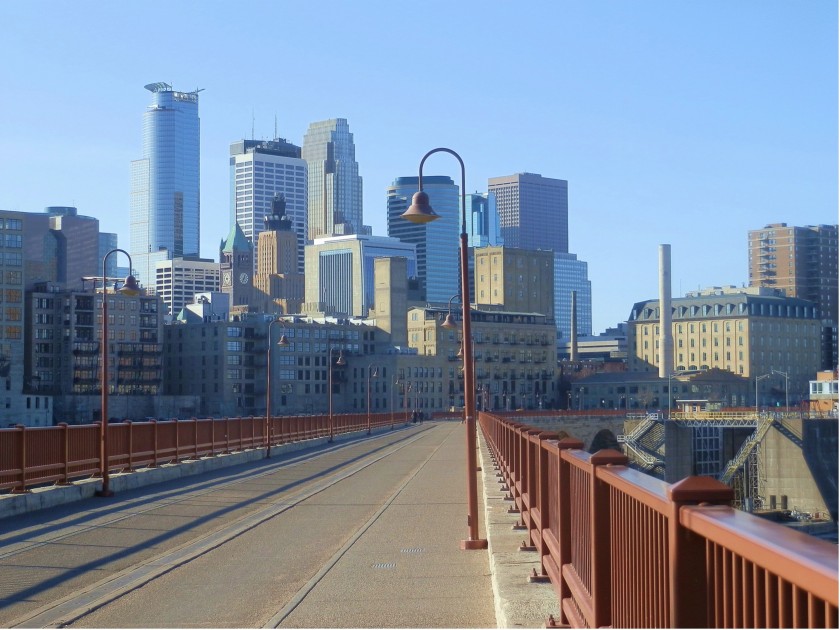 Widely renowned as "The Hipster State", both the Coen brothers' film Fargo, and the latest TV adaption play homage in a delightfully warped manner to Ethan and Joel Coen's home state. It's whimsically shot, with the brothers describing Minnesota as "like Siberia, with more family style restaurants". Minnesota is home to a whopping 10,000 lakes, where the locals swim in the summer and snowmobile in the winter. If that's too testing for you, then grab your bike, as Minneapolis has been voted America's number one bike-friendly city. Come rain or come shine, Minneapolis never fails to charm.
Places you could study: University of Minnesota
11. In love with 500 days of Summer? Get academic in LA, California
2009's romantic comedy drama, 500 days of Summer, stole hearts worldwide when it told Tom (Joseph Gordon Levitt)'s tale of heartache and woe – his unrequited love for Zooey Deschanel's kooky character Summer. While set in LA, it shied away from showcasing the clichéd and overused glitz of the city. Los Angeles offers endless glamour for those that seek it – Venice Beach brims with toned, tanned bodies and then there's the rolling Hollywood Hills and its grandiose nightlife, though for those that live in LA these often superficial elements are not what define it. Away from the grand boulevards, there are many cute independent shops and cafés that show that LA culture is not all ostentation. Summer's on-screen neighbourhood Koreatown has been dubbed America's hippest neighbourhood. Sample mind-blowing cuisine before trying your hand at karaoke in one of many bars in the area. In the movie, Tom and Summer sing at Redwood Bar and Grill, a real rock and roll dive bar with unbounded charm. And don't forget to stop by the Arthur J Wills Memorial Fountain, it's a calming urban reprieve – where you can replicate the movie's famous dance scene. Or perhaps, just sit back and watch the world go by.
Places you could study: UCLA, USC
12. Smitten with Rocky? Learn in Philadelphia, Pennsylvania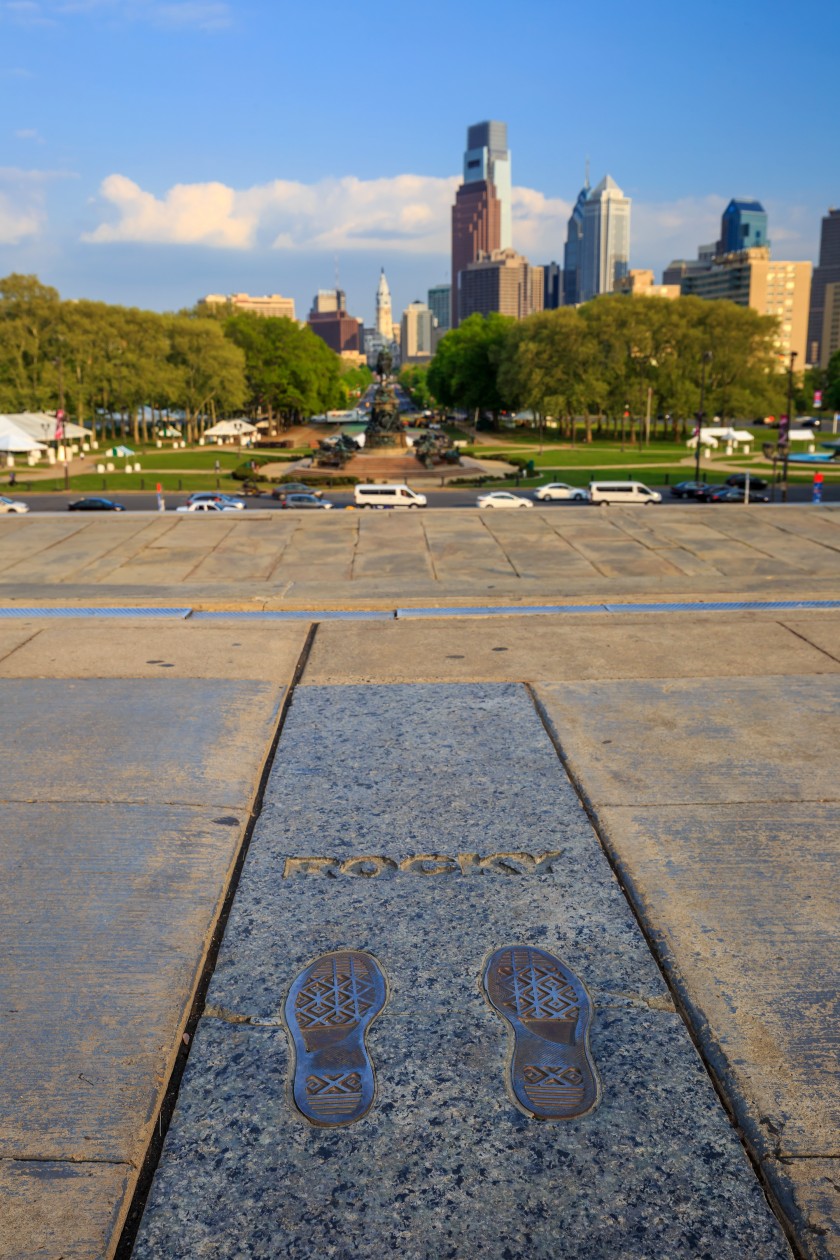 Any fans of the Rocky series know that the great city of Philly plays as big a character in the films as Balboa himself. As Pennsylvania's largest city, it's rich in historical significance for the United States. History buffs will fall in love with this illustrious location that played such a part in building democracy in the United States – the Declaration of Independence was signed here, along with the Constitution, and don't forget to check out the Liberty Bell.  The city is a joy to explore, it's scenic and lined with wide, elegant streets. Visitors to Philly cannot leave without devouring at least one signature cheesesteak; for the most authentic of the bunch, be sure to stop of at Pat's. Running since the 1930s, Rocky himself stops off here for a refuel, it's open 24 hours a day and always packed. But a trip to Philly wouldn't be complete without running up the "Rocky Steps", all day long visitors can be seen completing this tough trial of physical prowess, set against a wondrous backdrop of The Philadelphia Museum of Art.
Places you could study: UPenn, Temple University
13. Awed by Lord of the Rings? Choose Christchurch, New Zealand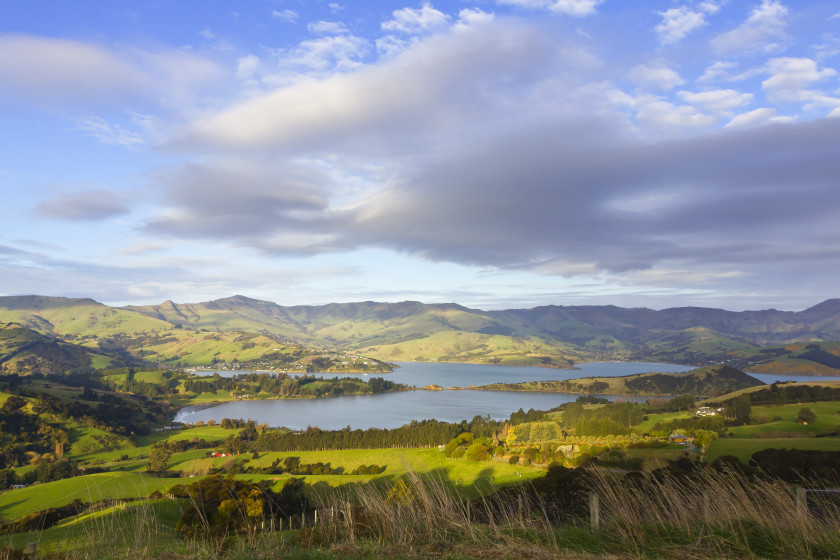 Peter Jackson's epic adaptation of arguably the most famous literary trilogy in the world, The Lord of the Rings, firmly put New Zealand on every fantasy lover's radar upon release of The Fellowship of the Ring in 2001. The deeply immersive cinematography beckoned viewers to journey to Middle Earth, join The Fellowship and destroy the ring. While The Fellowship is indeed a fictional band of creatures, and the ring is literally a fictional band, Middle Earth is actually real and journeying there is feasible – if you are happy to venture to the real life location of Christchurch, New Zealand. Thankfully, the residents are friendlier than their on screen counterparts. Christchurch has an innovative arts and culture scene, and the city is laden with parks and green spaces. Just outside the centre, you can experience the snow-tipped mountains, green forests and flowing rivers of the film. While you may not be able to traverse these as steadily as Legolas, it's easy to see why Christchurch is a very, ahem, "precious", location.
Places you could study: CPIT, University of Canterbury
Looking for other ideas for your destination?
Try 14 Countries Where You Can Study For Free (Or Very Little)