One of the best aspects of the Christmas season, aside from spending time with family and friends, all the sales, and beautiful Christmas lights, is definitely visiting Christmas markets. Christmas markets have a long tradition, dating back to the late Middle Ages and originating in the German-speaking part of Europe and many parts of the former Holy Roman Empire. Today they are spread all over the world and are a reason for joy, celebration, and hope during the Christmas season. You can go shopping, ice-skating, drink a glass of hot mulled wine, admire the most beautiful Christmas trees and decorations, and much more.
We have found the best Christmas markets in Europe and around the world, with great decorations, an awesome atmosphere, and the best Christmas spirit. If you're studying in one of these cities, you're in luck. There are lots of Christmas markets around the world though, so even if your city is not mentioned here, there might still be a great Christmas market right in your city.
Berlin, Germany
Dates: 21 November 2022 to 1 January 2023
Since Germany is where Christmas markets originated, they are always a great experience with their variety and choices. Germany usually has between 2,500 and 3,000 Christmas markets each year, with about 80 of them in Berlin. We recommend visiting Spandau, Potsdamer Platz if you are a sports fan, and the Berliner Weihnachtszeit, in the Gendarmenmarkt square. With a 50-metre-high Ferris wheel, an ice-skating rink, the most delicious local food like stuffed bread and smoked salmon, and a wide variety of arts and crafts, this one definitely never disappoints.
If you're looking to study in Berlin make sure to check out our options for student accommodation in Berlin.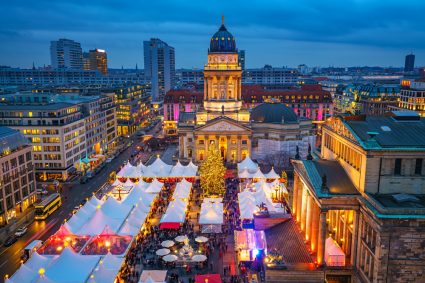 Budapest, Hungary
Dates: 18 November 2022 to 1 January 2023
In Budapest, you have the opportunity to visit many Christmas markets, but our picks for today are the Christmas Fair in Vörösmarty Square and the Christmas Fair at St. Stephen's Basilica. The Vörösmarty Square Market is one of the most popular markets in Europe, with a huge tree, handmade crafts, free concerts, wonderful mulled wine, and Hungarian honey cookies. Another fun thing to do while in Budapest is to visit Budapest's Lukacs Baths. This is a thermal bath that throws winter bath parties.
Our second tip for Budapest is to visit the market at St. Stephen's Basilica. What is unique about this market is the screening show displayed on St. Stephen's Basilica, which gives a special Christmas touch. There are several interesting stalls to shop at, and a huge skating rink with a big Christmas tree in the middle of it.
You can find student accommodation in Budapest right here on Student.com.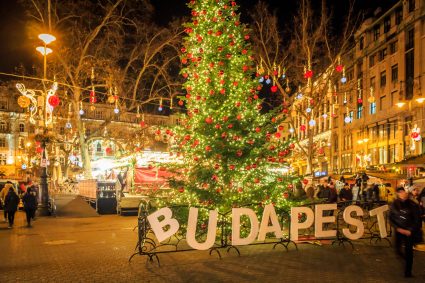 Vienna, Austria
Dates: 11 November 2022 to 8 January 2023
One of the best Christmas markets in the world is called the Viennese Dream Christmas Market. It takes place in front of the City Hall, and when you visit this fantastic market, you can listen to international choirs singing Christmas carols and see beautiful areas where children can learn crafts like making candles and Christmas cookies. There will be traditional roasted chestnuts, warm Christmas punches, an indoor coffee house, the so-called Rathaus Christmas Tree, which is donated by a different Austrian province each year, and arts and crafts stalls. The Christmas atmosphere is very present and vivid at Vienna's Christmas markets, which is no surprise, considering the fact that it dates back to the Middle Ages.
The Belvedere Palace Christmas Village is located near this famous residence and is a wonderful place filled with market stalls selling handicrafts, decorations, and all kinds of delicious food and drinks. Finally, the Christmas Village Campus University of Vienna offers a traditional, warm atmosphere, and the Christmas Village on Maria-Theresien Square is a very beautiful spot to visit.
Make sure to check out options for student accommodation in Vienna.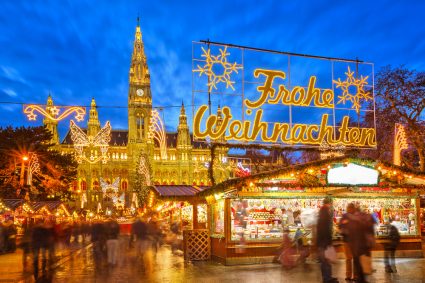 Paris, France
Dates: 19 November 2022 to 8 January 2023
"La Magie de Noël" or The Magic of Christmas is the largest Christmas market in Paris. It is located next to the famous Louvre and has about 13 million visitors every year. Its location and the crowds give it a very loud and young atmosphere. It is actually half a Christmas market and half a Christmas-themed holiday carnival and has a huge Ferris wheel, a Champagne bar, delicious French food, traditional onion soup, hot mulled wine, roasted chestnuts, carnival games, rides, big plastic Christkindls, and much more.
When in Paris, you must also visit the Notre-Dame Christmas Market in Square Viviani, the Hôtel de Ville Christmas Market, and the Saint-Germain-des-Prés Christmas Market.
We offer dozens of options for student accommodation in Paris.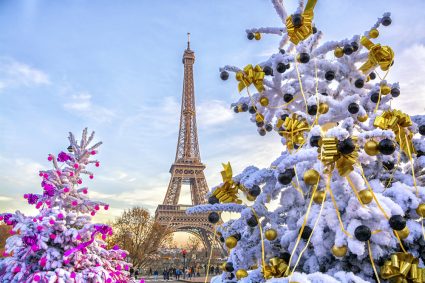 Cologne, Germany
Dates: 22 November 2022 to 23 December 2022
One of the best Christmas markets in Europe is the Cologne Market. The unique and beautiful stalls, the glowing Christmas lights, and the detailed decorations make it a very special experience for its visitors. The Cologne Cathedral Christmas Market in front of the Cathedral stands out with an imposing and large Christmas tree, a variety of free events, handicrafts and organic cuisine, stalls with shooting stars, unique ornaments and candles, Christmas pyramids, and much more.
The House Elves' Winter Fairytale Christmas Market is also a common favourite. At this market, there are little Heinelmännchens everywhere, a central ice skating rink, cute cups in the shape of baubles, and different themes.
Also be sure to visit the Angels Christmas Market for the rustic cabins and the romantic atmosphere, and the Nicholas' Village Christmas Market in Rudolfplatz.
If you're looking to study in Cologne, check out our options for student accommodation in Cologne.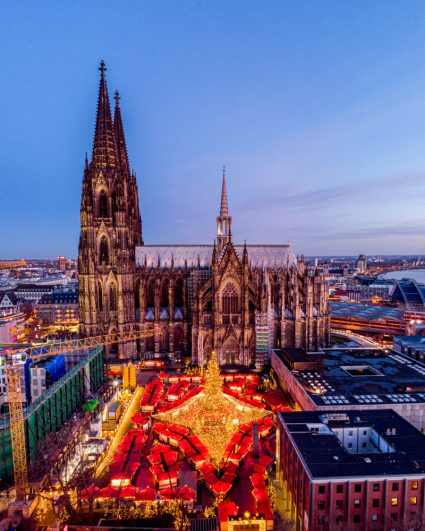 New York City, United States
Dates: 27 October 2022, to 2 January 2023
The Christmas Market in Bryant Park is the first to open in New York. What makes this market special is that it doesn't have stalls, but shops, which is why it is also called The Winter Village. Here you can find jewellery, decorative items, local food, themed attractions, a huge free-to-use ice-skating rink, and a Business Spotlight Booth.
When in New York, be sure to visit the Christmas Market at Grand Central Terminal and the Union Square Holiday Market as well.
Here on Student.com, we offer hundreds of options for student housing in New York City.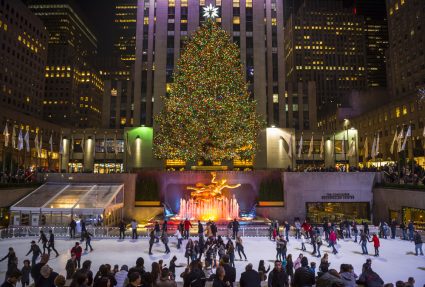 Washington DC, USA
Dates: 18 November 2022 to 23 December 2022
The Downtown DC Holiday Market is the most beautiful and popular market in Washington. It is located in front of the National Portrait Gallery. This market features live performances, local art, holiday-themed bars and restaurants, ice skating rinks, Christmas parties, historical events, and much more. In terms of food and beverages, you'll find delicious mini donuts, German gingerbread, hot drinks, and lots of treats like kettle corn.
Visit the Alexandria Holiday market at John Carlyle Square if you like a cheery Christmas vibe. Make sure to check out the Janney Winter Market at Tenley, and a Christmas Market and Holiday Craft Show at Carlyle.
We currently list more than 200 options for student housing in Washington, D.C.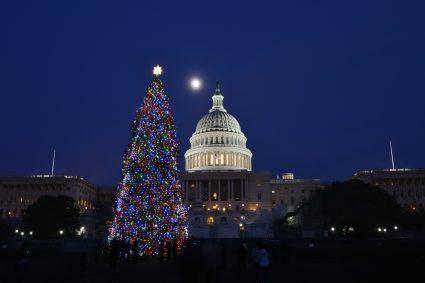 Vancouver, Canada
Dates: 12 November 2022 to 24 December 2022
The Vancouver Christmas market is located at the Jack Poole Plaza and is one of the most authentic Christmas markets in North America. At this amazing market, you can find Fire Tongs Punch (a hot drink made with mulled wine and rum), a 30ft Christmas tree, European cuisine (such as potato pancakes, goulash, and pork hocks), German treats, lavender products, a hollow Christmas tree that you can walk through or take pictures in, and tents serving cocktails. The streets are full of lights and Christmas spirit, and staying in Vancouver during the holidays is truly a wonderful, warm and exciting experience.
Before heading to university, check out the options we list for student accommodation in Vancouver.