If you're a football fan, one of the best things about studying in the UK is that you'll be able to go to lots of football matches. Whatever team you support, England is a mecca for a football fan.
One of the biggest concentrations of professional football teams in the country is the Greater Manchester area. In this city the love for football runs deep with the support for its clubs ingrained in the local culture. Global household names, like David Beckham and Cristiano Ronaldo, rose to fame playing for Manchester United at Old Trafford. On the other side of the city you have Manchester City, known for its sky blue shirt and players such as Sergio Agüero, Kevin De Bruyne and Erling Haaland.
In the 2022-23 season, Greater Manchester is home to seven teams in the four highest tiers, collectively known as the Football League. In addition to United and City, you can also catch games at Wigan Athletic, Bolton Wanderers, Rochdale, Salford City and Stockport County.
Bursting with activity, Manchester is the pride of the north packed full of drama, shops and entertainment. Buzzing with urban energy, Manchester is a place that offers students everything from world class art and high-tech living to green parks and historical attractions.

Student accommodation near Old Trafford
If you're a fan of the Red Devils, you're not alone. Manchester United is one of the most supported football clubs in the world. It has more social media followers than any other football team in England and the accountancy firm Deloitte estimates that United have about 75 million fans worldwide. Seeing a game live at Old Trafford is an unforgettable experience. If you want to be in the middle of the most vocal supporters, head to the West Stand, better known as Stretford End.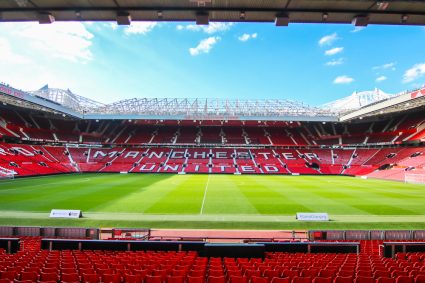 If you want to live close to Old Trafford, check out Academy Apartments. It offers stylish and fully furnished studio flats only a 7-minute walk from the stadium. All bills are included in your rent.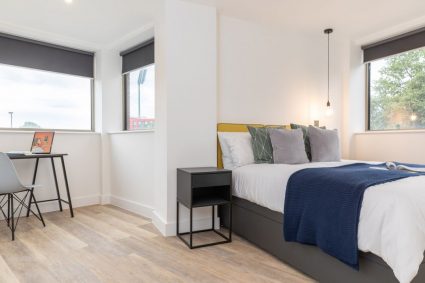 Another option close by is true Student Manchester, Salford. Very close to the modern waterfront complex known as The Quays, you can get from there to Old Trafford in 25 minutes on foot or in about 15 minutes by public transport. You can also get to Moor Lane, home of League Two side Salford City, in about half an hour by public transport. In recent years, Salford City has become famous after it was bought by the group of former Manchester United players known as the Class of '92.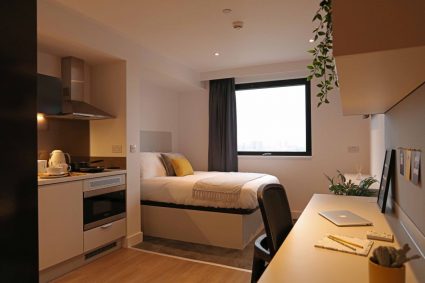 Student accommodation near Etihad Stadium
Manchester City's Etihad Stadium and the Etihad Campus around it are in the east side of Manchester, and a little bit closer to the city centre than Old Trafford. So the good news is that if you want to live near Etihad, you'll also be quite close to the Manchester city centre as well.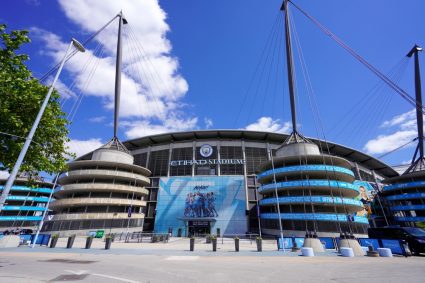 One good option is Unite Students Mill Point, which offers fully furnished private rooms. Mill Point has an excellent location, being only a 2-minute walk from Manchester Piccadilly, Manchester main train station. You can also walk to the University of Manchester and Manchester Metropolitan University in less than 10 minutes.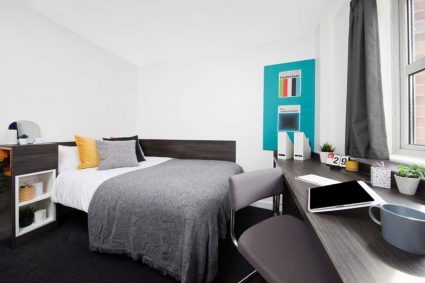 Another good option very near Mill Point is iQ Fletcher House. This luxurious student accommodation property offers private rooms and fully self-contained studio flats. The rooms are fully furnished and all bills are included in your rent. iQ Fletcher House is so well-located that when you step out of the building, you can literally see Manchester Piccadilly train station on your right.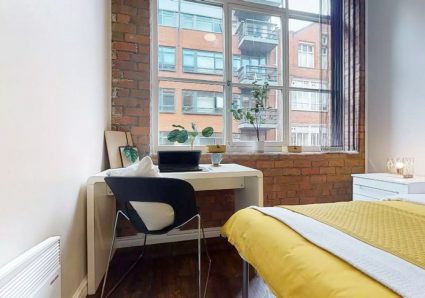 It's always a good idea to see all your options before making a choice. You can do this by checking all the student accommodation in Manchester that we list. Make sure you also create an account with us. That way our booking consultants can help you find the ideal student accommodation just for you!