Are you looking to book student accommodation with a larger group? You can take advantage of our easy-to-do group booking options and get started with finding your perfect student home today!
Finding university accommodation can be time consuming. Things can get especially complicated if there's a group of you. But it doesn't have to be that way! Our bookings support team is here to help not only find your dream group accommodation at university, but also to handle all the paperwork and hassle that goes with it!
Whether there's two, four or more in your group – we are here to help. With Student.com it's super simple to book accommodation as a group. All you need to do is:
1. Sign up
You can easily sign up for an account. Our service is totally free, so you don't have to worry about costs either. Just go to our homepage and click Log In at the top of the page.
2. Give your group members' personal details
Let us know the names of the other people in your group. This way we'll know you're looking for accommodation together and we can join you together in our system.
3. Tell us what you're looking for
You don't need to know anything specific yet at this point, but it's helpful if you can let our booking consultants know a few basic details. These include what city you are looking to accommodation in, what your budget is like, in what area of the city you'd most like to live and any other requirements you may have. One of our booking consultants will most likely contact you on a group WhatsApp so you can easily share any requests you have there.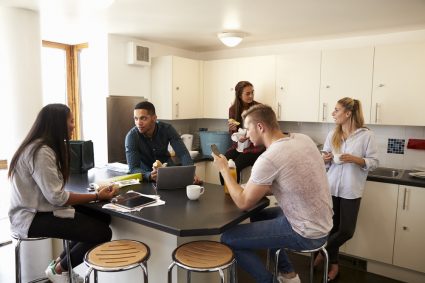 4. Compare your options
Your booking consultant will provide potential properties for you to check over and help organise viewings if you'd like to see a place for yourselves before moving in. Don't worry if you can't do an in-person viewing though: our website has lots of photos and videos of the properties we list and some even have virtual tours. This will help you find your perfect home away from home at university!
5. Get the paperwork done
This part is super easy with Student.com. When it's time to sign your contract, you just upload the needed information into your account on our website. Your booking consultant will also be on hand to answer any questions and guide you through the process.
Get started today in finding your group home with Student.com – just type your university or destination city into the search bar on our homepage, compare your options and find the ideal place for you!
If your group has 10 or more people in it, you can find more information about group bookings for large groups here.