A record-breaking 397,635 international students flocked to China last year for higher education.
This figure solidified China's position as the third most popular destination country for overseas students, behind the US and UK.
Over the past decade, the amount of individuals undertaking courses in China has more doubled.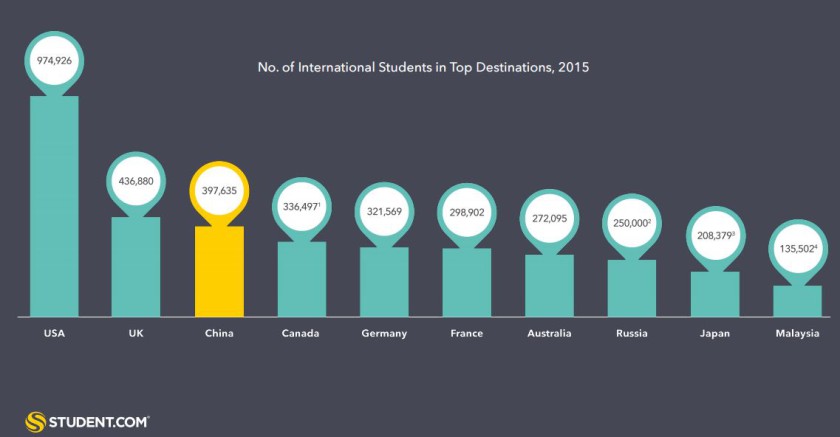 In 2006, 162,695 students went to China to study. Since then, the Asian country has experienced a faster year-on-year growth than its rival destinations around the world.
On average over the past ten years, China has seen a 10% increase, compared to the UK's 3% rise.
The gap between China and the UK was small last year, with the European nation attracting 436,880 students, behind the US's 974,926 enrolments.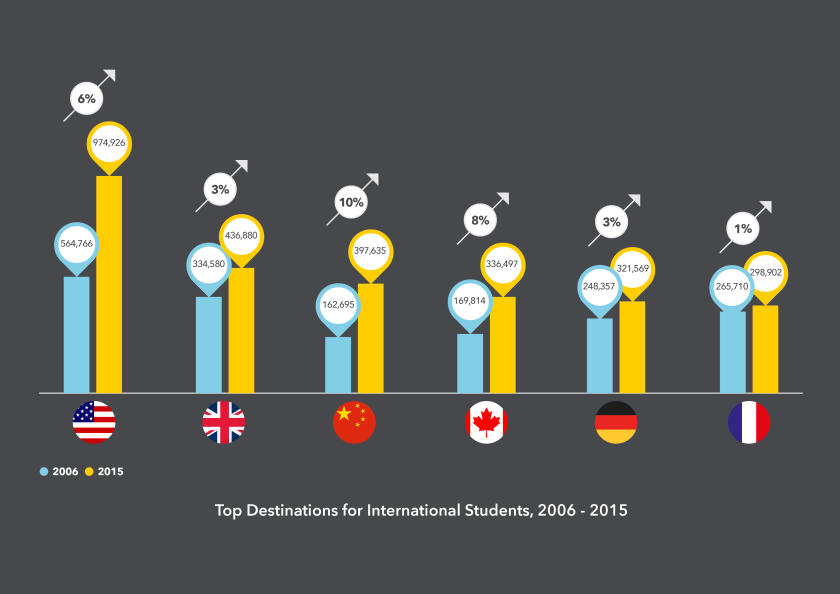 Scholarship Appeal
There are many reasons to explain the boom, including improved education and scholarship funding.
Chinese universities have risen significantly in recent league tables.
Last month two higher education institutions appeared in top 100 in the Academic Ranking of World Universities (ARWU) for the first time.
Tsinghua University and Peking University ranked in 58th and 71st place respectively.
Previously both were ranked between 100-150, representing a dramatic rise this year.
The fastest growth has been with degree-seeking students, with the sector rising from 34% to 46% in the past three years.
Research appears to be a key factor, particularly going by strong enrolment growth at a post-graduate (557%) and doctorate level (437%).
International Standing
In total, twelve Chinese universities are now in the QS World University Rankings top 100 for academic research.
These include Tsinghua University, Fudan University and Peking University in the top 50.
Another factor attracting students from all over the world is the financial aid on offer in China.
Last year, 40% of international students starting courses received sponsorship from the Chinese government.
The amount of funding programs for full-time, degree students has grown fivefold in the last decade.
Zhou Dong, CEO of China's University and College Admission System (CUCAS), the official application portal for international students in China, said: "The number of international students in China has increased year-on-year, supporting a positive, mutual understanding between China and other cultures.
"In the past two years, the Chinese government has actively increased the availability of scholarships, made it possible for foreign students to take on part-time work, simplified visa processes and standardised the assessment of international degrees.
"All these are important measures to promote education for international students in China."