We take a look behind the friendships being created from Together by Student.com – an intergenerational volunteering initiative.
Today we meet Dimitris, who is currently studying at university in Sheffield and has made a brilliant friendship with Liz, a local care home resident at Sheffcare through Together by Student.com.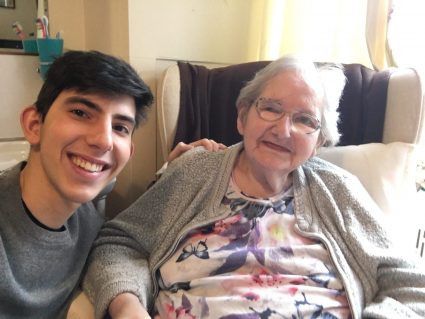 So tell us a bit more about yourself…
My name is Dimitris and I'm a 2nd-year bioengineering student at the University of Sheffield. Coming from Greece, a country well-known for its strong family relations since the ancient years. I have always had a very unique relationship with my parents, my three siblings, my grandparents, my aunts, uncles and cousins. Deciding to move to the UK to study at the university, leaving all that behind, was a very tough decision.
Why did you decide to take part in Together by Student.com…
When I learnt about Together by Student.com, I immediately applied as I was determined to convert my homesickness into something much more powerful. The genuine laugh of the residents when we talk, and their very flattering comments about how I make them feel are the best rewards I could ever ask for.
How has your relationship with your Together buddy, Liz, helped you…
My connection with Liz helped me to create a home away from home and really changed the way I feel about the Sheffield community. I've learnt plenty of things about her life, the history of the city and the war-time, as well as crazy things like my Chinese zodiac!
I cannot spend time with my grandparents back home so I'm using my time to brighten up a bit the lives of someone's else grandparents. I miss them and I'm doing what I'd like students in my city to do for my grandparents as well. After all, one of my family's main core values is 'do not just simply believe that there's good in the world; be the good in the world'.
What advice would you give to someone who is considering taking part…
Go for it and I'm sure you'll love it!