We take a look behind the friendships being created from Together by Student.com – an intergenerational volunteering initiative.
Today we meet Cheng-Hsiang, who is currently studying at university in Sheffield and has made a brilliant friendship with local care home residents at Sheffcare through Together by Student.com.
So tell us a little about yourself…
I am Cheng-Hsiang, studying at the University of Sheffield.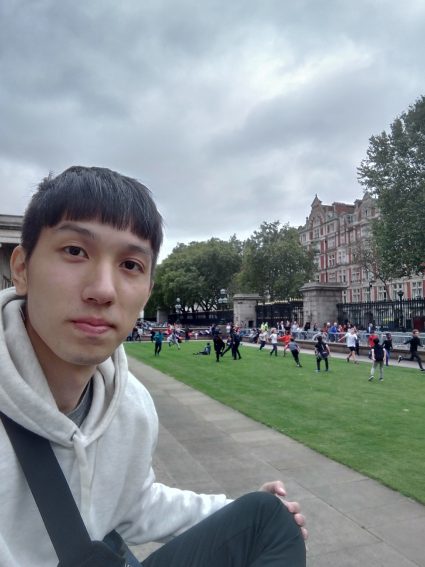 Why did you sign-up to take part in Together by Student.com…
I am an international student. Here I sometimes think of my family in Taiwan. Besides making video calls to talk to them online, I think taking part in this voluntary work would be really helpful when I miss my grandparents. Furthermore, since I might only be here for one year, I want to make the most of this period. Getting involved in this would make my experience more colourful and meaningful.
What has been an unexpected benefit of taking part…
I met so many nice people thanks to this opportunity. Kathryn (volunteer co-ordinator) was really kind to me and helped me a lot to get started in the care home. June and Claire – from the care home – really welcomed me every time I went there. They also cared about how I felt for the visits and tried to arrange different activities for me to join so that I would not get bored. The residents there in Grange Crescent residential house are so lovely. We had really great time there. I felt like I was also kept company by them when I went there trying to be their good company, which sometimes release my stress from my studies.
What was the most challenging element of taking part…
I think the hardest part is trying to start the communication with the residents I met for the first time because I did not know whether they liked me or not. After that, I felt much easier interacting with them.
What advice would you give another student who might be worried about getting involved …
I think just to tell them not to worry, because the people are really nice and they can really listen and understand our feeling when we have problems. After making the first visit, you will start to enjoy it. Even if you think your English is not good enough, there are plenty of ways to be good volunteer.
What has been your favourite moment of volunteering …
One of my favourite moment was when I played domino with other residents the first time. That was my first time to play it and it was really interesting when playing with those lovely guys.
If you could share one piece of advice to anyone feeling lonely, what would it be and why…
I think I would tell them to tell somebody close to them about this because in my opinion, I believe humans have kind hearts, and would be really willing to help, especially for their close friends or families. They will find the solution and help you get through the difficult time.