If you are considering studying in London, here's a guide on what to expect from lifestyle, accommodation and study options.
Considering the city where you want to study may take time, and you will want to consider different factors as you will be studying there for the duration of your course or degree. But what can you expect from student life in London? Here's a snapshot of what life in London could look like for you.
City Life
London is famous for many things, including the famous city sights of Buckingham Palace, the London eye and Tower Bridge. However, there's more to the city than meets the eye as you can enjoy cuisines from all over the world, lead a healthy lifestyle with world-leading fitness on your doorstep and of course embrace all the art and culture on offer. A great place for sociable souls as there is a wide mix of cultures, you will feel at home there no matter where you have travelled from.
Study Options
The city is jam packed full of study options, from King's College, to Imperial College, London Metropolitan University and UAL: Central Saint Martins. Whether you are looking to study medicine, finance, creative arts or design – there are options available. Plus the city has a whole host of short term courses for those who wish to top-up their studies or maybe take a semester studying abroad.
Accommodation Offers
With everything you may need on your doorstop prices are higher in the city for student accommodation. This doesn't mean that you won't be able to find suitable London student accommodation, but it may mean a slight compromise on square footage or proximity to your university. The good news is that the city has a great transport system of the tube or overground, plus bus routes and cycle paths – so wherever you want to get it won't take long. A monthly tube travel pass can be purchased for a set price from Transport for London, and this can end up saving you money if you do need to use public transport regularly. Here are some typical student accommodation options of the city:
Located in Walthamstow, it means a commute to UAL and UAL Central Saint Martins but for the commute time you get plenty of communal space and a good price tag. This property is finished to a high spec with study areas and entertainment room.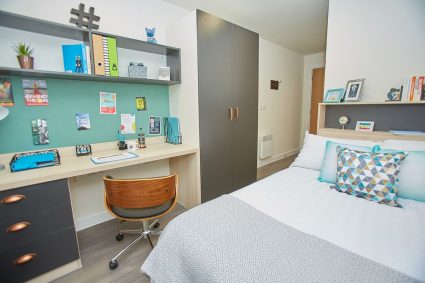 Located a stones throw away from Spitalfields and Shoreditch, The Curve provides central London living with all the home comforts. Lose yourself in Whitechapel Market's riot of colour and sound. Continue your journey of discovery along the curry mile of Brick Lane or stroll down to the Thames for a change of pace. Head toward Spitalfields for everything from art galleries to heaving nightlife.