Booking your student accommodation is a big decision, not just because it's a big step in your life, but also because booking accommodation for a long time is often a large monetary investment. That's why we at Student.com want to do everything we can to make sure that you can book your new student home through us with peace of mind and not having to worry about losing your money in case you will have to cancel your reservation for some reason.
Many of our accommodation partners will let you cancel your reservation for free if something will prevent you from attending university as planned. There are three typical reasons this might happen: the coronavirus situation, not getting a place at your preferred university and not being able to get a visa for the country you'd like to study in.
You can use our filter to find only the properties that offer one or several of these cancellation policies. Simply tick the box for the cancellation policy that might apply to your situation and you'll only see the properties that offer that policy, as in the picture below: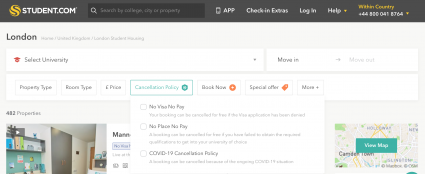 Covid-19 cancellation policy
The coronavirus pandemic has created a huge amount of uncertainty for university life, especially if you are looking to study abroad. Many of the properties that we list have adopted a policy that will let you cancel your booking if you are unable to move into your booked accommodation because of the ongoing Covid-19 pandemic.
There are many reasons why the coronavirus situation might cause you to want to cancel your booking, whether it's because you can't get to the property because of travel restrictions or because your university has moved to online-only teaching and as a result you'd prefer to stay home. Because of this, different properties we list have different terms and conditions about when you are allowed to cancel your booking for free because of Covid-related reasons. Our booking consultants will be able to give you more information about the exact Covid-related cancellation policies of the different properties we list.
No Place No Pay
A common issue for first-year students is that you can't know for sure which university you'll be attending until you get your results. Often you won't want to leave booking your accommodation after results day though, because at that point many of the most popular accommodation options might already be sold out.
With this in mind, many of the properties we list offer a No Place No Pay cancellation policy. This simply means that if you don't get accepted into your university of choice, because you didn't get the required grades, you can cancel your booking for free. This way you can find and book your preferred accommodation already before getting your results, knowing that you won't lose any money in the event that you won't get the necessary grades.
No Visa No Pay
This is a similar offer than No Place No Pay, but relating to student visas rather than grades. This issue concerns students who are looking to study abroad in a country where they are required to obtain a visa in order to be allowed to enrol at university.
Simply put, the accommodation providers offering this cancellation policy will let you cancel your booking for free in the event that you are not able to obtain the necessary visa to study in your chosen country. This way you can book your accommodation well in advance, before the best options get sold out, even if you haven't been granted your visa yet.