Here are our top tips on how to settle in quickly
If you're considering studying in the UK (or you're all booked and raring to get there) learn how to make the most of student life and you'll find settling in – and saving money – couldn't be easier.
1. Never pay full price
You can claim money off at loads of shops, restaurants, clubs, supermarkets and on public transport just for being a student. It can be worth as much as a third or more off full price, so always ask for a student discount, even if one isn't advertised!
If the student ID card your university or college gives you has an National Union of Students (NUS) logo, it should be valid for any discounts available. If not, or if you're after a wider range of offers, there are a couple of paid options worth considering:
NUS Extra

(£12/year): discounts you won't get with your basic student ID, including at Pizza Express and Amazon.

ISIC card

(£12/year or free for a year with NUS Extra): internationally recognised student ID and discount card. Handy if you plan on travelling, or want a card that's valid at home and in the UK.
You'll need to provide details about where and what you're studying to buy either card, so get them sorted once you've bagged your course.
2. Get your transport for less
If you can walk around town or to/from classes, it'll keep your costs down – and it's a great way to get to know your new home. Public transport (buses, trams, trains) can also get you from A-to-B without breaking the bank, plus students get a cheaper ride!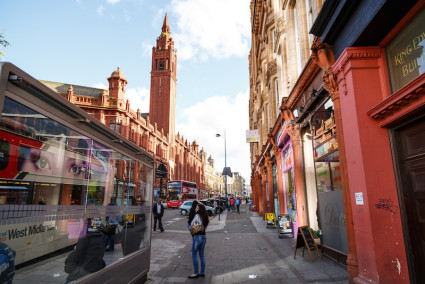 3. Check your privilege
Some of the stuff Brits have to pay for can seem a bit bizarre on your first visit. Luckily, your student status buys you a bit of breathing space.
Council tax: every household in the UK has to pay for services like rubbish collection and street cleaning – but full-time students are exempt from the charge. If everyone in your house is a full-time student, none of you have to pay. If you're in living with people who aren't exempt (e.g. a partner or landlord), technically only they are responsible for paying council tax.
TV licence: you need a licence (£147/year) to watch or record programmes shown on TV, plus BBC programmes on iPlayer. If you're moving into shared accommodation you can usually get one licence for the house and split the cost between you. You may also hear that students can skip the licence but this is only true if your parents already have a licence. On the other hand, as a student you can claim a refund if you no longer need your licence – i.e. if you return home over summer.
4. Make yourself at home
If you're familiar with the opening scene of the Tarantino film Reservoir Dogs, that's pretty much where the UK is at when it comes to tipping. Some folk always tip, others only for extra special service (i.e. they don't tip!). If you want to show your appreciation, 10-12% of the total amount is what you should aim for. Alternatively, you can just round-up the total to the nearest whole amount ("keep the change").
Some national stereotypes are just thinly veiled insults but this one's indisputable: Brits adore talking about the weather. Luckily, no technical knowledge is required – it just involves stating what the weather's like right now and predicting that it won't last. The latter sadly is also true, so learn to love weather forecasts and plan ahead!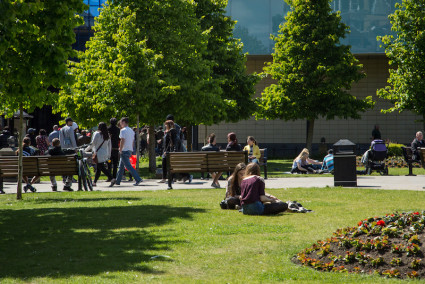 Even locals struggle with accents and slang, so don't worry about it too much – it's part of the fun of living somewhere new! Plus you'll be surprised how quickly you can assimilate just by talking to people, asking for directions, listening to the local radio or watching British TV. If you need some inspiration, this YouTube user has nailed how to talk 'Brit'!
Studying in the UK is a great choice for loads of reasons, from the breadth of degree options and opportunities, to the sheer variety of landscapes, languages and cultures the country is home to. Make the most of what's on offer, and you won't be disappointed!
Looking for student accommodation in the UK? Find the best choice of halls with Student.com.