When you study at university, your ultimate goal is usually to graduate and get a job you enjoy and that pays reasonably well. Check out these five tips on how to land your dream job!
Whether you're looking for an internship during your studies, or your first post-graduation job, there are some things that are always good to take into account when looking for jobs. These tips range from how to find the best job for you, to advice on how to actually land that job. Read on and make sure to keep these tips in mind when job hunting.
1. Research the company you've applied for
Starting off with a crucial tip but in order to shine during your interview, have a few facts on hand about the company and drop them in during your interview. It'll demonstrate you've gone the extra mile rather than purely applying and not being that interested in the company itself. Try to focus on unique facts that are harder to obtain as other applicants may well have done the same. This way you'll really stand out.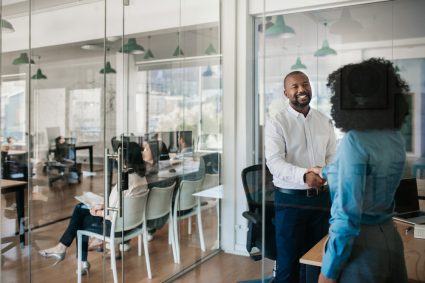 2. Dress to impress
This should be an easy one. You should dress smartly for an interview, even if the company dress code isn't smart. It is essential you show that you re taking this as seriously as possible which will be valued by the interviewer.
3. Take practice interviews 
Interviews can be daunting if you've never done one before. Look at the job description and the person specification for the role you're applying for, and create some practise questions. You could be interviewed by your friends or family but you'd be surprised how many of these come up. Its fairly common to be asked questions such as:
Tell me about yourself

What makes you a good fit for the role?

What are some of your strengths?

What are some of your weaknesses?

What achievement are you most proud of?
4. Think about questions you want to ask your interviewer
This is a really important one. If you come with no questions to ask the interviewer, it may appear as though you aren't really interested in the role. While this may not be the case, failing to prepare is preparing to fail. Similar to point 1, it shows you've gone above and beyond for the interview and will stand you in good stead compared to the other candidates. Depending on who interviewed you, you could review their LinkedIn profile to look at their past experience. Some questions you could ask them are:
What do you enjoy most about your current role?

How have you developed since your first day here?

What made you want to apply to the company?
5. Use the
Student.com
 Marketplace to speak to a career expert
On the Student.com Marketplace we have a careers section where you can arrange to speak to an expert career and interview coach to help land your dream job. Arrange to speak to one now to help you get the job of your dreams!!!