Here are some of Student.com's favourite luxury student homes and their state-of-the-art amenities.
Gone are the days of 'student housing' only being synonymous with tiny box rooms and broken bookshelves. This is especially the case in countries like the US – one of the most mature markets for student housing globally.
The student housing market in the US is big business. According to Savills, $5.4 billion was invested in the sector in the first half of 2016. There's also huge demand for student properties in core cities, especially where there are growing international student populations and limited supplies of housing.
The Rise of Luxury Student Homes
Whilst developers used to mainly focus on properties with small rooms that provide only the bare basics, over the last few years there's been a surge in luxury student homes that offer a range of state-of-the-art amenities. Accommodation providers are really pushing the boat out when it comes to offering the best set of amenities, all under one roof. A Bloomberg survey of 94 student housing complexes across the US found that 80 percent of residents have access to a swimming pool and almost half (45 percent) have access to volleyball courts.
We looked at some of the most luxurious US student properties on Student.com and put together a list of some of our favourites. Here they are:
Aspen Heights Statesboro (Statesboro, Georgia)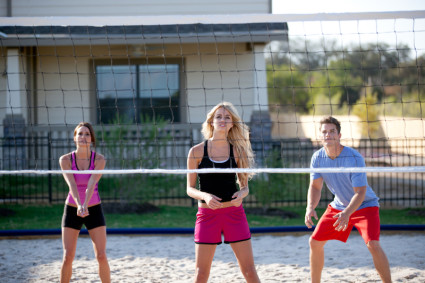 Why we chose it: Because of its beautiful outdoor sand volleyball court. We couldn't think of a better way to work out and de-stress after class!
What students say: "Aspen Heights has hands down been the best housing experience I have ever had. From the very first day I knew I chose the right place when I was greeted at my car by Aspen Heights staff grabbing my boxes and helping me move in. Throughout the year they hosted multiple events and always had something fun for their residents to do. The houses are amazing, the staff is incredibly helpful and friendly, and they offer the best amenities in Statesboro…"
Perfect for students at: Georgia Southern University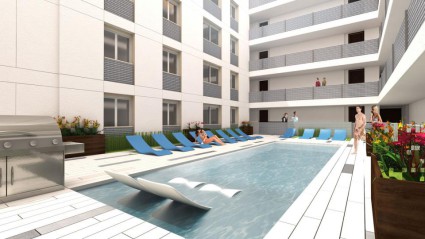 Why we chose it: It's outdoor areas comes complete with full Wi-Fi access. Never again will you worry about losing your connection whilst poolside!
What students say: "I'm absolutely in LOVE with my apartment! It's spacious, beautiful, receives a ton of natural light, and has everything needed to make me feel at home. My favorite amenity is the gym, of course."
Perfect for students at: University of Texas and Austin Community College's Rio Grande campus.
Hub on Campus Madison (Madison, Wisconsin)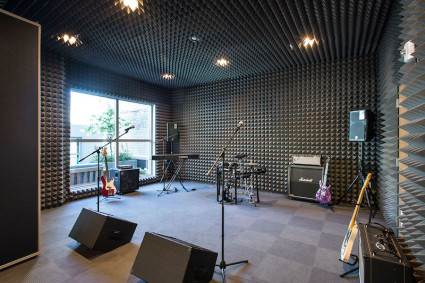 Why we chose it: Hub on Campus Madison has the ultimate room for aspiring musicians and karaoke nights with friends…a recording studio!
What students say: "Beautiful units, great amenities, and even better location…Staff is most of all friendly and prompt to work with you despite whatever situation…they truly take care of their residents. Would absolutely live here again!"
Perfect for students at: University of Wisconsin-Madison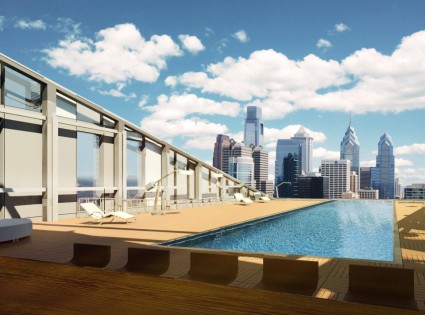 Why we chose it: Because evo's breathtaking views of Philadelphia's skyline from the rooftop infinity pool are simply dreamy.
What students say: "… furnished retreats, luxe amenities for daily living, and a swanky rooftop pool for cranking things up on the weekend."
Perfect for students at: University of Pennsylvania and Drexel University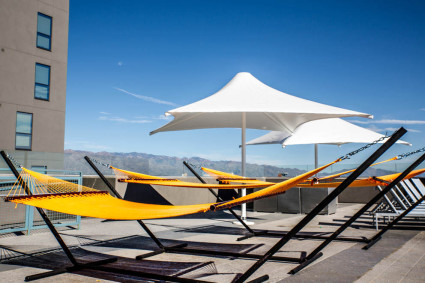 Why we chose it: From rooftop hammocks to a hot tub, Sol offers so many great options to help you unwind after a busy day at class.
What students say: "The location of being right next to the University of Arizona is fantastic and extremely convenient! The amenities offered are great as well!"
Perfect for students at: The University of Arizona
Looking for US student accommodation? Find the best selection of properties on Student.com.