We spoke to the Edinburgh Thai Students' Association to find out all about it, what they get up to, and what life is like as a society member.
The Thai Society is part of the Student.com Societies programme, which supports student societies and helps students find their student accommodation.
So tell us about the society…
The Thai society at the Edinburgh Thai Students' Association is all about community, partying and very importantly the tasty food! Running since 2015, with an impressive 80 people joining each year, this society aims to share the society's culture with the local community and break stereotypes about Thai people.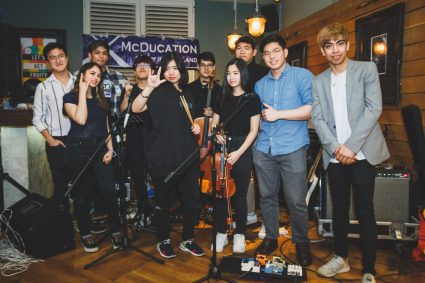 If you had to describe the society in three words, what would they be and why?
Social – we host socials monthly for students to meet up as well as 2 parties which are the largest Thai student parties in Scotland
Food – our main event is a food festival and of course if you think about Thailand you will think about Thai food! We host an annual food fair every year as well as dinners, potlucks and BBQs throughout the year
Connect – we bring students together organising meet ups throughout the year, supporting everyone as much as we can and build a community for our members to connect


How many students are a part of the society?
Average around 80 people each year but we are aiming to grow bigger in upcoming years
How often and what type of social events does the society host?
We host socials each month, our main events are at the beginning of each semester:Thai Night, the biggest Thai Student party in Scotland where we have our own Thai student band performing live! 

What's the greatest achievement of your society so far?
Over 350 guests at our annual Thai food/cultural festival 'Amazing Thailand'; 100+ guests at our Thai Night 
What's the biggest challenge facing students right now?
People thinking Thais are from Taiwan and Taiwanese people are called Thai. Thailand, Taiwan, 2 different countries. We look Chinese but we are not, if you speak Chinese to us, chances are only 10% would understand you. 
What do you love most about the society? 
The community, the party, the food!!
What's in the pipeline for next year? e.g.society developments and plans 
To grow the society – having more members, more collaborations with other societies and share our culture to the local community.
How do I join?
Like the society's Facebook page to be a part of the community. Membership cards are available for purchase at the beginning of each semester and can be collected at Thai Society's social events. Top tip is to make sure you grab them quickly, as only a limited amount is available!
Well after that we're convinced at Student.com that the University of Edinburgh Thai Society is bags of fun and a great way to form a community while at university. We hope you do too. 
To find your perfect student accommodation, with the support of the University of Edinburgh Thai Society, head to: https://airtable.com/shrOsRmx57QLVL9cT 
Stay connected with the University of Edinburgh Thai Society online Facebook: @Edinburgh University Thai Society and Instagram page: @thaisoc.edinburgh!