Melbourne is a true Australian pearl. Filled with history and art, clubs for a good night out, sports, museums, parks, and events, studying in the capital city of Victoria is truly an exceptional experience.
With prominent attractions, landmarks, cafes, wine bars, and more, spending your time in Melbourne really comes down to what you prefer to do, because there are so many options available. We tried to find the best places for history, culture, sports, and fun lovers. Melbourne was rated as Australia's best student city and the 5th best student city in the world by the QS Best Student Cities 2023 ranking and it is consistently a favourite among students.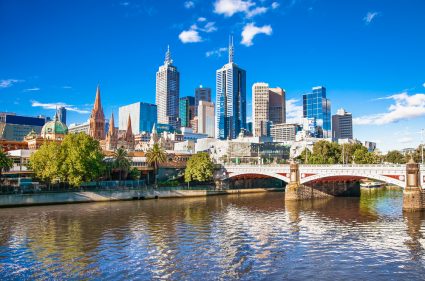 Famous attractions
There are many famous attractions in Melbourne. You should definitely visit the Royal Botanic Gardens and the Federation Square, and soak up the mesmerising view from Eureka's Skydeck. There are also many parks, aquariums, museums, and clubs that will make your student experience unforgettable.
The Royal Botanic Gardens in Melbourne are unique and exquisite, with 50,000 individual plants and 5,500 species. They take up 38 hectares (94 acres) and were founded in 1846. This is one of the most notable botanic gardens in the world. Here you can see many rare species in areas including the Australian Forest Walk, California Garden, Camellia Collection, Eucalypts, Roses, and much more. In the summer, you can enjoy live theatre and a moonlight cinema. If you explore this beautiful area, be sure to stop by the well-known Terrace Café.
Federation Square is a popular venue for art galleries, exhibitions, and world-class events. Opened in 2002, it is home to many cultural attractions, exciting dining options, and modern events. Its distinctive architectural pieces are both loved and hated, but it is one of the most visited and favoured destinations in Melbourne. Events you can see here include concerts, film festivals, art exhibitions, and more. Some renowned museums and galleries you can visit are the Ian Potter Centre, NGV Australia, the Australian Centre for the Moving Image (ACMI), and the Koorie Heritage Trust.

Eureka Tower is a 975-foot (297-metre) tall tower. It was built in 2006. The Melbourne Skydeck is located on the 88th floor of the tower and gives the highest public view from a building in the Southern Hemisphere. Here you can also see The Edge, a glass cube that slides out three metres from the building.
Luna Park Melbourne is a historic and entertaining amusement park built in 1912. It is one of the most prominent and fun attractions in Melbourne. People visit this amusement park for its history and thrilling rides like the Luna Park Carousel (with a view of 6,000 lights), the scary and intriguing Ghost Train, Thrill Seekers, and more. The park also has great food options and events.
The final must-see Melbourne attraction for today is the Sea Life Melbourne Aquarium. Here, you can see thousands of interesting sea animals, art displays, diver presentations, and more. Some of the animals you can encounter here are penguins, sharks, sawfish, seahorses, tropical fish, and more.
These are just a few popular locations in Melbourne. We also recommend visiting the National Gallery of Victoria, the Arts Centre Melbourne, the Abbotsford Convent, the Melbourne Zoo, and more. Whatever your interests are, you'll surely find lots of exciting things to do and see in Melbourne!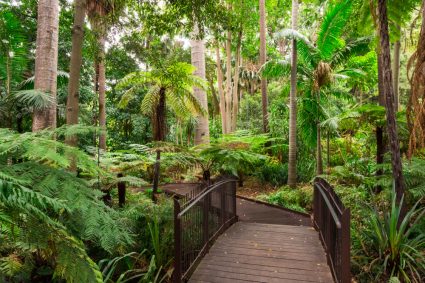 Fun things to do
With a little imagination, there are endless fun things to do in the capital of Victoria. Depending on your interests, you can visit both night clubs and museums, art exhibitions and cafés, historical destinations, and parks. Here are just a couple of activities we recommend.
Along Southbank, you can find plenty of cruise companies. These cruises take place on the Yarra River and offer stunning views of the city. Learn more about the history of this lovely river and soak up the remarkable views of the Royal Botanic Gardens, the National Tennis Centre, and the Melbourne Cricket Ground.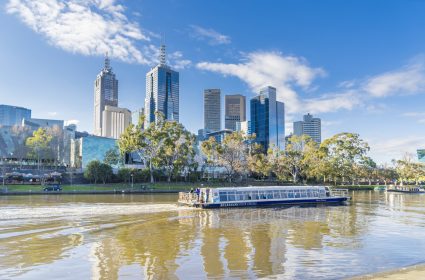 Another place we recommend you explore is Docklands. It is a relatively new waterfront area with amazing cafés, restaurants, attractions, and more. Here you can enjoy an interactive 3D art gallery, see Melbourne from the Melbourne Star observation deck, and grasp the unique street art. This is a very popular destination at night.
If you enjoy shopping, Queen Victoria Market is the perfect spot for you. You can find clothing, art, souvenirs, and much more.
For history and culture lovers, a nice location is the Abbotsford Convent. The convent was founded in 1863, and its rich history has saved it from being demolished. Now it is an art and culture precinct and a community for artists, musicians, writers, therapists, improv groups, and more. They host interesting workshops, exhibitions, and talks. It's worth giving it a look if this is your cup of tea.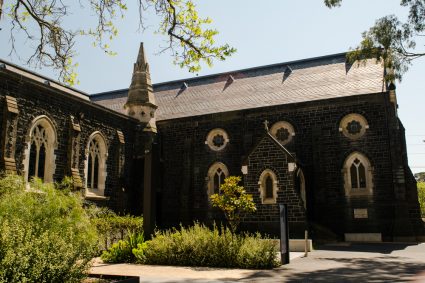 There are a lot of compelling museums in Melbourne that are worth your time. For sports fans, we recommend visiting the National Sports Museum. Visiting the Melbourne Museum is also a must. It is surrounded by gardens and parkland, which makes the experience it offers both beautiful and educational. You should also pay a visit to the Immigration Museum, the Museum Victoria, the ACMI (Australian Centre for the Moving Image), and more.
You can also take a city circle tram tour, visit Captain Cook's Cottage, the Athenaeum Theatre, see the Shrine of Remembrance, and more.
Nightlife in Melbourne
There are countless things to do in Melbourne at night. The nightlife in this city is amazing and versatile and includes rooftop bars, trendy nightclubs, and charming, diverse bars. 
The financial district blooms at night and has plenty of quality bars, beer bars, cocktail bars, themed parties, and discos. 
The Federation Square is also loaded with clubs (and interesting Gothic alleys). Some of the best nightspots can also be found in Collingwood and Fitzroy.
The beaches are also a popular spot for a night out in the summer, with St. Kilda being one of the most visited destinations.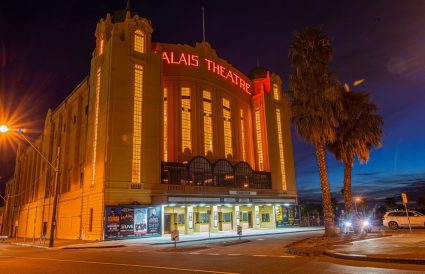 The leading universities
Melbourne is a very popular destination for international students, with one-third of its students being from overseas.
The University of Melbourne was founded in 1853 and is one of the most eminent universities in this favoured city. It has one of the biggest cohorts of graduate researchers in Australia and five research institutes. 
Monash University is the largest university in Australia by number of students and also one of the leading research universities in the country. It is home to over 120 research centres and institutes, some of which are located outside Australia.
Other established universities that offer a versatile and valuable education are La Trobe University, Victoria University, RMIT University, and more.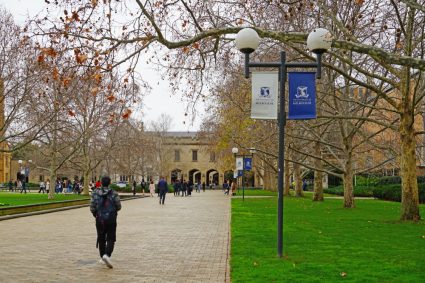 Student accommodation
If you want to study in this amazing city, finding accommodation is one of your most important steps. With everything that Melbourne has to offer, choosing the right accommodation for you will set you up for an educational, entertaining, and memorable experience.
There is no shortage of quality and affordable accommodation in this city, and we have tried to find the best options for your stay. Take a look at the list below to find some of the most popular student accommodation we offer, or check out all the options available for student accommodation in Melbourne.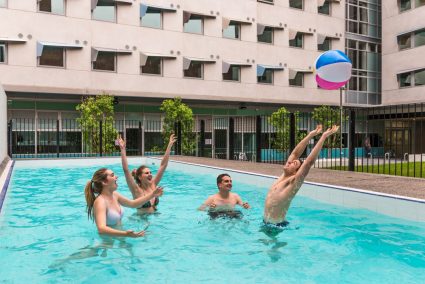 This highly popular property offers student accommodation a short walk from the University of Melbourne. You can book a private room with either a shared or a private bathroom, or a fully self-contained studio apartment with fully private facilities. The property boasts great amenities including an in-house gym, a cinema room, a study area and a games room.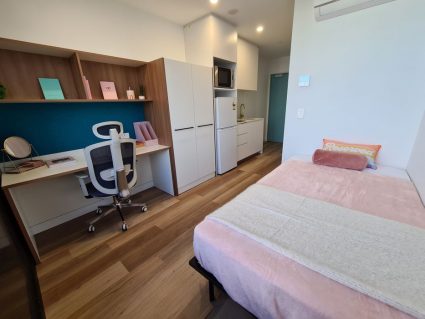 This property is located a short walk from RMIT University (Royal Melbourne Institute of Technology), as well as being very close to the Queen Victoria Market and Flagstaff Gardens. The University of Melbourne is also close by. The property lists both shared and private rooms, as well as fully self-contained studio apartments.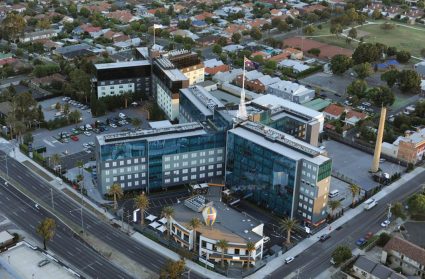 Campus Melbourne offers fully private studio apartments north of the city centre. The location slightly further away from the city centre means you can get comfortable studios for a much lower price than you could in the heart of the city. The price is even more competitive considering all bills, as well as high-speed Wi-Fi, are included in your rent. The property boasts great amenities such as a gym, swimming pool and entertainment and study areas.