An expert on global education trends, we talk to Jacqueline Kassteen about why the U.S. remains an attractive destination for international students.
An energetic entrepreneur, Jacqueline Kassteen runs two businesses, both specialised in the international education industry. The first, Jackfruit Marketing, is her consulting, project management and training company. The second is soon-to-be-launched FruitFame.com, a brand new platform for showcasing success stories in marketing, recruitment and retention.
An expert on global education trends, we talk to Jacqueline about why the U.S. remains an attractive destination for international students.
What makes the US such an attractive study destination for international students?
The US is the number one destination in the world, and according to the latest data from IIE, it is currently host to 1,043,839 international students. America has a lot to offer in terms of quality, course variety, academic values, study environment, and student support. And outside the classroom, the quality of life in America and the standards of living are very high.
With so many attractive study destinations in the world, how can students find the right place for them?
First and foremost, students will choose their programme of study and then find the right institution and country for them. Barring visa hurdles, which will affect students from some countries more than others, students are spoiled for choice when it comes to their ultimate study destination. 
And this is even more true in the US, with thousands of post-secondary institutions offering a huge range of study programmes in almost any environment you can think of. Of course, this enormous selection makes choosing an institution even harder, and the abundance of information at hand also makes it challenging for students to find the content that is most relevant to their needs. One of the best things an international student can do is contact institutions they are interested in and ask to be connected with a current or former international student, so they can hear first-hand what it's like to study there. Universities and colleges with robust ambassador programmes and alumni networks will be well-placed to assist international students in this manner.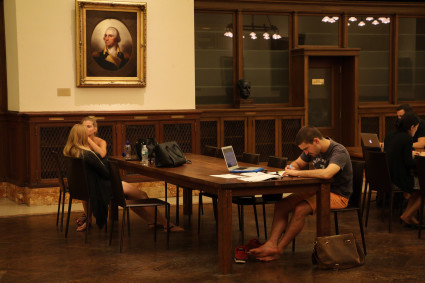 What are some of the most popular cities in the US for international students?
NYU and the University of Southern California host the most international students (15,500+ and 13,300+, respectively) and when combined with many other institutions in the area plus a thriving cosmopolitan atmosphere, it's easy to see why New York City and Los Angeles are great destinations for students. They host the most international students, followed by Boston, Chicago and San Francisco.
Of course, California has great weather, which is a natural draw, but it is also home to hundreds of institutions, which helps it hold on to its title as the state with the most international students (followed by New York, Texas, Massachusetts and Illinois).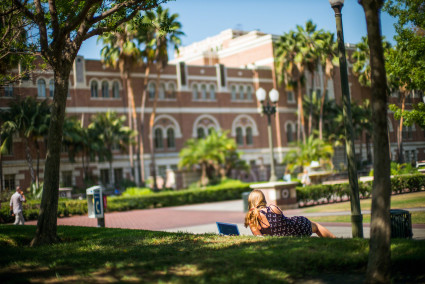 How does the student experience vary in the US?
Again, there's so much variety in the States. If you feel like you want a more urban campus where you can experience real city living, then New York or Chicago are great choices. Miami is a thriving, modern city with a vibe all its own, and for an international student studying political science or international relations, Washington DC is an obvious choice.
Sometimes a huge metropolitan area can feel intimidating for an international student, so they might feel more comfortable in a secondary city like Dallas, Atlanta, Philadelphia, or Denver.
And of course, some cities have a great 'student vibe' to them like Austin or Boston. America is full of classic college towns such as Princeton, Boulder or Ann Arbor. In towns like these, the student buzz is really powerful. There's a youthful energy in the air and a never-ending stream of activities, cultural events, and entertainment options.
How would you describe the atmosphere in America?
Despite the current political climate, Americans on the whole are very open, upbeat, friendly people. It's not unusual for Americans to strike up a conversation with a total stranger, whereas in other cultures, that just doesn't happen.  Institutions in the US work hard to support international students and many have taken to social media to show the world that people from all backgrounds and cultures are welcome, as evidenced by the recent campaign #YouAreWelcomeHere.  Furthermore, America has always been called a melting pot of cultures, so as an international student, you're sure to find links to your home country scattered throughout the US. Some states or cities have large pockets of immigrant communities, which can lessen the blow of culture shock and give foreign students a network in their new country. For example, California is a popular destination for Vietnamese students because there's a large diaspora of Vietnamese living there. So if incoming students find themselves studying in Los Angeles or San Francisco, they'll have a network to turn to if they need it.
And what about accommodation options in the US? How does student housing in America compare with other destinations?
Student accommodation standards have been rising worldwide, but I'd say America really 'pushes the boat out' when it comes to catering for student needs. Several universities have made extensive multimillion dollar investments into their accommodation and facilities, providing a 5-star experience for students. It's very impressive, perhaps a tad overwhelming in fact.
In terms of accommodation, most students live in dorms for at least the first two years of their four-year degree. Dorm living is a very unique experience and a great way to make instant friends. The more you can surround yourself with fellow students, the better. The social network you can build just in student accommodation units alone is one of the many perks of tertiary education in the US. It's an environment you'll never experience again, so I'd encourage students to choose communal living rather than isolate themselves in a flat or apartment somewhere off campus.
Back in the day, you studied at university in the US. If you could do it all over again, would you?
Absolutely! I have countless, fantastic memories from those days. It is truly one of the best times in your life. You're becoming independent, learning and growing every day. Plus, students now have more opportunities to study abroad so they can experience a variety of cultures and learning environments whilst working towards a degree. And there's an incredible buzz and energy on university campuses – it's almost like a magical little world, full of promise and potential. You might enter this world cautiously or with gusto – depending on your personality – but either way, you will leave with knowledge, confidence and courage to take that next big step in life.
Looking for student accommodation in the US?  Find the best rooms at Student.com