International students are flocking to the US from all over the world like never before, with almost one million now enrolling each year.
The students come away with an elite education, but the US economy also reaps the benefits of this record growth in enrollment levels to the tune of $36 billion and over 370,000 new jobs each year.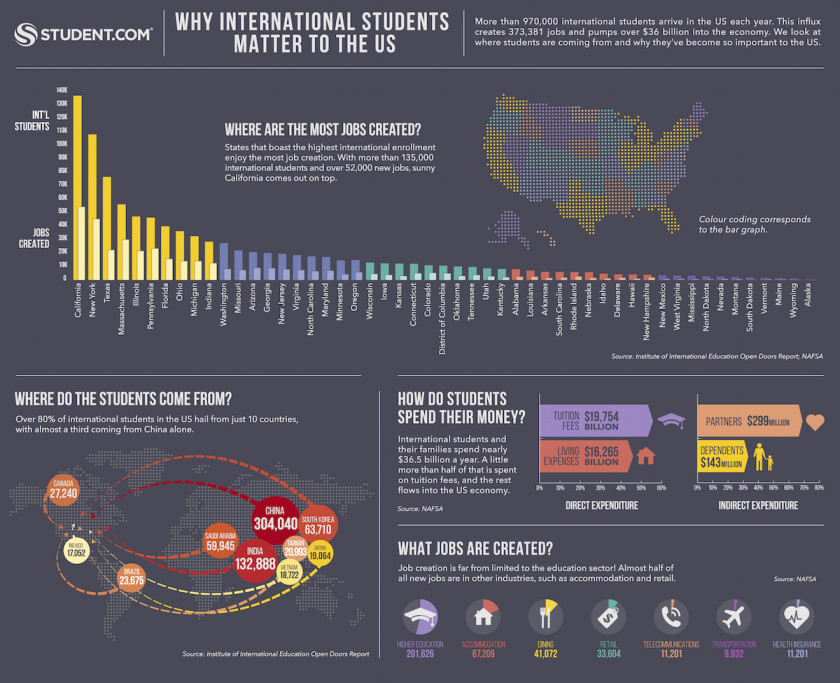 We've dug into the data to show where international student numbers are concentrated and which US states enjoy the most job creation. Our infographic breaks down the new jobs by industry to reveal how almost half are outside the education sector. It also shows where the students are coming from and how their spending breaks down.
The number of international student enrollments in 2014/15 surged by 10% to 974,377 – the biggest year-on-year growth rate since 1978/79. This accounts for 19% of all mobile students globally, a greater share than any other nation, with almost half coming from China, India and the Republic of Korea.
There are plenty of reasons students choose the US, not least the dominance of its institutions in the world university rankings, with five US universities in the global top 10, including the top two slots. The message is clear though, international study is a force for global good with beneficiaries far beyond students and universities.
Why International Students Matter To The US – An infographic by the team at Student.com
Embed "Why International Students Matter To The US" on your site: Copy and paste the code below