What's life in Birmingham like? If you are studying in Birmingham or soon to be, check out this guide on the best things to do in Birmingham, places to see and where to live.
Life in Birmingham 
What is it like to live in Birmingham? A city packed full of life, with older parts of the city mixed with the modern Bullring shopping district – there's something for everyone. Located in the heart of the midlands, locals are friendly and living costs are reasonable. With its famous history at the heart, Birmingham was known as a powerhouse so there is plenty of history on your doorstep to discover. 
Things to Do
Botanical Gardens 
Want a slice of tropical paradise? Head to the Botanical Gardens for the day. Spread across fifteen acres, there's an abundance of flora and fauna on display – perfect if it's a sunny day to spend discovering all it has to offer. Don't forget to stop by the butterfly garden for a fantastic fluttery experience! 
Jewellery Quarter
Fancy a mix of culture and food? Well head to the Jewellery Quarter as you are surrounded by 200 listed buildings and plenty of places to grab a bite to eat. Plus if you are looking for a special keepsake from the city then it's the perfect place because it is Europe's largest cluster of jewellery shops. 
Grand Hotel
Want a life of luxury on a budget? Stop by the Grand Hotel to have coffee in one of the city's most historic buildings which has just been restored to former glory. Take in all the sights of the architecture and items on display whilst refuelling. 
Where to Live
Need student accommodation in Birmingham? Look no further. Here are some options available in the city. 
Head out of Belgrave View and toss a coin: shopping at the Bullring or a stroll around the seven acres of hidden gem, Winterbourne Botanic Gardens? Whichever you choose, it's just a short hop by bus, either north or south. There are plenty of reasons to leave your room though. You could head down to the social space and sharpen your pool skills. Or, for something a little less competitive, jump on a bike in the free gym and sweat it out.
When you've had enough of pumping iron, there's also a TV room where you can catch up on your favourite shows on the massive screen. Creative types can hang out in the music practice rooms and bang out a tune. Even if you don't start a band, it's a great way to meet people.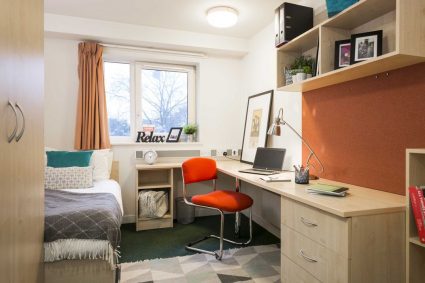 Staniforth House offers contemporary living in the heart of the UK's second city. Close to Aston University, Staniforth House couldn't be better placed to make the most of your time in Birmingham. All en-suite rooms feature private bathrooms and plenty of storage. If you'd like everything to be just for you, opt for one of the spacious studios which have their own modern kitchens. You'll find a common room with free pool and foosball, comfy couches and armchairs, as well as a study room.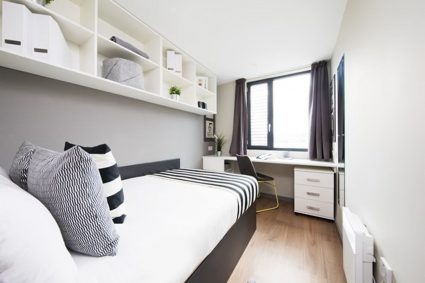 Birmingham student accommodation really doesn't get any more central than this! Just three streets over from Birmingham New Street train station, practically next door to the shops and restaurants of Birmingham's Bullring and right in the heart of vibrant Chinatown; you are directly among some of the most interesting places in the city. Located on Upper Dean Street, in the city centre offers you a fantastic base to discover all that Birmingham has to offer. Whether you are looking for shared studio apartments, the student halls experience or private student accommodation in Birmingham – it's available here.