From America to Southeast Asia to Europe, student accommodation is shaping up to be a global concern for students looking to study abroad.
If finding housing is a source of anxiety for you – you are not alone. In a recent survey of over  20,000 students around the world conducted by educations.com, finding the right student accommodation was voiced to be one of – if not the most concerning and worrisome task when choosing to study abroad.
Take a look below to see the increase in students' concerns over finding their new housing accommodations abroad: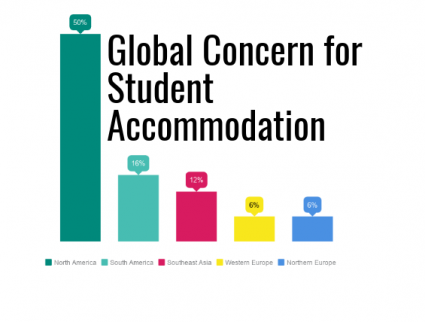 Concern highest in North & South America, followed by Southeast Asia
In North America, people seem to be the most worried about finding student accommodation abroad, making up 50% of the global concern for student accommodation, followed by South America at 16% and Southeast Asia at 12%.
Western and Northern Europe share the same level of concern at 6%.
Rise in concern in Europe from previous years
Looking more closely at Europe, although the overall numbers may seem small, there has been a significant increase in concern over housing in some countries like France, where students voiced housing to be their biggest concern – ranking higher than tuition fees, visas, and language barriers. There has been a 6% rise in concern for overseas accommodation from French students.
In the UK, today's students are 3% more concerned about housing than in previous years.
Students choosing country first
This also ties in with some other interesting findings from educations.com's Higher Education Report, which states that 43% of students in Northern Europe choose their study abroad programme based on the country, followed by the choice of programme at 41% and then the school at 16%. The results look quite similar in Western Europe where 40% choose country first, 42% choose the programme first, and 18% choose the school.
By placing special importance on the destination, students want to make the most of their experience in this destination with great housing in proximity to their university, enabling them to really feel the city's vibe.
How to reduce concern
Moving abroad to study in a new country already isn't easy. For a lot of international students, it's often a daunting experience too. But studying abroad, especially finding the right student accommodation, doesn't have to be a challenge.
There are various ways to ease the stress of booking accommodation:
Give yourself time. 

Start your search early to get the best prices and availability.
Student halls or private. Decide if you want to go for student halls or private accommodation. Each option has something different to offer, so think carefully about what's most important to you.
Flatshare or solo. If you want to live with friends, ideally, you and your friends should apply at the same time, so you can be allocated rooms in the same flat/halls.
Compare. Use a website like student.com that will enable you to compare hundreds of types of accommodation in the areas in proximity to your university of choice.
Student.com is the world's leading marketplace for international student housing, we have over 1.25 million beds in over 400 cities. Call us now to find out more!