During this challenging time we recognise that there will be a lot of uncertainty regarding booking your student accommodation ahead of time for the summer and next academic year.
It is our commitment to you, as global students, that we will ensure you are fully informed whilst you are looking to book your student accommodation in these uncertain times. Our focus is to minimise risk for you, and to adapt to the changing situation to ensure you can feel comfortable and confident with your student accommodation decisions. 
You can still book your rooms for your study on our flexible terms. Many student accommodation providers will offer full refunds or the ability to change your tenancy agreement for no costs should you not study at University as planned, or whether you have to adjust your dates due to travel or university restrictions.
To ensure you have the best information and minimum risk we will:
Do everything we can to support you at this time
Our dedicated team is on hand 24/7 to handle any queries or questions you have regarding your current or future student accommodation purchase.
Please either reach out to us via LiveChat, your dedicated booking consultant or call us on the telephone number in the top right corner of our website. 
We are available to answer any questions you have on what to do next.
Confirm which student accommodation partners offer the best cancellation policies if you are unable to attend your chose University
We are in the process of consolidating terms and conditions from our student accommodation partners of their policies regarding cancellations due to COVID-19.
Look out for the Coronavirus Cancellation Policy label on all of our properties that have clear policies defined already as highlighted in the image below. The terms and conditions are different for each student accommodation partner.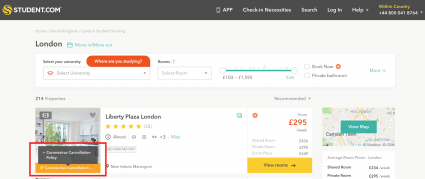 Also, be aware that most bookings are often subject to a No Visa, No Pay – or also, No Place, No Pay – policies. These policies ensure that if you cannot travel due to no visa being issued or no place at your University being made available in the event of a cancellation of your course or suspension, then you will get a full refund.
Please ask your dedicated booking consultant about this when booking to ensure you get the best room for your needs. 
Ensure you only book rooms that fit your situation
We will ensure you only book rooms that are suitable for your changing needs and demands. 
If there is a risk for you not to attend University, we will advise you not to book yet or to book a room with flexible terms and conditions that mean you have the ability to change what you've committed to or get a full refund.
What to do next?
You can still plan your student accommodation and studying despite the uncertainty created by COVID-19.
Our dedicated team is on hand 24/7 to ensure you only book what suits your situation and to ensure you are not at any risk from booking your room now.
Most student accommodation is flexible and has protection for students that book.