Clearing can be a stressful process for a lot of students. Here's our guide to UCAS Clearing 2018, including what you need to know and how to get through it.
What is Clearing?
Clearing is part of the Universities and Colleges Admissions Service (UCAS) application process.
It's for students who do not hold offers for UK universities but still want to secure a place on a course.
It's also a way for universities and colleges to fill any course places they still have.
Who goes through Clearing?
You'll be able to use UCAS Clearing if you:
do not meet the conditions of your offers
do not receive any offers
applied after 30 June
How do I know if I need to go through Clearing?
In UCAS Track, your status should be either 'You are in Clearing' or 'Clearing has started'.
If your status still hasn't updated yet, it could be because your results haven't been processed.
Feel free to get in touch with the universities you have offers for if your Track hasn't updated after results day.
When is UCAS Clearing 2018?
Clearing officially opened on 5th July 2018. You can start your search as soon as you get your exam results.
For students waiting for SQA results, results day is 7th August this year. For A Level results, it's 16th August.
Clearing closes 23rd October 2018 – so you'll need to act quickly once you get your results.
Is it the end of the world if I have to go through Clearing?
Short answer:
No.
Long answer:
According to UCAS, there were thousands of places available through Clearing last year.
It isn't just the least popular courses at the least prestigious universities either.
Top ranking unis, like the University of Edinburgh, King's College London, and the University of Leeds, had places during Clearing last year.
There were hundreds of popular courses to choose from to, from law and computer science, to business and mathematics.
You're not alone either:
Every year, tens of thousands of students get university places through Clearing.
However, with so many students applying through the scheme, the process can be hectic and stressful.
So read on for top tips on how to get a place in UCAS Clearing 2018.
How do I get a place through Clearing?
Here are our top tips for securing a place on a course through UCAS Clearing 2017:
1. Start your preparation before you enter Clearing
If you're reading this guide before you get your exam results – well done!
Even if you feel like you're on track to meet your existing offers, you should familiarise yourself with how Clearing works.
Do this before your results day.
2. Check which courses are available
Whether you're looking before or after results day, here's how to find out which courses are available in Clearing 2018:
Start by searching for the course you've applied for to see which universities have places in Clearing.
You can find courses in Clearing using the UCAS search tool: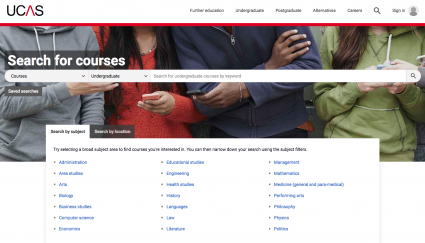 Clearing can also be a chance to change your mind, so search for different subjects if you want to study something else.
Alternatively, if you have your heart set on a particular city or part of the UK, you can even search by location to see a list of universities with Clearing places.
After that, you can filter again by course.
There's even a handy Map view function, which you can use to see where universities are located.
Clearing availability changes on a daily basis, so check back regularly.
3. Seek advice if you're unsure about your options
Unsure about what options you have?
The worst thing to do is suffer in silence!
Or just as worse, choose a course or university that you won't be happy with.
So if you're unsure about your options, or simply want a second opinion:
Seek advice!
Ask your college or sixth form tutor, a family member, or the universities you're interested in.
By asking the right questions, you'll put your mind at ease and make more informed decisions.
Once you've decided on a course and a university, here's what you do next:
4. Call the universities you want to apply to
This stage is very important, so read carefully.
Before you call a university:
Gather all your details. You'll need your UCAS Clearing number (you can find this in Track) and Personal ID number – this will allow the university you call to see your application online. It's also worth having a copy of your grades and your original personal statement to hand.
Make sure you're relaxed and comfortable when you call. Sit somewhere quiet where you won't be disturbed or distracted.
Have a pen and paper to hand, so you can make notes. It can be hard to remember everything from the phone call!
Sometimes a parent, family member or friend might offer to call for you – this is not advised and you should try to call yourself.
During the call:
Sell yourself! The call will involve a mini-interview. It's your opportunity to tell a university why they should offer you a place.
If a university decides to offer you a place, they'll give you an informal offer over the phone. Make sure you ask them for written confirmation in an email.
Remember to stay calm and take notes! It's easy to get flustered and want to rush through the call. Breathe and take it easy.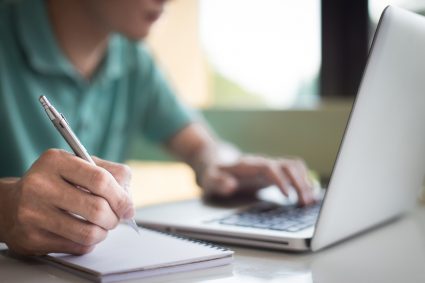 5. Confirm your Clearing choice in UCAS Track
Once you've received an offer from a university and you're happy to make a decision, log into UCAS and click 'Add Clearing choice' in Track.
Only do this once you have permission from the university.
After the university confirms, you'll see the acceptance on Track and UCAS will send you a Confirmation Letter.
If the university doesn't confirm, don't worry, you'll be able to add another place.
What should I do after I've confirmed a place through Clearing?
Here's what you should do once you've confirmed your place through Clearing: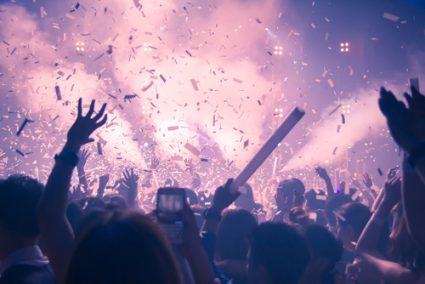 Celebrate!
Find somewhere to live. See our guide to finding student accommodation after Clearing: