Ready to embark on your journey to study in the United States? Check out this guide for everything you need to know about booking student housing in the US.
Once you've received your university acceptance letter and had your visa approved, all that's left to do is find a place to live in the US. With so many options it can seem confusing, but we're here to help! We've broken down the process into bitesize chunks to help you make the decision that's right for you.
Types of housing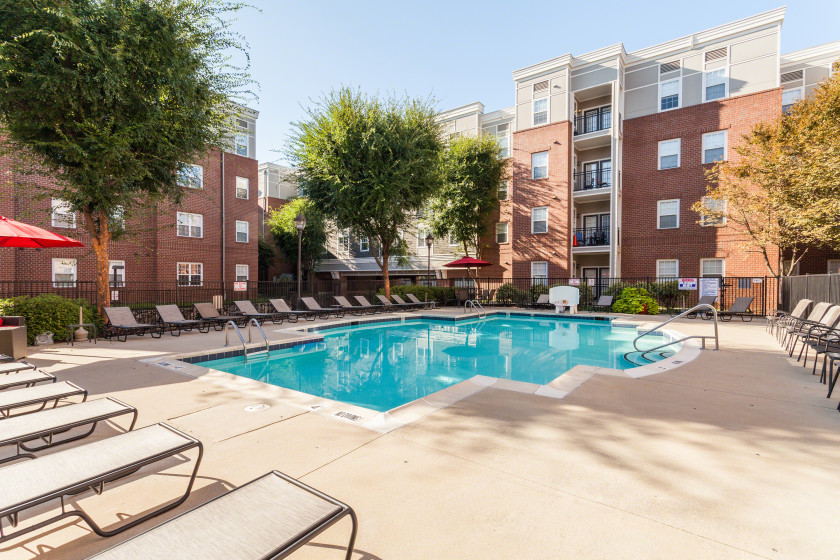 There are around 20 million students enrolled in colleges and universities across the US, and they all need a place to live. One fifth of US students live at home with their parents while studying, but this isn't usually an option for the 900,000 international students in the country. The most common types of student housing include university-run halls of residence, shared flats, private rooms or even individual apartments.
On-campus housing
Many students choose to live in dormitories, especially during their first year at university. Halls are usually located on campus, meaning you'll never have to go far to get to class or the library. Most likely, you will share a room with one or two people (of the same gender) and have access to communal bathrooms, as well as common rooms where you can study or relax.
Some universities also provide a communal kitchen area where you can cook for yourself, while others offer a catered service with meals provided in the cafeteria.
Booking a dorm room is a simple affair. You can usually state any preferences you have on your chosen university's website and, in some cases, even select a roommate or opt in to a roommate matching service. As a general rule, once you've paid your deposit, the university will secure a place for you.
Shared flats
Other students decide to live in a shared flat instead of a dormitory. This is where you share an entire apartment or house with other students, with communal kitchen and sometimes bathroom facilities. As you'll have your own bedroom, you'll be granted a bit more privacy than in a dorm room, but you'll still be able to make great friends with your flatmates. Depending on what housing you go for, you shouldn't be too far away from your university either.
Most universities will have a database or a search function on their website for off-campus housing that can help you find this type of accommodation.
Private houses
Private apartments are a great option for students who prefer to live on their own. Whether you choose a studio or a one-bedroom apartment, you'll be able to enjoy the privacy of living in your own space. This is especially common in mature students, or can also be an option for couples who attend college together.
Things to keep in mind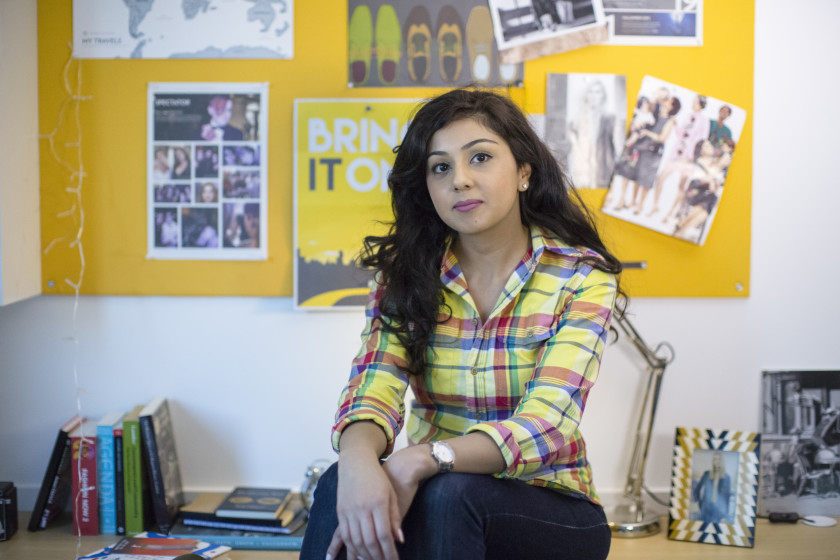 When choosing your student housing, there are a number of things you should take into consideration.
Distance to university
Always make sure you check how far your student housing is located from university. Since driving everywhere by car is common in the US, it's not unusual for accommodation aimed at students to be located a little farther out. While some universities provide a shuttle bus service for students living in their off-campus housing, getting around can sometimes be difficult without a car, especially if public transport links aren't ideal. Before deciding on your accommodation, research whether there are public transport options in the area, what's in walking distance and if there's cycle storage on site.
Lease
The lease on an apartment in the US is usually a year or six months long. In some cases, it's also possible to rent on a month-by-month basis, but that will likely drive up the rent price, and your landlord can ask you to vacate the property without giving you notice way in advance. When you book with Student.com, you'll be able to choose from a number of different tenancy lengths. Ask your booking consultant about this if you're unsure.
Deposit
Normally, you'll be asked to pay a deposit worth one month's rent. As long as the property is in a good condition when you vacate it (in other words, as long as you don't break or damage anything!), you'll get this money back in full at the end of your stay.
Furnished or unfurnished
In the US, student housing often comes unfurnished. This is great as it means you can totally personalise your new home from the first day, though it makes it more difficult for students coming from abroad.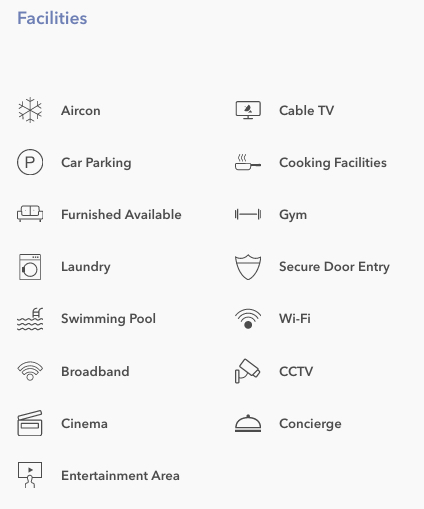 Check in advance whether your housing has a fully furnished option using the facilities icons on Student.com. On the other hand, some residences come with everything you could ever need, from pots and pans to a bedding pack, to make the transition smoother.
Appliances
Find out before you move what appliances your room or apartment comes with, for example an oven, stove, dishwasher or washing machine. You'll be able to see what's included on Student.com property pages.
Utilities
It's important to know which utilities, if any, are already included in your rent. When bills are included, you won't have to worry about taking long showers after a big workout, or staying up watching movies with friends! Otherwise, be sure to leave room in your budget for everything extra – from heating, water, electricity, cable and internet connections to trash and sewage.
Safety
For your own (and your parents'!) peace of mind, try and find out what safety features are in place at the property. These are usually mentioned in property descriptions and in the facilities icons. A lot of student housing in the US has CCTV in common areas, secure door entry and a security team on hand as standard. This will make you feel safe coming home from class after dark or if you've stayed out late with friends.
Booking accommodation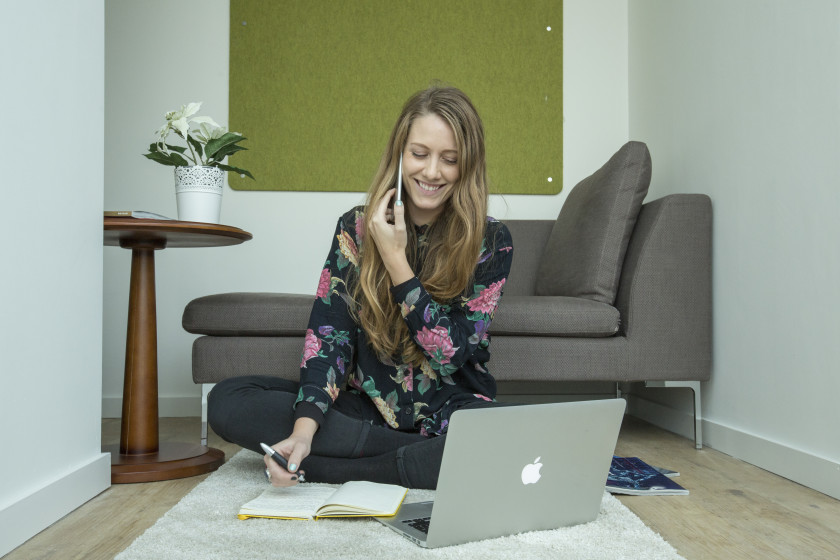 Booking your accommodation with Student.com, the leading global marketplace for student housing, is an easy and hassle-free process. With beds in more than 200 towns and cities across the US, you're sure to find a place that suits you.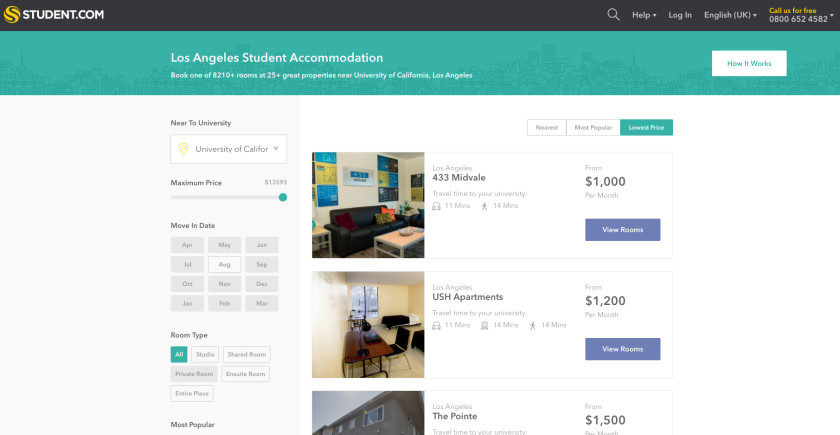 You can search by the type of accommodation you're looking for – like an entire flat, a shared or private room, studio or ensuite – and list results by their proximity to your university. If you're budget-conscious, you can even sort the results by price. Simply set the parameters that are most important to you, then scroll through the different options listed.
As well as detailed descriptions for all properties, you'll find photographs of the rooms, exteriors and shared facilities. Amenities are presented in a handy graphic list, which makes for an easy comparison of what's available across different properties. Some properties even come with luxury perks like resort-style swimming pools, sand volleyball courts and on-site gyms.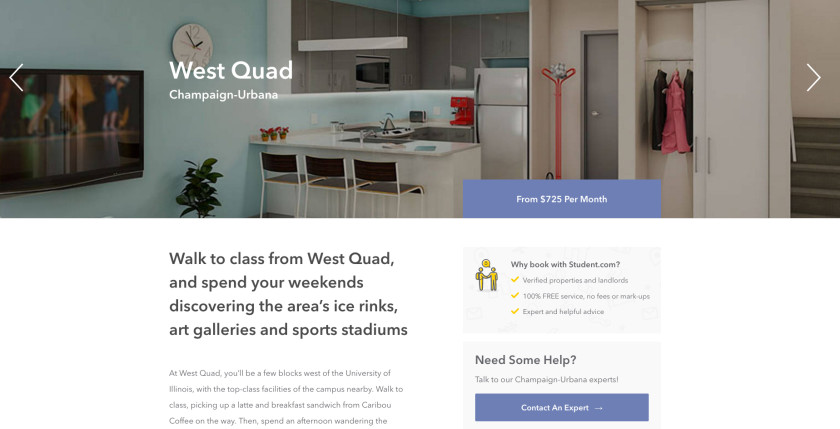 Once you've selected a room or apartment, use the Contact An Expert button to input your details. These will be sent through to an expert booking consultant, who will then contact you in your preferred language to complete the booking process. Find full details of how it works here.
For international students especially, finding a place to live before arriving in the US can be difficult because you won't be able to view the property beforehand. Choosing a trusted accommodation service like Student.com can be a huge help with making sure everything goes smoothly to avoid disappointment.