Staying connected with university friends when you have left for the holidays or summer break can be tricky. You have spent endless hours with these friends in your university community, whether sharing student accommodation, course friends or from your society, so here we share some ways to nurture those friendships when far apart.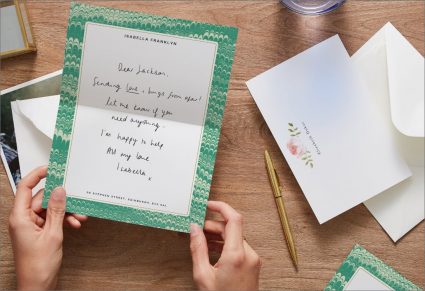 Image credit: Papier
Take it old school 
It may seem old school but you can't beat a bit of positive post arriving on your doorstep. Putting pen to paper can not only be fun but therapeutic. Writing down how you're feeling to your university friends, or even getting experimental with doodles and stickers can provide a great creative outlet. Sending letters back and forth between friends is a unique way to stay connected with them and keep you both entertained. Nothing beats the feeling of waiting for the postman and receiving a letter. For notebook, personalised stationery and cards, check out Papier as they are sustainable (product to packaging), plus who doesn't love beautiful notecards? 

App happy 
Who needs to be in the same room when you have video apps? The list is becoming ever more extensive, with new players on the scene such as Houseparty and the traditionally corporate video conferencing company – Zoom – becoming something even your Nan knows about and can use! We recommend two favourites for keeping in touch with university friends: the first being the FaceTime app for use on iPhone, iPad or Mac computers. You can use Apple's built-in FaceTime app to video chat with any of your contacts (as long as they also use the Apple platform). Another great app is Marco Polo. It's an easy-to-use app which allows you to video chat and meet friends online that you can't talk to in real time. This app allows you to send video messages to individuals or groups that they can watch and respond to at a time that suits them. So if you want to connect with someone who has a busy work schedule or lives in another country – Marco Polo is the app for you.  

Games night 
Something you may have done at university together…well why not take it online? The internet, as well as your phone, is packed with loads of fun games to play with friends online. There are various online alternatives with board game apps on most phones as well as digital recreations of all your favorites available to, such as Settlers of Catan. Even if it's a quiz night, our top way to do that is Kahoot, it is a great way to test everyone's knowledge and you feel like you are all back in the same place with your university friends. Make a personal quiz with photos and multiple choice answers, plus it's a fun and interactive way to host a quiz. 

Coffee catch-ups 
Used to grab a coffee together? Well there's nothing stopping you making a virtual coffee shop with your university friends. You can even take time to make your perfect brew, and choose a different area of your living space to make it feel different. Settle down with your coffee and call your friend on video call or over the phone for a rejuvenating caffeine catch-up. It doesn't even have to be long either, if you are studying or working then you can schedule a 15 minute catch-up and have a quick brew with a buddy. It helps break up the day and plus you will feel powered-up from the caffeine, perfect for any studying! 

Movie night 
The Netflix Party extension is great for a virtual movie night with university friends. If you used to spend time watching your favourite movies together, then this could be the perfect option for you. Of course you will need to make a decision on what to actually watch beforehand, as the usual time scrolling through trying to come to a decision is harder to do when not in the same room. But maybe you take turns in picking the movie, saying why you love it and it's a chance to broaden your film horizons. Now TV is also great for entertainment channels – endless HBO and network boxsets – and has a movie package too. If you wanted to watch Now TV together, then you just need to set-up a Zoom call and share a screen from a laptop and hey presto – the perfect chance to binge watch a series!
There you have it, challenge is what will you start with first? If you use these tips, you're guaranteed to maintain close bonds in your university friends whilst apart. 
If you want to stay connected with us, we're a click away. Head to www.student.com to search for the perfect student home to suit you.