If you want to find out how to make the most of your time studying in Perth, read on! This article will give you some valuable ideas about what to do in Perth to make the most of your time as a university student in the city.
Those seeking a place to study and make beautiful memories should consider Perth. The capital of Western Australia, Perth is located on the Swan River and has a population of around 600,000. The city has been ranked the 34th best student city in the world in 2023 by QS. It is one of the world's most liveable cities. It has four well-known universities that offer quality education and an exciting student experience, including the University of Western Australia, Curtin University, Murdoch University, and Edith Cowan University.
In addition to world-class education, Perth offers plenty of entertainment for students, such as shopping, beaches, art galleries and museums, nature parks and gardens, and it also has a vibrant nightlife. Read on to discover why Perth is an ideal destination for student life.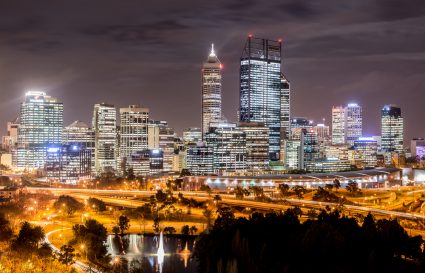 What makes Perth student-friendly?
Perth is a student-friendly city because of its convenient location, excellent educational institutions, and lively social scene. Perth is also known for its relaxed lifestyle and friendly people. The city is well connected by road, rail, and air, making it easy to get around. Perth also has a wide range of shopping and dining options and is home to some of Australia's top universities. Furthermore, Perth offers many entertainment and recreational activities that appeal to all age groups.
Where should you go when you're in Perth?
Perth is a beautiful city with a lot to offer for a student. It has a vibrant, international culture that provides students with many opportunities to explore and learn. Here is a collection of places to visit while you're in Perth:
 

Perth Observatory – This is a must-see for anyone visiting Perth, and it's definitely worth the admission fee! You can learn a lot about astronomy here, and it's a great place to take photos too.

 

Perth Stadium – This is a great place to watch a sports game, and it's only a few minutes walk from the city centre.

 

Perth Zoo is a great place to visit if you're looking for a good time to spend with your friends. The zoo has a variety of exotic animals, including a Komodo dragon, which is definitely something to see.

 

Fremantle – Fremantle is a great place to explore if you're looking for a bit of culture and history. There are many exciting places to visit, including the Fremantle Arts Centre and the Roundhouse, the oldest public building in Western Australia.

 

Royal Perth Golf Club – If you enjoy golf, you'll want to visit the Royal Perth Golf Club.

 

Swan Valley – The Swan Valley is an excellent spot for a day trip, as it is home to some of the finest wineries and restaurants in Western Australia.

 

Botanical Gardens – The beautiful Botanical Gardens in Fremantle are a great place to take a stroll and admire the fantastic floral displays.
Free things to do in Perth as a student
Perth has many free things to do for students, from strolling the beautiful gardens of Kings Park to taking a leisurely bike ride along the Swan River or visiting any of the city's many museums. Perth's arts and culture scenes are vibrant, with many opportunities for students to get involved without spending a dime. For those who prefer a more active lifestyle, the city also hosts a large variety of sports and outdoor activities throughout the year.
With excellent public transport, it's effortless to get around Perth and take advantage of the cultural attractions that are available for free.
The universities in Perth
One of the best reasons to move to Perth are undoubtedly its universities, the University of Western Australia (UWA), Curtin University, Murdoch University, and Edith Cowan University.
UWA was founded in 1911 and is ranked as one of the world's top 100 universities. The university has a long and distinguished history, and its campus is near Perth city centre, on the other side of Kings Park. The university offers various courses and world-class research facilities.
Curtin University, founded in 1966, is also a top-ranked university in Perth and is renowned for its world-class education and research excellence. With over 55,000 students, it is one of the largest universities in Australia and provides access to some of the world's leading academic minds.
Murdoch University and Edith Cowan University are two other leading universities in Perth, each with a distinct history and focus on teaching excellence. Both Murdoch University and Edith Cowan University have established themselves as highly respected learning institutions in Perth, providing students with unique learning opportunities.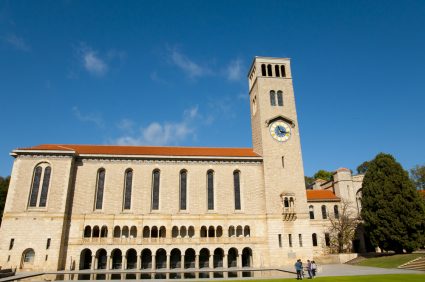 Accommodation
If you're looking for accommodation in Perth for students, you'll be happy to know that many options are available. From budget-friendly hostels to luxurious apartments, there are many options to choose from. With so many choices, finding the ideal place to stay can take some work. Luckily, here at Student.com, we offer many options that you can easily compare in one place. You can check out all the student accommodation in Perth that we offer, or have a look at some of the most popular options below.
The Switch Perth Central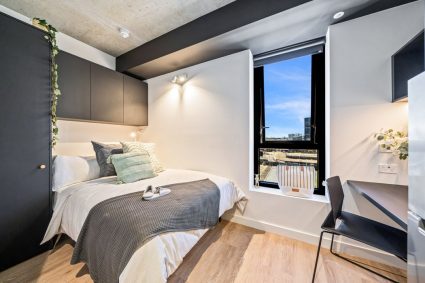 As the name suggests, The Switch Perth Central has an excellent location in the city centre. This property offers private rooms and fully self-contained studio apartments. If you want to save a bit of money, you can also book a private bedroom with a shared bathroom.
Campus Perth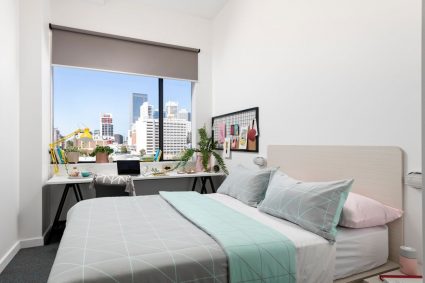 Campus Perth is another student accommodation property with a great location right in the centre of Perth. It offers something for every budget, as you can go for a shared bedroom, a private bedroom or a fully self-contained studio apartment with your own bedroom, bathroom and cooking facilities.