We caught up with Ashly Poyer, Director of Sales for Peak Campus, to hear about what makes Peak Campus unique and her perspective on the US student housing industry.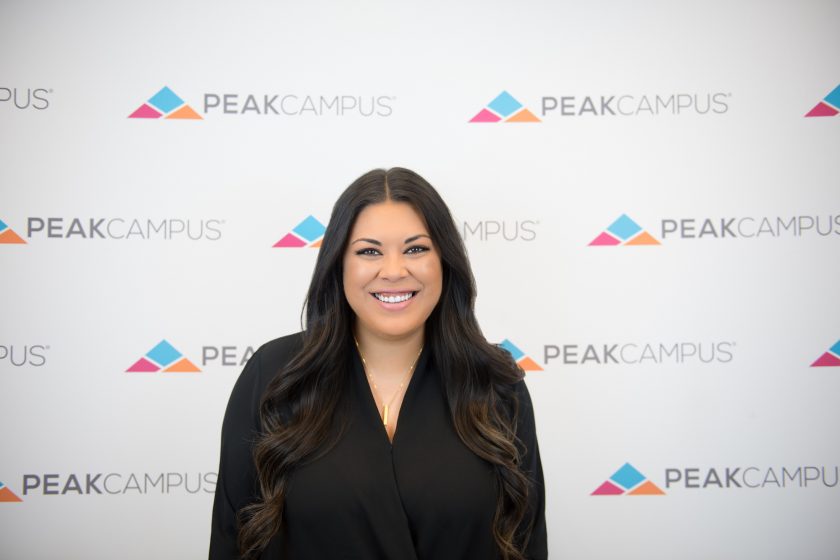 What are the main things that set Peak Campus apart?
At Peak, we often say we are in the people business and just happen to lease apartments. One of our mindsets is People Matter Most, starting with our associates who, in turn, put people first when leasing and taking care of our residents. Growing up in my career with Peak that statement couldn't be more true.  It encompasses all people our business touches, from employees to customers to partners like Student.com.  
Peak is a forward-thinking company, focused on the long-game and strategies that will help sustain our growth and performance. An example of this is our investment in business intelligence – allowing science and data to drive our people and business, not just feelings.
What is Peak Campus' approach to giving back to the community? 
Because people matter most at Peak Campus, we are passionate about the communities we are in and enabling our people to make a difference where it counts.
Peak Cares is our philanthropy program, it supports many local organizations and offers employees the opportunity to give back to local communities.
Each year, one charitable organization is selected as Peak's service partner of the year. The property or region that volunteered with the organization is selected for the "Spirit of Service" award, and that organization is awarded a $5,000 donation on behalf of Peak and our Peak Cares program.
Our most recent recipient was Danielle House, an organization located in Binghamton, New York. Their mission is to offer temporary, safe and homelike atmospheres for patients' families and loved ones, as well as outpatients seeking respite during a medical crisis.
On Peak's Nation Day of Service, all properties and the corporate office donate their day to a local organization in need.
Additionally, Peak has identified Ronald McDonald House Charities as its national philanthropy and recently dedicated a room at a local RMH in Atlanta. Our corporate office team regularly cooks meals for families and, most recently, dedicated a weekend during the holidays to staff a toy room for families to select holiday gifts. We wrapped gifts and helped them shop.
We've seen 'Good Just Isn't Peak Enough!' used across your website and social channels. What does this slogan mean for you?
'Good Just Isn't Peak Enough!' is a driving force on our team! I remember when the slogan launched at our national conference, as part of the Peak Campus rebrand. There was so much pride in the room and you could see this simple slogan meant so much to so many people, no matter what part they played on the Peak team.
I have the privilege of managing a team of the top sales and leasing professionals in the student housing industry. For us, this is a reminder of our standards and to never settle. For me, it's a reminder to never take the easy way out.
Could you share your view on the latest key trends in the US student housing industry?
One of the most impactful trend shifts is: we can longer market ourselves out of an execution problem. This includes lack of executing a customer experience or service strategy.
Online reputation management is not a new trend, but word of mouth and referrals continues to be a top leasing driver in student housing; the only way to capitalize on those marketing avenues is through delivering quality customer experiences and services.
A catchy marketing campaign and minimal-growth rate strategies are no longer enough.
What do you consider to be the biggest challenge the industry is facing at the moment?
Human resources. With growing companies, we continue to find ourselves needing to hire more people and there simply is not enough in our talent pool to go around.
Peak is working to overcome this hurdle with more development programs focused on retaining top talent and growing strong leaders.
On the Peak Sales team alone, there are currently 13 team members who have been developed and internally promoted, some several times.
Ashly Poyer is Director of Sales for Peak Campus, responsible for the company's portfolio sales performance. She started her career as a part-time leasing consultant in 2010 for a Peak managed property in Huntsville, Texas. Prior to joining Peak, she was studying for a bachelor's degree at Sam Houston State University.