You're about to embark on your voyage of a lifetime, your bags are packed and you'll soon be starting your journey to study in the US. You'll be fine! But a little help never went amiss, did it?
There's an embarrassment of riches online to help you make the most of your Stateside adventure. So you don't have to waste your precious time navigating the black hole that is the Internet, we've it for you. To help you get to grips with this whole new landscape and its culture, these websites are your golden key. From food to politics, fashion to travel, here's a run-down of all of the best destinations online that will propel your initiation into American student life.
US Life 
1. USA.Gov
You need to sort healthcare, housing and accommodation, visas and immigration, but where do you begin? Well the US Government's website, of course! It's all documented here in one easy to navigate overview. This portal is the official online home of the United States Government, and has comprehensive details on all aspects of life you could require as a new resident there.
Student Life
2. International Student

International Student is an online resource for students around the globe. Its goal is to enable students to pursue their dreams of seeing the world, while also improving their educational experience. The site provides free information on visas, colleges and universities but remains community focused – there are videos, hangouts, blogs and plenty of discussion forums to truly immerse yourself into student life in the US.
3. Study USA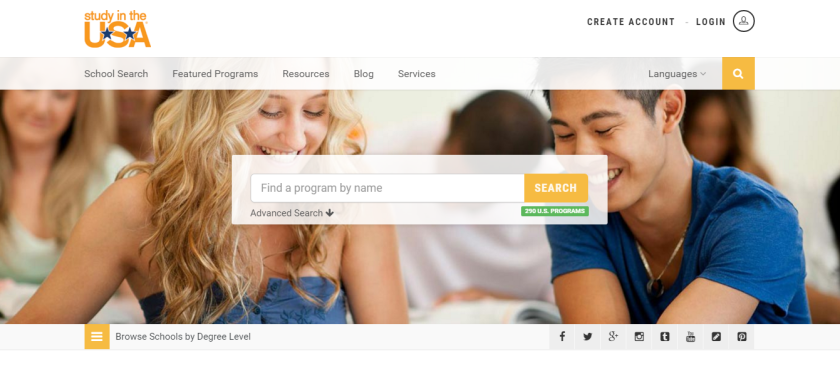 Study USA is a superb resource for any current or prospective students. If you find the education system slightly perplexing and you're looking for answers, then be sure to visit Study USA – it will help you decode the jargon. From GPA to academic credits, admissions processes to internships, it's a one-stop shop for the low-down on everything academic.
Travel
4. STA Travel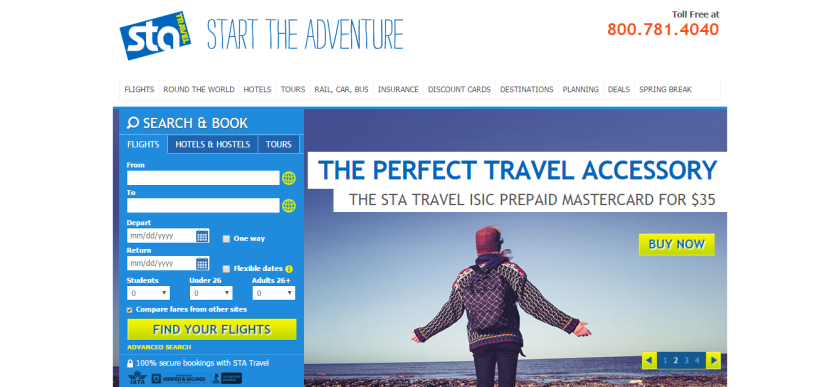 STA specialise in student and low-cost travel. While the website can be used simply to plan and book travel, it's also packed with handy city guides, reference points, accommodation overviews, visas, and even discount cards – all with the student traveller at heart. It's a great first port of call for when you're planning that much-needed break in between semesters.
5. Expedia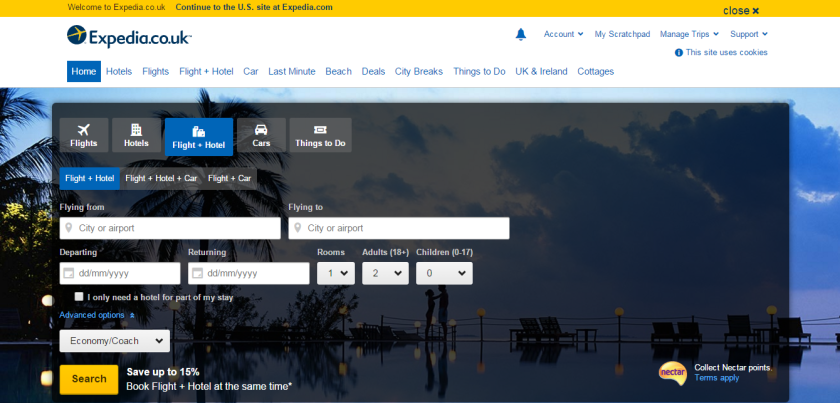 Expedia showcases multiple daily travel deals across the US, so if you're looking to escape, it's a useful tool for planning your trip. From low cost inter-city travels by car, to flying to a dreamy spring break destination, Expedia will show you the most cost-effective way to travel, and at the optimum time of year.
Experience
6. Visit The USA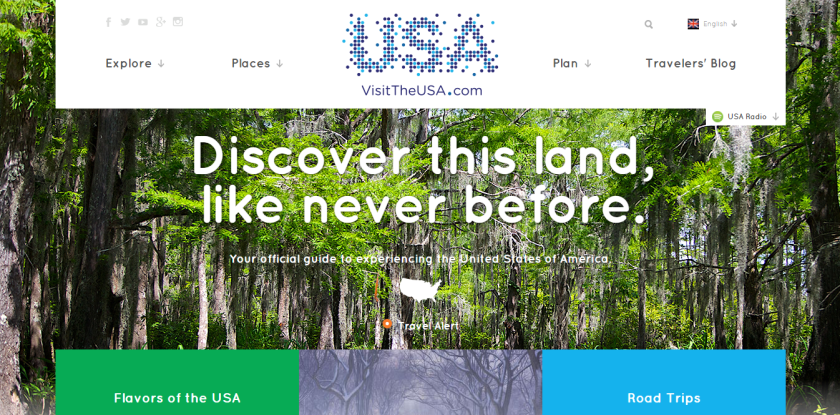 Visit The USA is an experience-driven, immersive travel website. Want to explore the great outdoors, while on a cross-country road trip, and participate in some good old fashioned American sports along the way? Visit The USA can be your guide. Make sure you indulge in the lovingly written experience guides, they're packed with first-hand accounts of other travellers' adventures.
Fodor's is an excellent resource for every traveller, setting out to provide the insights and tools needed when planning a sought-after adventure. From guide books to dining and accommodation recommendations, their expert advice is full of local treasures. What's more, the content is written by locals, meaning you can definitely uncover a few hidden gems, wherever you may be.
8. Lonely Planet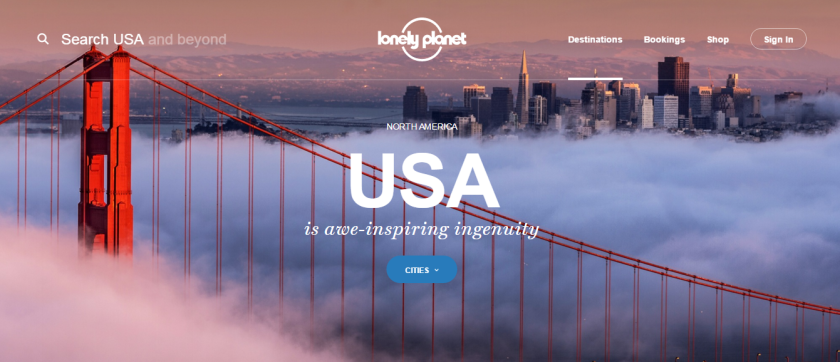 Lonely Planet needs no introduction. The world's most successful travel publisher, Lonely Planet has printed over 120 million books in eleven different languages. Not only do they feature wonderfully written guides to almost every city on the planet, they also cover budget travel guides and festival and event recommendations.
9. Rough Guides

Rough Guides specialise in speaking to the modern traveller, with a distinct "tell it like it is" attitude. The website has comprehensive overviews for many cities in the US, with guides for first-time travellers, students and those on a tight budget. But don't worry, it's still overflowing with fantastic things to do! If you're seeking the best possible experiences when travelling to new and exciting American destinations, look no further than Rough Guides.
10. National Geographic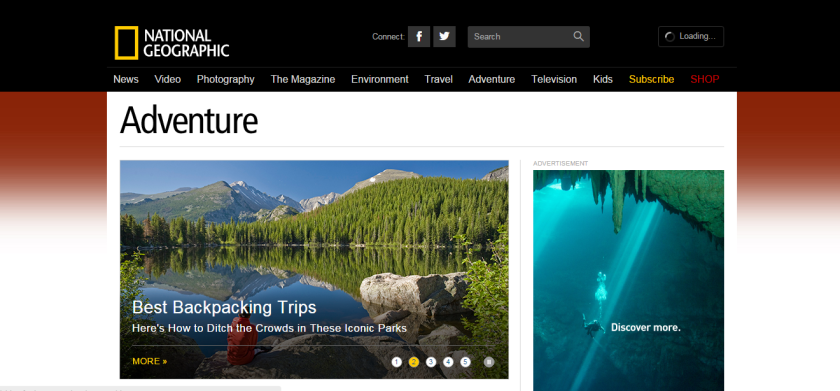 The published magazine version of National Geographic has been around since 1888, so it's no wonder the online version is such a hit with travellers! Use National Geographic to plan inspirational adventures, and is particularly helpful for intrepid nature-loving students who want to fully immerse themselves into a new, exhilarating environment. The 'Free to See' section features an abundance of amazing (and free!) things to do across the US – it's overflowing with details of parades, movie nights and architecture festivals, so there really is something for everyone.
Accommodation
11. Hostelworld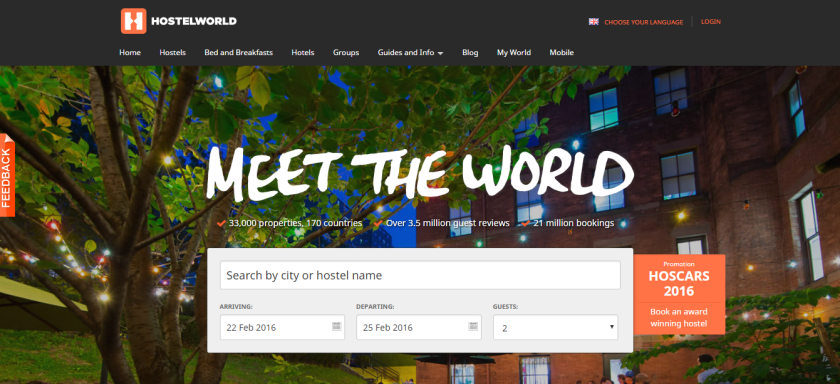 Do you want to travel, but you always have your tight student budget on your mind? Hostelworld may just be your knight in shining armour! With detailed overviews of a wide range of hostels across the United States, including features for price planning and honest user reviews, it's a perfect tool for those who want to plan and compare options before booking. Additionally, hostels are a great way to meet like-minded travellers and other students to share your experiences with.
12. Hotwire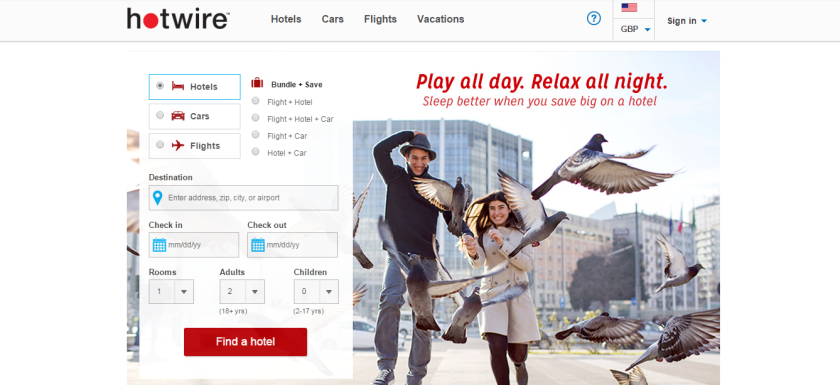 If you haven't discovered Hotwire yet, you're in for a treat. This discount travel website auctions last-minute hotel rooms at much lower than average prices – you just have to input your desired location and dates. The only catch? You won't be told the hotel name until you complete your booking! If you're unfussy and game for a surprise, you could end up staying a high-end hotel for the same price as a hostel.
Food and Drink
13. Allmenus
Allmenus is a foodie's dream. Want to find the best vegan cuisine in New York City? Or perhaps you want an all-you-can-eat feast in Austin? Alternatively, if you simply want to drool over a menu before visiting a restaurant, you can browse and check out prices using Allmenus, too. It will leave you feeling extremely hungry, though, so don't say we didn't warn you!
14. GrubHub
Need a foodie fix fast? Look no further than GrubHub. It helps you find and order food for delivery, wherever you are. Just enter your address, and it will tell you all the restaurants that deliver in your area. If you still can't decide, let the reviews and special deals which are only accessibly through the website help you make up your mind. Mmm, did someone say pizza?
15. Yelp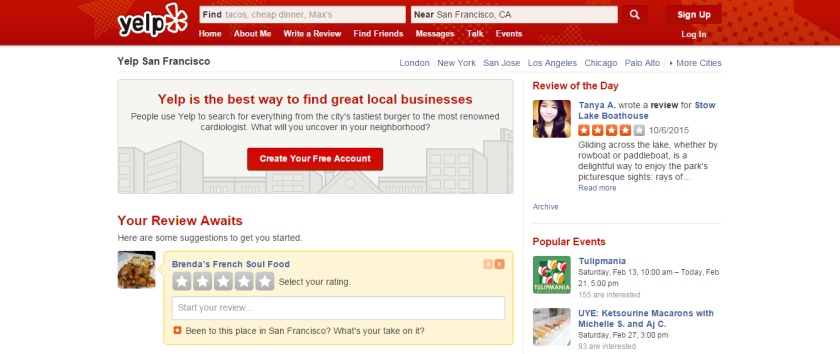 Yelp is a great tool to find businesses in your neighbourhood, accompanied by first-hand user reviews. This community site features everything from dentists to cobblers, but its reviews of local eateries are really the pick of the bunch. The reviewers are honest but passionate, and it's a fantastic way to find some hidden local, or even off-the-beaten-track pit stops, serving up some highly-rated cuisine.
Culture
16. Time Out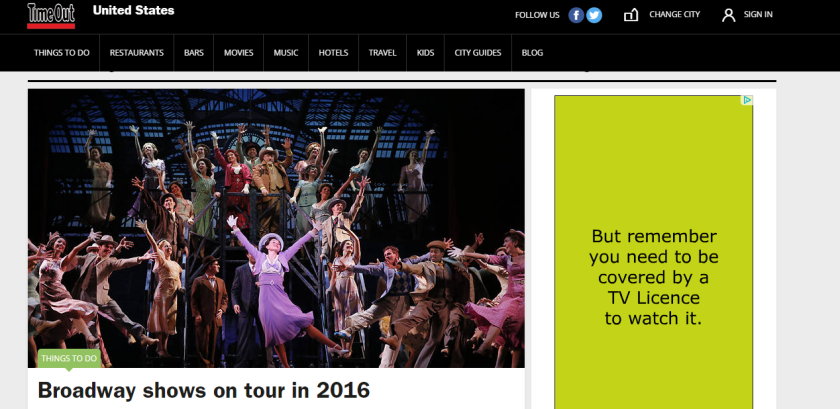 Time Out is the ultimate guide to everything. It's a culture lover's dream, including restaurant reviews, city overviews, art guides and entertainment and music listings – you'll never be without ideas of what to do. With Time Out guides available in over 10 US States and 30 cities, you'll find plenty of ways to fill your next weekend with activities.
17. The Culture Trip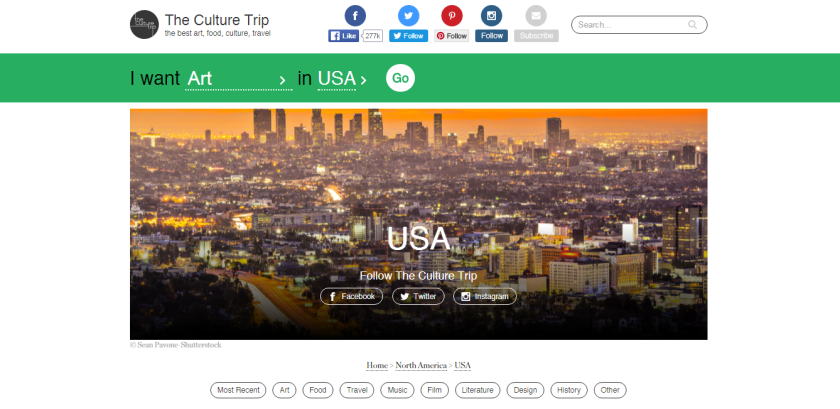 The Culture Trip has a similar aesthetic to Time Out – showcasing art, food, travel and culture for every country in the world. Though it's still a young website, The Culture Trip has already won many awards for its cultural content curated by global contributors, and in-depth articles such as Ten Places to Find Street Art in NYC.
18. Thrillist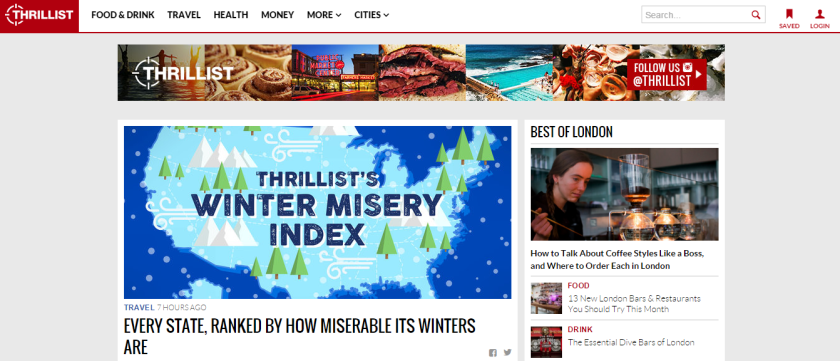 Cross Buzzfeed with Time Out, and what do you get? Thrillist. With articles ranging from The 33 Best Donut Shops in America to The 21 Best Dive Bars in America, there's hilariously fun lists and features covering everything you could possibly need to know about life in the US – including where to get the best burgers and craft beers, or which dating apps have most success.
19. TripAdvisor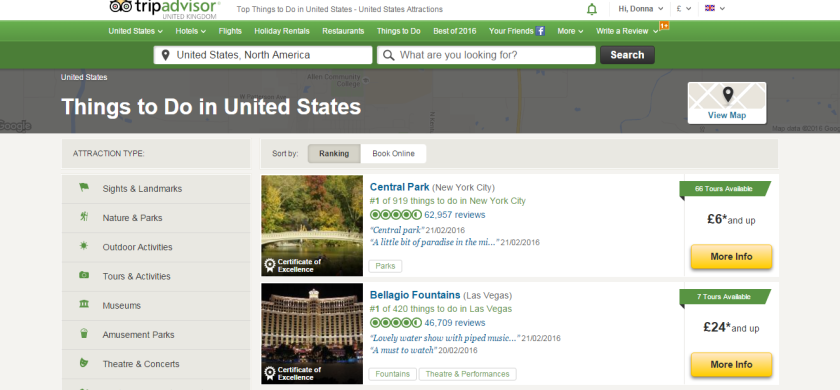 TripAdvisor is a travel and culture website with community-based ratings at its core. Covering attractions, museums, outdoor activities and more, you can easily discover the most popular things to do in your local area, all rated and voted for by users on site, with some handy first-hand overviews detailing the experience.
Entertainment
20. Songkick

If you're a live music fan, Songkick is a goldmine. Simply filter by location and date, and you'll be presented with an overwhelming number of live music options to fill your music-loving heart to the brim. It's especially great if you're travelling to a new city and are in the mood to soak up the local music scene.
21. Pitchfork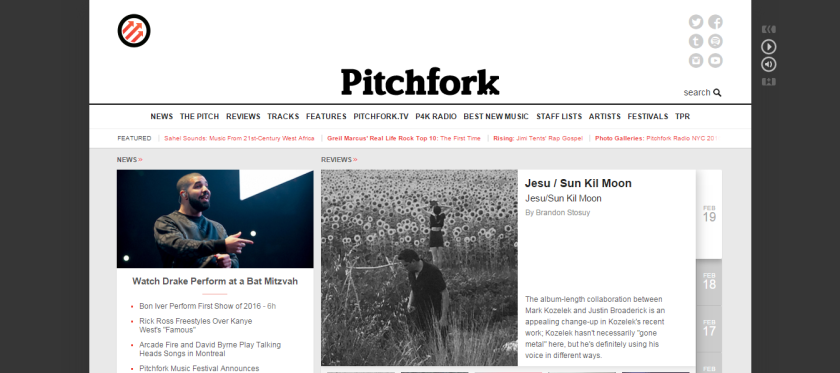 Pitchfork is a music connoisseur's paradise. If you want to find the most cutting edge, up-and-coming artists on the American music scene, Pitchfork is your entry point. From live gigs, record reviews, news, festival coverage, and now its own radio station, Pitchfork is a haven for everything music-related on the internet.
22. Fandango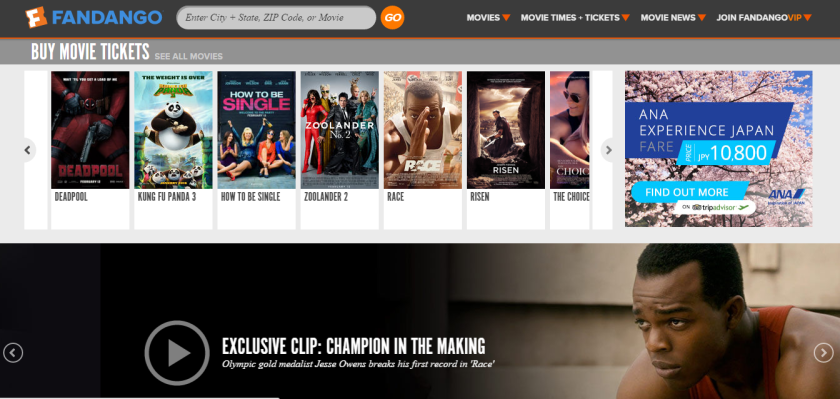 Fandago is a valuable website for film aficionados. It details movie times and screenings at local theatres, and you can even book your seats with them. If you're looking for some inspiration, then read the latest critic reviews and watch up-and-coming release trailers, before deciding which blockbuster you'll watch next!
News
23. USA Today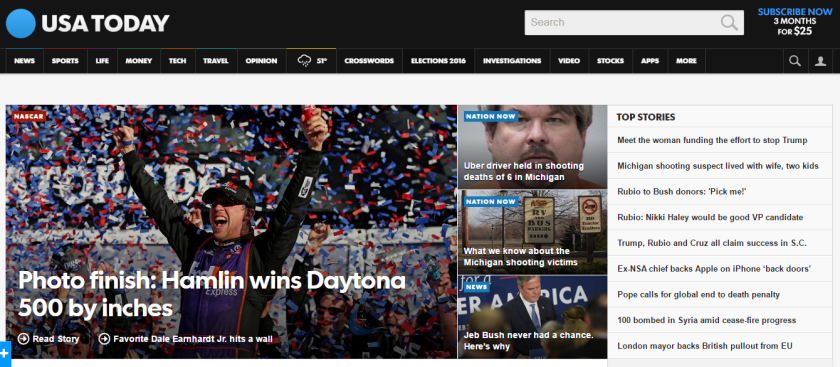 What better way to understand a new location or culture, than saturating yourself in its daily news and politics. Of course, there are many online sources for every opinion, but USA Today is a reliable multi-platform news and information hub covering politics, entertainment, tech and travel. It's a useful source that will enable you to keep your finger on the pulse.
24. The Daily Show
So you want the latest news and politics, but perhaps delivered in slightly less serious manner? The Daily Show brings the day's top headlines through a sharp, reality-based lens, and covers the biggest news stories across politics and pop culture. Best of all, its fun video content is available to stream for free.
Lifestyle
25. Funny or Die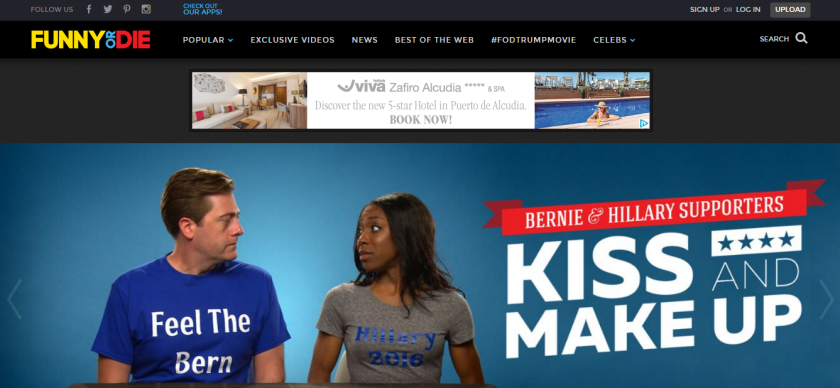 Funny Or Die is an award-winning comedy video website that was founded by some of comedy's most famous names, including Will Ferrell. The website contains exclusive videos from famous contributors such as Johnny Depp and James Franco, and is a laugh-a-minute – there's no better way to really understand a new culture than immerse yourself in its humour.
26. Reddit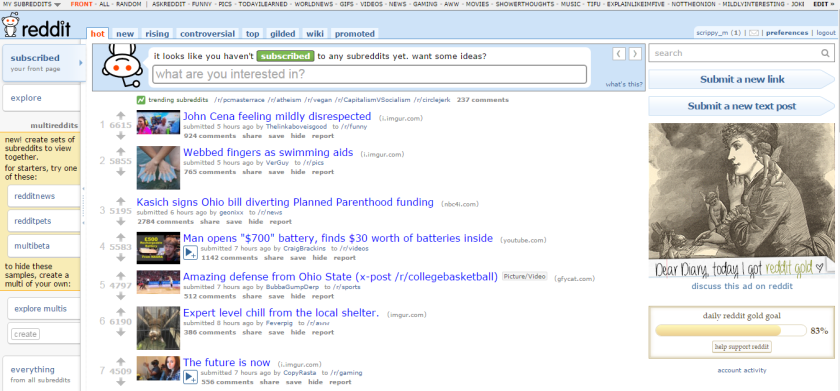 Often cited as "the front page of the internet", Reddit is an entertainment and social news site. The site might look vastly outdated and clunky, however its the cutting edge content submitted by the online community is the biggest draw for regular visitors. Expect lots of hilarious photos (memes everywhere) and viral videos. In 2015, Reddit saw 82.54 billion page views, 73.15 million submissions, and 725.85 million comments. That's a heck of a lot of users!
27. Buzzfeed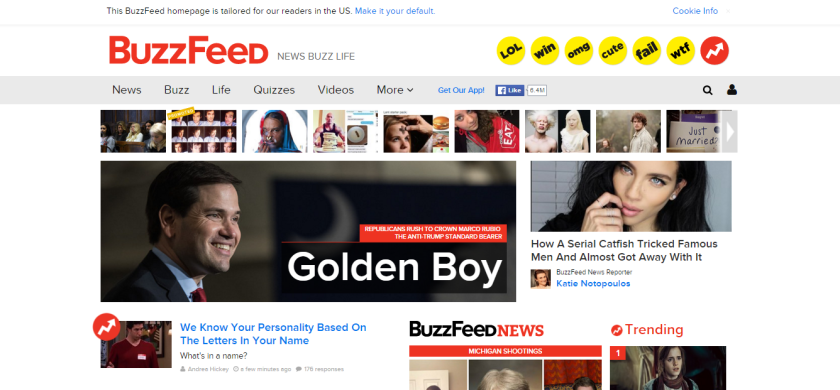 Need an online pick-me-up? Buzzfeed is a great destination for fun, viral and entertaining content with a huge emphasis on social sharing. It has some of the most vibrant, uplifting and fascinating content you'll find online, perfect for a short break in between lectures.
28. Society 19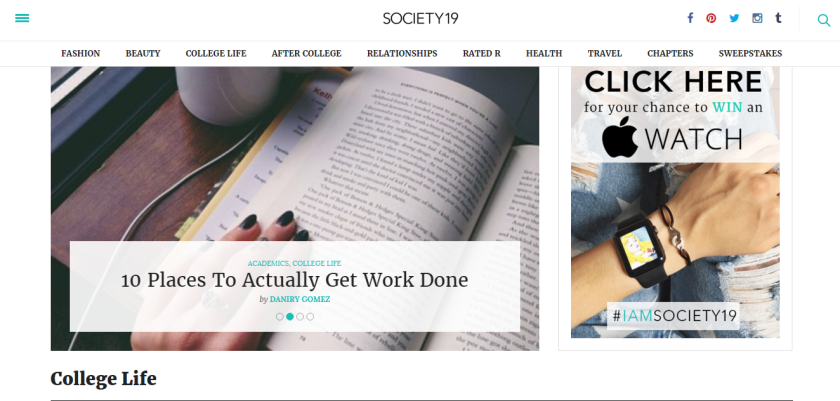 While still in its early days, Society 19 is a lifestyle website aimed at college students. From articles like 10 Things To Consider In An Internship to 20 Things To Ask Your Roommate,  this fun site is brimming with lots of tips, tricks and articles, always with the student in mind.
Work
29. Indeed

Indeed is a great site for anyone looking for work, whether it's part-time or permanent, a student job or even something for after graduation. It aggregates many other job boards' posts and includes leading US company's vacancies, and you can easily filter by location and industry. Their email alerts are easy to set up, meaning you'll never miss grabbing an opportunity.
Shopping
30. Groupon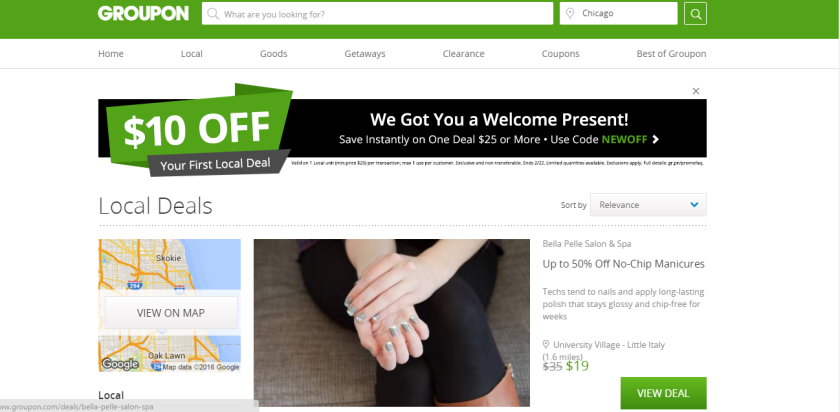 Groupon is now world famous, and remains an impressive source of local deals, offers and coupons. If you're looking for money off in a restaurant or a half-price haircut, be sure to sign up to their daily newsletters, where you can get your hands on huge discounts.
31. Forever 21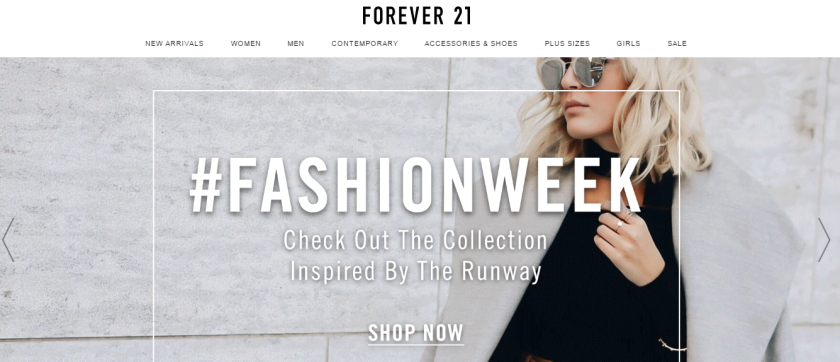 Now you're a student, you might need to shop on a shoestring budget. If you want to look chic and on-trend for minimal cost, look no further than Forever 21. This high street store offers the latest fashions, but at truly all-American prices. It caters for men and women, so whether you're after winter staples or summer holiday outfits, Forever 21 can help you bag a bargain.
Community
32. Craigslist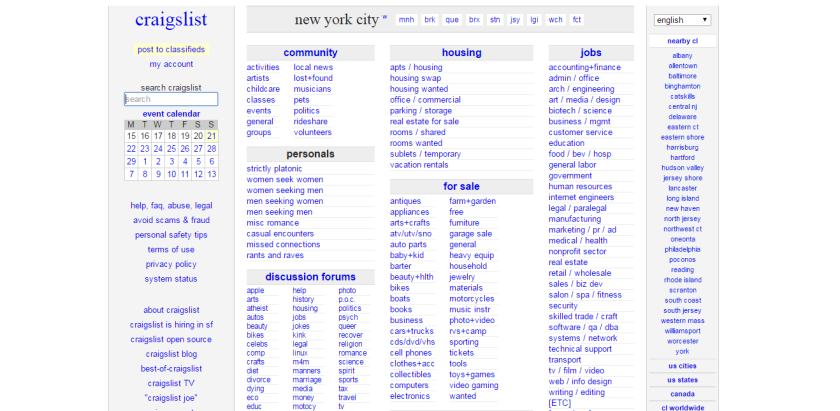 Craigslist is one website that wholeheartedly embodies American life. This is a classified advertisements website, but US citizens use it for almost everything – there are sections devoted to jobs, housing, personals, and items for sale and wanted. It's particularly useful if you're looking for a roommate, or have a room to fill.
Tech and Trends
33. Wired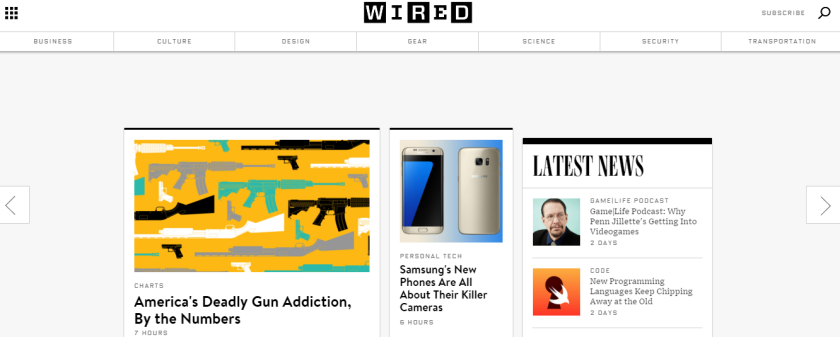 Wired is a forward-thinking hub that focuses on technology and digital, but brings culture, business, science and design into the conversation too. It's a great destination to keep on top of industry trends, which will inevitably help you both in and out of the classroom.
So there you have it, our all-encompassing online guide to get you on your way to your new student life, in the land where the streets are paved with gold. You'll soon be an expert on everything from the star-spangled-banner to Hollywood Boulevard. What do you think, did we miss any?