As Halloween draws near, you may be excited to host a party that will impress your friends. However, as a student on a low budget, you may feel limited in your options. Don't worry! By using your creativity and resourcefulness, you can still throw an unforgettable Halloween celebration.
This guide will provide you with tips on how to host a spooky and budget-friendly party. We'll cover everything from cheap decorations and costumes to snacks and DIY party favours, so you can have a great time without breaking the bank.
Whether or not your student accommodation checklist includes your new student home being a good party space or not, you'll find the best student accommodation options right here on Student.com!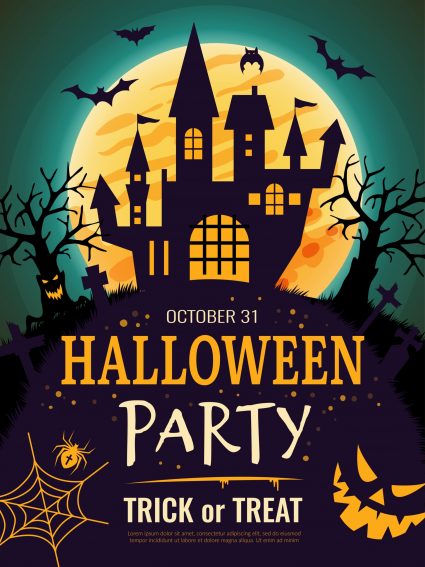 Hauntingly good decorations
Transforming your living space into a spooky haven doesn't have to cost a fortune. Embrace the charm of DIY decorations to set the eerie ambiance without breaking the bank. Utilise what you have and get crafty with paper, cardboard, and even old bedsheets. Cut out bat silhouettes and hang them from the ceiling, create ghosts from tissues, and place carved pumpkins for that classic Halloween touch. Dim the lights, add a few candles (LED ones are both safe and affordable), and watch your space turn mysteriously atmospheric.
Small space, big thrills
Living in a tight space doesn't mean your Halloween party has to be lacklustre. Embrace the cosiness and use it to your advantage. Set up "stations" around the room – a candy corner, a mini dance floor, and a photo booth with a spooky backdrop. This not only adds charm but also encourages mingling and prevents overcrowding. Think quality over quantity when inviting guests and make the most of your intimate gathering.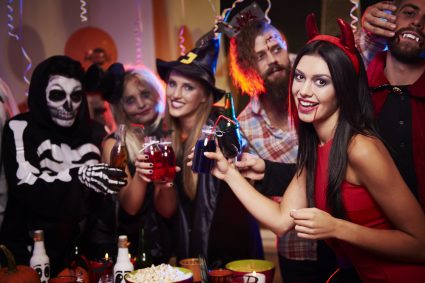 Spooktacular, budget-friendly costumes
One of the highlights of Halloween is dressing up, and you can do it on a budget. Raid your closet for inspiration or hit thrift stores for affordable costume pieces. A simple white sheet can transform you into a ghost, and a few makeup tricks can turn you into a zombie. Encourage your guests to get creative with their costume ideas, and you'll have a parade of unique characters without the hefty price tags.
Scarily delicious, affordable food
No Halloween party is complete without treats that match the theme. Whip up spooky snacks without emptying your wallet. Deviled eggs can turn into "Eyeballs," and pretzel sticks can become "Witch's Brooms." Consider making a punch with dark fruit juices for a mysterious and budget-friendly beverage option. A potluck-style approach can also make your feast more diverse and affordable, as each guest brings a dish to share.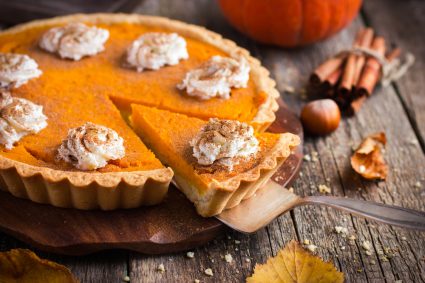 DIY party favours
Thank your guests for attending with DIY party favours that ooze Halloween charm. Decorate small mason jars with spooky stickers, fill them with candies, and tie a ribbon around the lid. Or create simple sachets of Halloween-themed tea or a hot cocoa mix – a delightful and budget-friendly gesture that adds a personal touch.
Chilling entertainment
Hosting a memorable Halloween party goes beyond decorations and food. Plan a few chilling activities that engage your guests and keep them entertained. Set up a horror movie marathon, have a costume contest with a small prize for the winner, or organise a spooky storytelling session where everyone contributes a sentence to create a spine-tingling tale.
The power of ambiance
Music can make or break a party's atmosphere. Curate a playlist with eerie tunes, from classic Halloween tracks to spooky soundtracks from horror movies. Dim the lights and consider using simple, affordable fog machines for an extra layer of mystery that takes your party to the next level.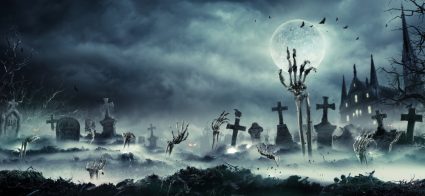 After the witching hour
When the party's over, don't forget to recycle and repurpose your decorations for the next year. Store them carefully to ensure they remain in good condition. And if you have leftover food, consider sending some treats home with your guests as an extension of the party favours.
Bonus budget-friendly Halloween party tips
Set and stick to your budget:

The essential first step is determining your budget and sticking to it. This lays the foundation for your planning decisions.

Embrace a theme:

Themes save on decor and favours. A spooky theme can repurpose household items like old sheets for eerie decorations.

Get crafty with decor:

Decorate smartly on a budget. Create your decorations or explore affordable options at thrift and dollar stores.

Plan food and drinks wisely:

A great party doesn't require costly refreshments. Opt for affordable party favourites like chips, dips, popcorn, and candy. DIY drinks like punch or cider add a personal touch.

Seek help:

Don't hesitate to involve friends or family if you're pressed for time or energy. They can assist with everything from planning to clean-up.

Craft the right playlist:

Music sets the mood. Compile a mix of spooky and lively tunes to get guests dancing.

Prioritise fun:

Let the spirit of Halloween guide you. Enjoy the festivities without stressing about perfection or overspending. Your focus should be on fun and making memories.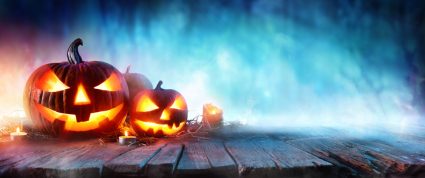 In conclusion
Creating a memorable Halloween party on a budget is completely doable without any supernatural abilities. With these tips, you'll be able to throw an enchanting celebration that captures the spirit of the season and won't break the bank. First, set your budget, embrace themes, create your decorations, plan your food wisely, seek help when needed, curate music, and make sure everyone has fun. By using your imagination and inner artist, you can embark on this budget-friendly Halloween journey that your guests will never forget, even long after the last ghostly laugh has faded. 🎃🎉